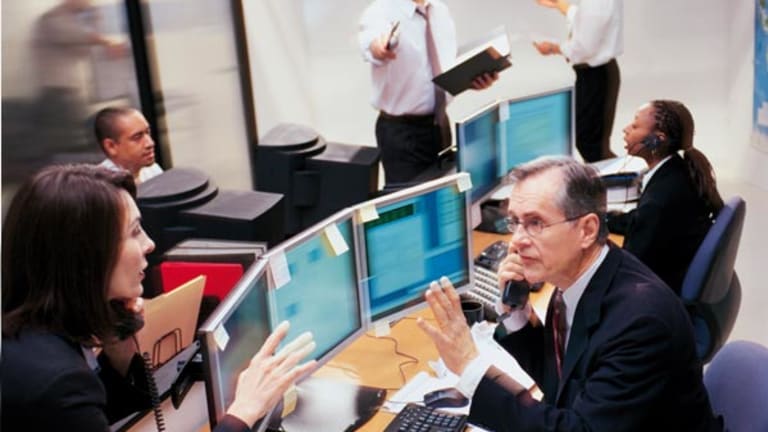 Coming Week: Triple Threat
Soaring oil prices, inflation data and a flood of earnings reports are set to shake up the market.
Traders will deal with a trifecta of big market-moving issues in the coming week: pesky oil prices, an earnings blitz and all-important inflation data.
"It's an earnings-driven market," says Larry Wachtel, senior market analyst at Wachovia. "The big question is whether the flow of earnings can rescue the market from the twin dreadnoughts of higher oil and interest rates."
Crude prices are once again flirting with the $70 a barrel mark due to geopolitical tensions over Iran and continuing supply issues. Meanwhile, the yield on the benchmark 10-year Treasury bond pierced 5% last week for the first time in over three years.
The earnings madness begins on Monday, with reports from names such as
Knight-Ridder
undefined
and
RSA Security
undefined
.
The market will also hear from financial firms
Wachovia
(WB)
,
SunTrust
(STI)
and the biggest bank of all,
Citigroup
(WB)
. Analysts surveyed by Thomson First Call expect Citi to post earnings of $1.02 a share, down from the $1.04 a share it earned last year, on $23.2 billion in revenue.
The profit reports really begin flooding in on Tuesday, with releases from the likes of
D.R. Horton
(DHI)
,
Boston Scientific
(BSX)
,
Johnson & Johnson
(JNJ)
and
Merrill Lynch
(MER)
.
After the bell Tuesday, tech giants
Motorola
(MOT)
,
Texas Instruments
(TXN)
and
Yahoo!
(YHOO)
will be in the spotlight. Wall Street is looking for Yahoo! to report an adjusted profit of 11 cents a share, down from 13 cents a share a year ago, on $1.08 billion in revenue.
Investors will begin Wednesday with updates before the bell from
Honeywell
(HON)
,
Pfizer
(PFE)
and
J.P. Morgan
(JPM)
.
More big tech names weigh in with earnings releases later Wednesday, including
eBay
(EBAY)
,
Qualcomm
(QCOM)
and
Apple
(AAPL)
.
Intel
(INTC)
also is on the docket. Analysts expect the chip giant to report earnings of 23 cents a share, down from 35 cents a share last year, on revenue of $8.94 billion. In early March, Intel surprised Wall Street by lowering its revenue forecast to $8.7 billion from $9.1 billion.
Earnings will be flying fast and furious on Thursday, with the market hearing from power players including
Altria
(MO)
,
General Motors
(GM)
and
Southwest Airlines
(LUV)
.
Also scheduled for Thursday are the quarterly reports from drugmakers
Schering-Plough
(SGP)
and
Merck
(MRK)
.
And of course, all eyes will be on
Google
(GOOG)
when the search powerhouse reports results after the bell Thursday. Analysts expect Google to post a profit of $1.99 a share, up from $1.29 last year, on revenue of $1.45 billion.
Friday's highlights include earnings from
3M
(MMM)
,
Halliburton
(HAL)
and
Ford
(F)
.
Inflation Ahead?
Investors will be closely monitoring their favorite tickers next week in order to see how the stocks react to earnings news. Traders will be forced to look at the big picture, however, when potentially market-moving inflation data are released at midweek.
"It's inflation week on Wall Street, and all eyes will be on the inflation barometers," says Rich Yamarone, chief economist at Argus Research. Yamarone expects the major inflation gauges to jump more than expected because of higher gas prices in March.
"If these numbers come in too strong, the end result is going to be a further spooking of the bond market, and long-term yields are going to move much, much higher," says Yamarone.
The March producer price index will be released on Tuesday. The PPI is expected to rise 0.4%, a big turnaround from February's drop of 1.4%. Excluding food and energy prices, the core PPI is expected to rise 0.2%, down from a 0.3% increase the month before.
The
FOMC
minutes from the Fed's March 28 meeting are also set for release Tuesday. Bob Pavlik, chief investment officer for Oaktree Asset Management, believes the minutes will be critical, because the market needs to "get more of a feel for the Ben Bernanke-led Fed."
The March consumer price index arrives Wednesday before the bell. Economists expect the index to increase 0.4%, up from 0.1% growth in February. For the core CPI, the consensus estimate is for a 0.2% increase, up from 0.1% the prior month.
"The Fed's inflationary concerns are obviously real, and even if they decide to stop raising rates, we're still unsure of what the repercussions of cumulative rate hikes will be," says Randy Diamond, sales trader at Miller Tabak. "Furthermore, there will eventually be some reason for the Fed to stop raising rates, so either way, the end result is a weaker economy."
The economic data for the week rounds out on Thursday, with the leading indicators for March and the Philadelphia Fed Index. The Philly Index, which is expected to rise to 14.5 from 12.3 in February, is a monthly survey of manufacturers located in Pennsylvania, New Jersey and Delaware and is considered to be a good indicator of changes in employment, price inflation and conditions within the manufacturing industry.