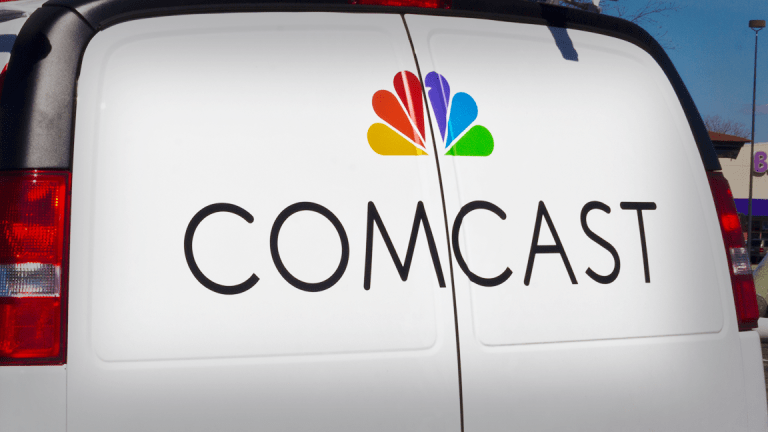 Comcast trumps Rupert Murdoch with $31 billion for British pay-TV provider
Bid values group at £12.50 per share, topping Fox's outstanding £10.75 offer
CEO Brian Roberts says 100% ownership is desirable, but not necessary
Sky urges shareholders to "take no action"
Comcast Corp.  (CMCSA) - Get Comcast Corporation Class A Report said Tuesday that it is prepared to pay £22.1 billion ($30.88 billion) for Britain's Sky Plc (SKYAY) in a bid that would challenge both Rupert Murdoch's ambition to buy the remaining stake of his own company and Walt Disney Corp.'s (DIS) - Get Walt Disney Company Report plans to own the European pay-TV giant.
Action Alerts Plus holding Comcast said it would offer £12.50 a share for Sky, a 16% premium to 21st Century Fox's (FOX) - Get Fox Corporation Class B Report outstanding £10.75 bid for the 61% of Sky that it doesn't already own, a deal valued at around $15.5 billion. Comcast said its bid would be financed by cash and new debt and would need at least 50% approval by Sky shareholders.
"We think Sky is an outstanding company," Comcast said in a statement. "It has 23 million customers, leading positions in the UK, Italy and Germany, and is a consistent innovator in its use of technology to deliver its customers a great experience".
"We are confident that we will be able to receive the necessary regulatory approvals. If successful, the acquisition will enhance our free cash flow per share in the first year," the company added. "The UK is and will remain a great place to do business. We already have a strong presence in London and Comcast intends to use Sky as a platform for our growth in Europe."
Sky shares gained 20.4% by mid-day in London to change hands at £13.30 each, the highest since 2000, valuing the group at just over £22.8 billion. The shares have risen around 30% so far this year.
Comcast shares were marked 2.6% lower than their Monday close in pre-market trading, indicating an opening bell price of $38.55 each.
"The Independent Directors of Sky are mindful of their fiduciary duties and their obligations under the UK Takeover Code," the company said. "Since no firm offer has been made at this point, shareholders are advised to take no action."
Comcast also said it could reduce its bid price by the amount of special dividends paid to Sky shareholders based on agreements with the current management team linked to the timetable of the existing Fox takeover, which is being challenged by U.K. competition authorities. 
The U.K.'s Competition and Markets Authority (CMA), which has been examining the deal for several months, said in January that its decision to block the Fox takeover was based on the impact the purchase would have on "media plurality" in the United Kingdom.
However, the CMA also noted that while Disney's $52.4 billion all-share play for Fox would "significantly weaken the link between the (Murdoch Family Trust) and Sky" and that media plurality concerns would "fall away" if that deal went ahead, it will also look at the Disney/Fox deal in a separate investigation and said it was uncertain "whether, when or how the transaction will be completed."
That decision added a further layer of complexity to Disney's plans to purchase Sky as part of its December 2017 deal with Murdoch that included Fox's 39% stake in the satellite broadcaster, but there was little clarity offered with respect to the remaining 61% outstanding.