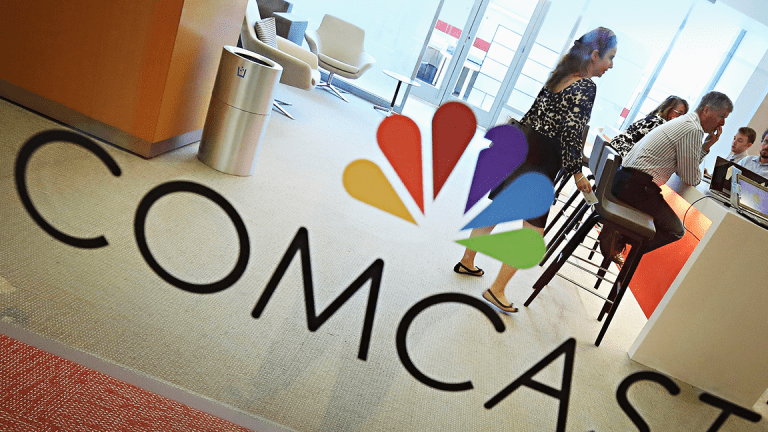 Comcast Pauses 2019 Stock Buyback to Focus on Post-Sky Debt Reduction
Comcast said Monday that it will pause its stock buyback program next year as it focuses on debt reduction in the wake of its $40 billion acquisition of Britain's Sky Plc.
Comcast Corp. (CMCSA) - Get Comcast Corporation Class A Report said Monday that it will pause its stock buyback program next year as it focuses on debt reduction in the wake of its $40 billion acquisition of Britain's Sky Plc (SKYAY) .
Comcast said it would buyback around $5 billion in shares over the 2018 year, however, according to a Securities and Exchange Commission filing. As of December 31, 2017, Comcast had $7 billion available under its share repurchase authorization.
Comcast shares fell 0.56% Monday, October 1. 
Last week, Comcast effectively gained complete control over Sky, Europe's biggest pay-TV broadcaster, when 21st Century Fox (FOXA) - Get Fox Corporation Class A Report  agreed to sell its 39% stake ending one of the longest takeover battles in U.K. history and creating what will be the world's largest broadcaster with more than 53 million customers over five countries across the U.S. and Europe.
Comcast, which topped the best-and-final offer of £15.67 from Fox and Walt Disney Co. (DIS) - Get Walt Disney Company Report with a £17.28 bid that valued Sky at £30.6 billion ($40.2 billion), had purchased 36.9% of the outstanding shares over the past three days and will now have complete control of the broadcaster and its 23 million customers.
Disney, which is purchasing the media assets of Fox for around $71.3 billion, said it agreed to the sale and would use proceeds from the Sky sale, which is valued at around $15 billion to pay down debt.
S&P Global Ratings analyst Naveen Sarma told Bloomberg last week that if Comcast succeeds in purchasing all of Sky, its debt could rise past $100 billion. 
Last week, Moody's Investors Service affirmed Comcast's A3 rating but put Sky's Baa2 credit rating, the second-lowest investment grade score, on review for possible downgrade, saying that the "final equity stake that Comcast will own in Sky and any explicit support that Comcast may provide to Sky's debtholders are uncertain at this point."
"If Comcast acquires 100% of Sky and provides guarantees to Sky's outstanding debt, an upgrade of two notches to A3, in line with the Comcast rating, is possible," Moody's said. "If Comcast acquires majority ownership of Sky and formal credit support is not made available, an upgrade of one notch to Baa1 is possible, reflecting the implicit credit support that Comcast would provide for this strategic asset."
"In Moody's opinion, a minority stake in Sky would not be core for Fox / Disney and so Comcast is likely to own 100% of Sky in time," the ratings group said.
Comcast Corp. outbid rivals Disney and Fox for the right to buy the outstanding shares of Britain's Sky in a three-round auction that wrapped up on Saturday September 23. 
Comcast's final offer, in the third and ultimate round of bidding in the rare two-day auction, was £17.28 per share, the Panel said, a price that tops the £15.67 per share bid put forward by Disney/Fox and is some 17% higher than Comcast's July offer. The bid valued Sky at more than £30.2 billion ($39.5 billion).
"This is a great day for Comcast," said CEO Brian Roberts. "This acquisition will allow us to quickly, efficiently and meaningfully increase our customer base and expand internationally."