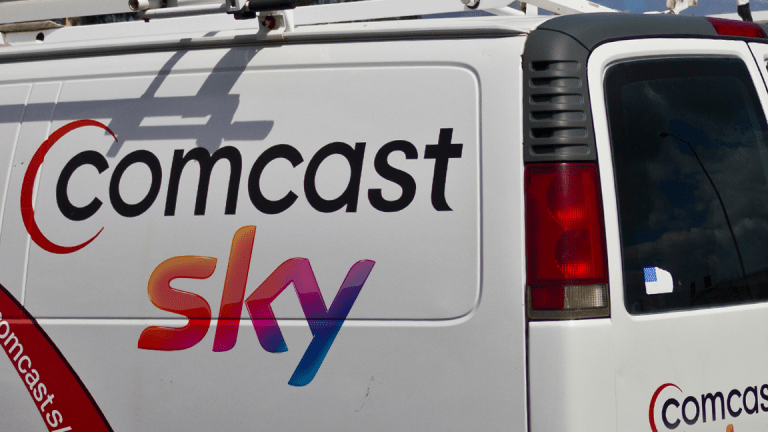 Comcast Details $30 Billion Bid for Britain's Sky in Takeover Battle With Fox
Comcast says it has financing in place to pay $30.7 billion for Britain's Sky plc as the takeover battle for Europe's biggest pay television group intensifies.
Comcast commits to pay $30.7 billion for Sky 
CEO Brian Roberts says merger would create 52 million customer base
Comcast says has financing in place for "full cash consideration" of Sky at £12.50 per share
Comcast posts forecast beating Q1 EPS of $0.66 on revenues of $22.74 billion
Comcast Corp. (CMCSA) - Get Comcast Corporation Class A Common Stock Report  formalized its plans to take over Britain's Sky plc Wednesday with a bid that values Europe's biggest pay television group at more than $30 billion and challenges Rupert Murdoch's 21st Century Fox (FOXA) - Get Fox Corporation Report
Comcast said its bid values Sky at £12.5 per share, a 4.4% discount to Sky's current trading price of £13.10 but more than 16% higher than the £10.75 bid put forward by Fox in December 2016 and 13% ahead of Sky's share price on Feb. 26, the day before Comcast made it initial approach to the London-based group. Sky said it could no longer recommend that offer to shareholders and would look at both Fox and Comcast's bid to determine the best value for the company.
"We are delighted to be formalizing our offer for Sky today," said Comcast CEO Brian Roberts. "We have long believed Sky is an outstanding company and a great fit with Comcast. Sky has a strong business, excellent customer loyalty, and a valued brand. It is led by a terrific management team who we look forward to working with to build and grow this business."
Sky shares gained 4.32% immediately following the Comcast announcement and were changing hands at £13.64 each by late morning in London. 
"With its 23 million retail customers, leading positions in the UK, Italy, and Germany, and its history of strong financial performance, we see significant opportunities for growth by combining our businesses," Roberts added. "Sky is a highly complementary business and will expand Comcast's international footprint in the UK and Continental Europe.
"Sky will be our platform for growth across Europe. The combined customer base of approximately 52 million will allow us to invest more in original and acquired programming and innovation as we strive to deliver a truly differentiated customer experience," Roberts added.
Fox has been trying to buy the 61% of Sky that is doesn't already own, but has been knocked back by U.K. regulators who are concerned over the Murdoch group's control over the country's media landscape.
"Due to its control of News Corp, the Murdoch family already has significant influence over public opinion and full ownership of Sky by Fox would strengthen this even further," the CMA said. "While there are a range of other news outlets serving UK audiences, the CMA has provisionally found that they would not be sufficient to moderate or mitigate the increased influence of the MFT if the deal went ahead."
Fox has committed to a number of proposals to address the regulator's concerns, including ring-fencing Sky News. 
Comcast addressed that concern with a commitment to maintain investment levels at Sky News, a Sky division, at 2017 levels for at least the next 10 years.  
Britain's Competition and Markets Authority is expected to rule on Fox's proposed takeover, which is worth $15 billion, on May 1.
The bid details came just minutes prior to the group's first quarter earnings release, which showed the Philadelphia-Pa.-based media group posting a stronger-than-expected 66 cents a share in adjusted earnings and a 10.7% year-on-year increase in revenues of $22.79 billion thanks to NBCUniversal's SuperBowl and Olympic broadcasts. Investors were looking for a topline of $22.74 billion and adjusted earnings per share of 60 cents, according to FactSet estimates. 
"Comcast NBCUniversal is off to a great start in 2018 with over 10% revenue growth in the first quarter"Roberts noted. "At Cable Communications, our steady increase in customer relationships continued, balanced with solid growth in EBITDA, reflecting momentum in our high-speed Internet and business services segments. NBCUniversal delivered double-digit EBITDA growth, fueled by impressive results at our Theme Parks, as well as our TV businesses' successful broadcasts of the NFL's Super Bowl LII and the 2018 PyeongChang Olympics."
Comcast shares were marked 1.05% lower in pre-market trading in New York, indicating an opening bell price of $33.35 each, a move which would extend its year-to-date decline past 16% .