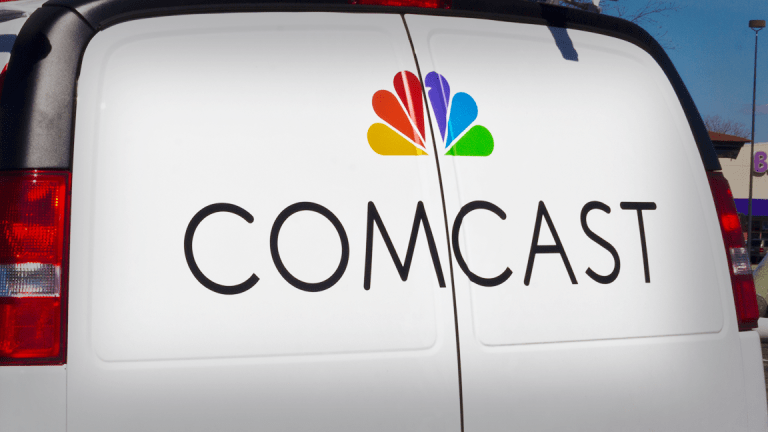 Comcast Corp. (CMCSA) - Get Comcast Corporation Class A Report said Wednesday that it's considering an all-cash bid for the assets that 21st Century Fox Inc.  (FOX) - Get Fox Corporation Class B Report  is preparing to sell to rival Walt Disney Co. (DIS) - Get Walt Disney Company Report .
Comcast said its bid for the entertainment assets of Rupert Murdoch's group would be superior to the $60 billion offer currently on the table from Disney, although Comcast said that no final decision had been taken even as it noted that it was in "advanced" stages of the approach, which includes getting regulatory approval for the purchase.
"Any offer for Fox would be all-cash and at a premium to the value of the current all-share offer from Disney," the company said in a statement. "The structure and terms of any offer by Comcast, including with respect to both the spin-off of "New Fox" and the regulatory risk provisions and the related termination fee, would be at least as favorable to Fox shareholders as the Disney offer." 
Action Alerts PLUS holding Comcast shares fell 1.57% at the opening bell $32.00 each, a move that extended its year-to-date decline to around 18.5%. Fox shares rose 1.15% higher to $38.60 while Disney shares fell 1.11% to $102.92 each. 
Earlier this week, Comcast appeared to take the inside track in its £22 bilion bid for Sky plc when Britain'sCulture Secretary Matt Hancock said he was "minded" not to intervene in a Comcast approach.
"Having reviewed the relevant evidence available, I can confirm that I have today written to the parties to inform them that I am minded not to issue an [intervention notice] on the basis that the proposed merger does not raise concerns in relation to public interest considerations which would meet the threshold for intervention," Hancock said in a statement to lawmakers. 
Comcast has also formally notified the European Commission of its plans to bid for Sky, Britain's biggest pay-TV company, in a deal that could be worth $30 billion if it clears regulatory approval in both Brussels and London. The Comcast bid for Fox's assets, including the 61% of Sky that is currently on the table, could be worth a collective $60 billion, based on a Reuters report that suggested the Philadelphia, Pa.-based media group is looking at a bridge financing agreement of a similar size.
The complex deal is hinged upon Fox's December agreement to sell most of its assets -- including flim studios, FX Networks, Fox Sports Regional Networks; Fox's international networks; Indian satellite TV group Star India; and stakes in National Geographic Partners, Hulu LLC and Sky -- to Disney for around $52.4 billion.
Rupert Murdoch reportedly had concerns about the regulatory outlook for sale of media assets to Comcast, which owns the largest U.S. cable operator as well as NBC and Universal Pictures, and the Reuters reported noted that Comcast CEO Brian Roberts is waiting to see if Federal Jude Richard Leon will block the sale of Time Warner Inc. (TWX) to AT&T Inc. (T) - Get AT&T Inc. Report before moving on Fox.
Earlier this month, Britain's Competition and Markets Authority submitted its recommendation on Fox's Sky takeover bid, giving the Secretary of State for Digital, Culture, Media and Sport, Conservative lawmaker Matt Hancock, 30 working days to make a final ruling on the deal -- one day after Judge Leon is expected to rule on the AT&T/Time Warner deal on June 12.
"My decision will be on whether the merger operates or may be expected to operate against the public interest, taking into account the specified public interest considerations of media plurality and genuine commitment to broadcasting standards," Hancock told the House of Commons on May 1. "When I have reached a decision I will return to Parliament to make an oral statement. I will come to a view on whether to make a final order or accept any final undertakings in due course, and will consult on these publicly, but not before I have taken a decision on the public interest tests."
The European Union has until June 15 to rule on Comcast's potential pay for Sky, at which time if can clear the deal without conditions or ask for a more detailed four-month review of the proposal.