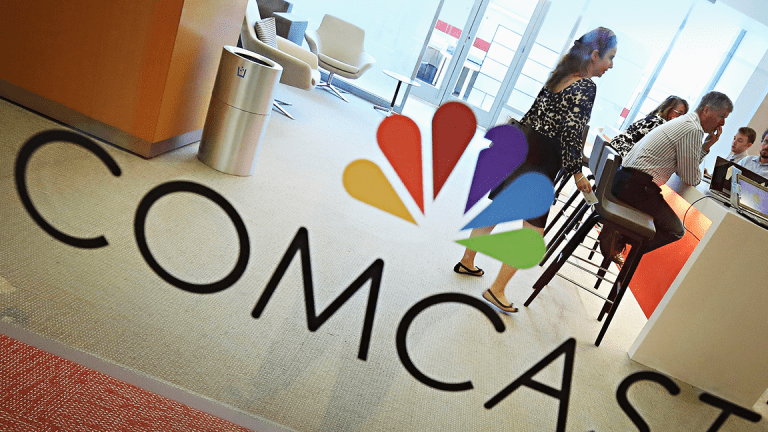 Comcast Beats Q2 Earnings Estimate as Internet Additions Offset 'Cord-Cutting'
Comcast posted stronger-than-expected second quarter earnings Thursday even as lost tens of thousands of subscribers to its video service amid the ongoing "cord cutting" that continues to fragment the media industry.
Comcast Corp. (CMCSA)  jumped higher in pre-market trading Thursday after it posted stronger-than-expected second quarter earnings even as America's biggest cable company lost tens of thousands of subscribers to its video service amid the ongoing "cord cutting" that continues to fragment the media industry.
Comcast said earnings for the three months ending in June came in at 65 cents a share on an adjusted basis, topping the consensus forecast of 60 cents and rising 25% from the same period last year. Group revenues were tabbed at $21.7 billion. modestly shy of Street forecasts, as 140,000 customers left the video business, up from 34,000 in the second quarter of 2017. Still, high-speed internet revenue rose 9.3% to $4.26 billion as Comcast added a larger-than-expected 260,000 new subscribers. It also announced a quarterly divided of 19 cents a share. 
"We delivered fantastic results in the second quarter, including robust free cash flow of $4.3 billion," said CEO Brian Roberts. "At Cable Communications, we added 182,000 customer relationships, largely driven by our addition of 260,000 broadband customers, which was the highest second quarter result in 10 years. These strong customer metrics were balanced with robust EBITDA growth, fueled by high-speed Internet and business services."
"NBCUniversal's performance was highlighted by continued momentum in affiliate revenue at our cable networks business, and Telemundo presented its first ever FIFA World Cup which set multiple records for the network," he added. "Additionally, we are excited about the new attractions that we opened at each of our theme parks during the quarter, and pleased with the theatrical performance of Jurassic World: Fallen Kingdom. Overall, our successful results in the first half of 2018 underscore the strength we see across Comcast NBCUniversal."
Comcast shares were marked 2% higher at the opening bell and changing hands at $34.11 each, a move that trimmed the stock's year-to-date decline to around 14%.
Comcast dropped its $66 billion bid for the entertainment assets of 21st Century Fox (FOXA) , ending one of the media industry's most intriguing bidding wars that appears to leave Walt Disney Co  (DIS) CEO Bog Iger in poll position to take control of the bulk of Rupert Murdoch's vast entertainment empire at a cost of $71.3 billion.
Comcast said it would instead focus its attention on Britain's Sky plc (SKYAY) , a European pay-TV juggernaught that is 39% owned by Murdoch's Fox and is now connected to 23 million households following the addition of more than 500,000 new subscribers in Britain, Ireland, Germany and Austria. Comcast is ready to pay £14.75 per share, or $34 billion, for the London-based group.
"It's been an exceptional year of progress, delivering against our plans but also laying the groundwork for the future," CEO Jeremy Darroch said after the group reported stronger-than-expected full year earnings of $3.3 billion, noting the group is "excited about the opportunities ahead no matter what our future ownership structure is, we're certainly not slowing down."