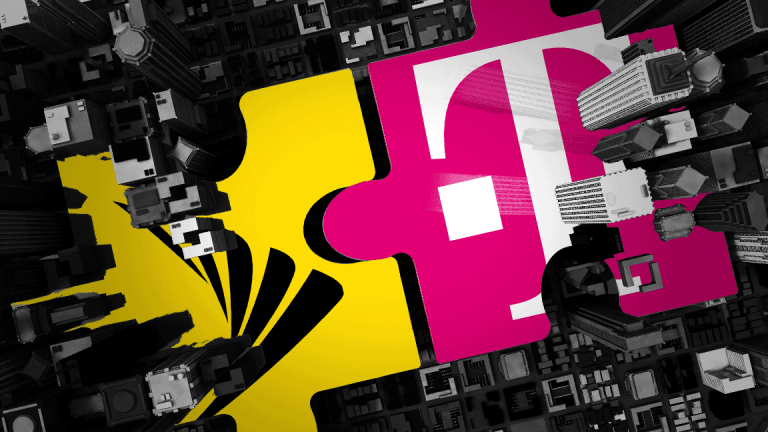 A Combined T-Mobile-Sprint Might Have to Divest Some of Its Spectrum Trove
If regulators approve T-Mobile's merger with Sprint, they will likely force the companies to give up some of their massive collection of wireless spectrum licenses. Prepaid brands Boost Mobile and Virgin Mobile might also have to go on the block.
As T-Mobile US Inc. (TMUS) - Get T-Mobile US, Inc. Report CEO John Legere and Sprint Corp. (S) - Get SENTINELONE, INC. Report Chairman Marcelo Claure try to win clearance for their merger in Washington, the telecom bosses have suggested they do not intend to divest their massive combined portfolio of wireless licenses.
"We're pretty clear on why we think that the traditional look at divestitures is not the way this deal should be looked at and not something we anticipate," Legere told investors during a call announcing the deal in late April. Later in the call, he elaborated that the spectrum portfolio is "an important part of what we need to build the highest capacity network that the country has ever seen and desperately needs."
Likewise, on a media call following Sprint's May 2 earnings announcement, Claure said, "from a spectrum perspective we are going to be users of 100% of the spectrum that we have."
Together, the carriers would have by far the largest portfolio of wireless spectrum in the U.S. A merged Sprint and T-Mobile would have an average of 319 MHz of spectrum in the top 50 markets, according to UBS. By comparison, AT&T has 177 MHz and Verizon has 114 MHz.
However, regulators may not buy the argument that T-Mobile and Sprint need such a large portfolio of licenses to provide a world-class 5G wireless broadband service.
"While they would like to keep it all, given the vast amount of spectrum they have at the 2.5 Gigahertz range, that could be problematic," Fitch Ratings, Inc. analyst Bill Densmore said. 
Sprint has more than 160 MHz in the 2.5 Gigahertz band alone. Claure has touted the spectrum, saying the frequencies are in the "sweet spot" for delivering 5G services, during Sprint's earnings call. This band alone is roughly equal to AT&T's entire spectrum portfolio, and exceeds that of Verizon's. 
The FCC plans to auction spectrum in the 3.5 GHz and 3.7 GHz to 4.2 GHz bands for wireless broadband, Densmore noted, though the sales could be years off. Bringing some of Sprint's spectrum to market could provide spectrum much more quickly. 
Verizon (VZ) - Get Verizon Communications Inc. Report and AT&T (T) - Get AT&T Inc. Report would most likely benefit from a forced auction, UBS analyst John Hodulik noted in a report. "A spectrum sale to Verizon could help alleviate capacity concerns at the company," the analyst wrote. The FCC and Department of Justice might prefer a sale to a new entrant, such as a cable operator, he added. 
However, Densmore noted that promoting potential buyers would almost put the government in the role of brokering a deal. "I wouldn't see them dictating terms like that," he said. "It could require asset divestitures at lower-than-market value."
Regulators could also push the merger partners to divest Sprint's prepaid brands, Densmore said. T-Mobile owns MetroPCS while Sprint has the Boost and Virgin Mobile brands. Combined, the brands would have about 30 million subscribers and account for 40% of the prepaid market. T-Mobile bought MetroPCS for $7 billion in 2013, while Sprint acquired Virgin Mobile in a 2009 deal for $731 million.
TracFone Wireless Inc., controlled by América Móvil SA AMX, provides prepaid service in the U.S. and would be a potential suitor for Boost and Virgin Mobile, Densmore suggested. 
Editor's note: This article was originally published by The Deal, a sister publication of TheStreet that offers sophisticated insight and analysis on all types of deals, from inception to integration. Click here for a free trial.