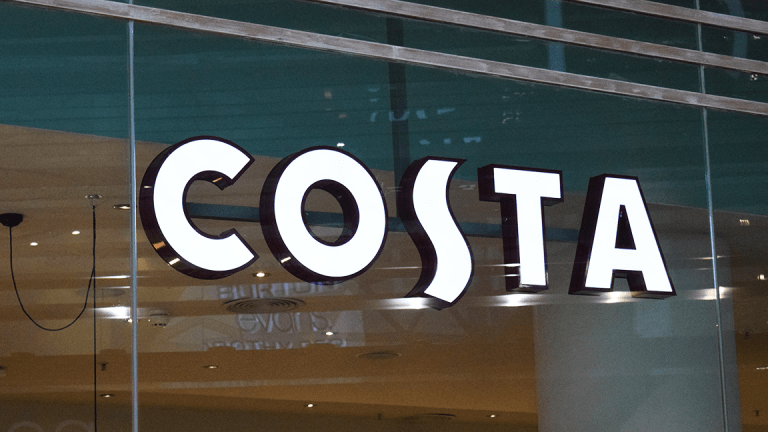 Coke Adds Coffee Giant Costa to Drinks Portfolio After $5 Billion Whitbread Deal
Coke said Friday that it will purchase the Costa brand of coffee stores, the world's second largest behind Starbucks for around $5 billion from U.K. pub and hotel operator Whitbread plc.
Coke adds more caffeine to the portfolio. 
Coca-Cola Co.  (KO) - Get Report said Friday that it will purchase the Costa brand of coffee stores, the world's second largest behind Starbucks Corp. (SBUX) - Get Report for around $5 billion from U.K. pub and hotel operator Whitbread plc (WTBDY) .
The deal, which will see Coca-Cola pay around 16.4 times Costa's full-year operating earnings, inferring an enterprise value of £3.9 billion ($5 billion) has been fully-approved by the Whitbread board but is subject to the agreement of the company's shareholders, who are set to receive a "significant" portion of the cash from the deal.
One of those shareholders, activist investor Elliot Management, had been pushing for a demerger of the Costa business from Whitbread's core hotel operations. CEO Alison Brittain said that she expects Elliot would be "as delighted as the rest of our shareholders with the move today."
"Costa gives Coca-Cola new capabilities and expertise in coffee, and our system can create opportunities to grow the Costa brand worldwide," said president and CEO James Quincey."Hot beverages is one of the few remaining segments of the total beverage landscape where Coca-Cola does not have a global brand. Costa gives us access to this market through a strong coffee platform. I'd like to welcome the team to Coca-Cola and look forward to working with them."
Whitbread shares surged more than 18.2% in the opening minutes of trading in London before paring that gain to around 16.5% to change hands at 4,693 pence each, a move that takes the stock to the highest level in nearly three year.
Coca Cola shares were marked 0.67% higher in pre-market trading in New York, indicating an opening bell price of $45.25 each a move that trims its year-to-date decline to around 2%.
Starbucks shares fell more than 2% in pre-market trading to change hands at $51.88 each as investors grew concerned that Costa's 4,000 shops, spread across 30 countries, could increase pressure on the Seattle, Wash.-based group's international operations.
Brittain said the $5 billion sale price was "significantly higher" than anything it could have extracted from a demerger, and previous reports had suggested that private equity groups such as Bain Capital, CVC Capital Partners Ltd. and TPG Capital LP had looked at the Costa business with a price tag of £3 billion.
Credit Suisse AG analysts said earlier this summer that the long timeframe outlined by Whitbread for the demerger increased the chances for a direct bid for Costa, valuing Costa at 10 times 2019 Ebitda, or £2.5 billion.
"I am delighted that we have agreed the sale of Costa to Coca-Cola for £3.9 billion," she said in a statement Friday. "This transaction is great news for shareholders as it recognises the strategic value we have developed in the Costa brand and its international growth potential and accelerates the realisation of value for shareholders in cash."
"Whitbread acquired Costa in 1995, for £19 million when it had only 39 shops and successfully grew the business to be the UK's favourite and largest coffee shop company," she added. "In more recent years, we have been focused on building Costa into a leading multi-channel, international coffee brand. This has resulted in this unique strategic opportunity to combine the Costa brand with Coca-Cola's global scale, product and distribution capabilities."
Whitbread's last business update, published in June, noted that same-store sales at Costa fell by 2%, while U.K. sales growth at the world's second largest coffee chain advanced by 5.2%, driven by new stores and Express machines.
The group's hotel division, Premier Inn, saw like-for-like sales fall 0.9%, but the expansion the U.K. and Germany helped boost overall sales by 2.2%.