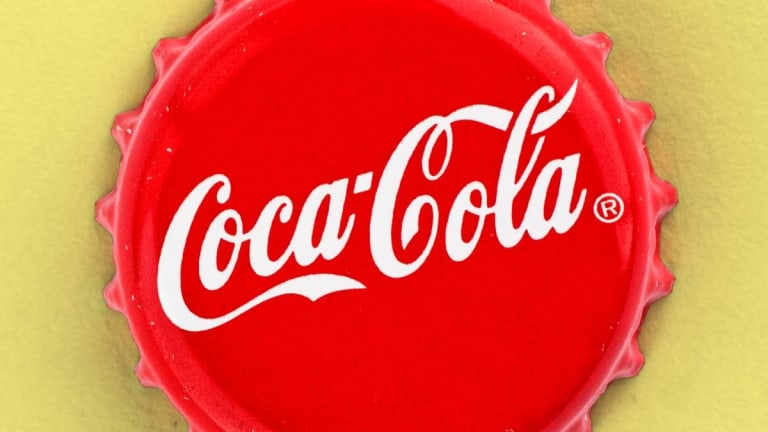 Coca-Cola Nudges Higher After Morgan Stanley Upgrades to Overweight
Analyst Dara Mohsenian raises her price target on Coca-Cola to $55 from $52.
Shares of Coca-Cola (KO) were rising Tuesday in premarket trading after analysts at Morgan Stanley upgraded the consumer staples giant to overweight from equal weight. 
The stock was rising 2.36% to $49.18 a share. 
Analyst Dara Mohsenian also raised her price target to $55 from $52, representing 14.5% upside. 
"We believe KO offers a clearly superior growth outlook vs. consumer packaged goods peers, with stronger pricing power, favorable strategy tweaks, solid volume growth, and rebounding emerging market trends, which are not reflected in relative valuation below historical long-term averages," Mohsenian said.
Coca-Cola's forward one-year earnings multiple is 21.26, slightly higher than PepsiCo's (PEP) 21.3. Usually Coca-Cola commands a multiple much higher multiple than PepsiCo. "Surprisingly, despite clear historical proof, this is not being recognized in valuation at what we see as an unfair discount to peers," Mohsenian added. 
Coca-Cola is now Morgan Stanley's top mega-cap staples stock pick. 
Mohsenian moved her EPS estimates for 2019 and 2020 up to 42 cents from 41 and 46 cents from 44, respectively. 
The beverage giant saw its stock rise in late April after reporting earnings per share of 48 cents, better than Wall Street's expected 46 cents. Revenue was $8.02 billion, beating expectations of $7.88 billion. To Mohsenian's point about product tweaks, "Constant innovation is crucial for sustained growth," CEO James Quincy said on the earnings call. 
The stock has risen 2.4% this year.