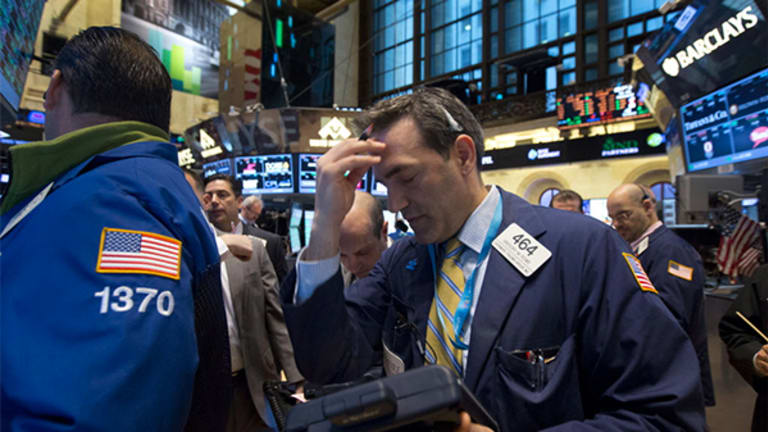 CNBC Analysts Weigh in on Fed, Market and Friday's Jobs Report
CNBC's 'Squawk on the Street' hosted two analysts discussing the market, the Fed and the Friday jobs report.
Your Money, Your Retirement, and the 2016 Presidential Election - What changes will you need to make to your portfolio should Hillary Clinton become president? What happens to your investments should Donald Trump become president? Join us on Sept. 12 as our panel of the world's top financial experts provide trusted information on the investment risks and opportunities that arise with the upcoming presidential election in November. [Learn more about the event and RSVP.]
NEW YORK (TheStreet) --Looking at the broader market stocks are "relatively flat" on Wednesday morning, the final day of trading in August, CNBC's Sara Eisen reported on "Squawk on the Street" Wednesday.
The S&P 500 is lower slightly this morning although financials, energy and the tech sector are remaining tough. These sectors led in August as monetary policy continued to drive market sentiment, Eisen added.
Eisen was joined by two analysts, chief U.S. equities strategist at Citigroup Tobias Levkovich and chief equities strategist at UBS Wealth Management Jeremy Zirin, to discuss where investors should focus in September.
On Friday the Labor Department will release its latest jobs figures. Earlier today ADP announced that private companies added 177,000 jobs in August vs. the 175,000 Wall Street was expecting.
Everyone will be looking to Friday's job numbers as an indication as to whether or not the Federal Reserve will increase interest rates in September.
"Well if you listen to what [Fed] Vice-Chair Fisher and Chairperson Yellen said over the past few days, they are looking for incremental data points that would suggest strong economic activity to feel more willing to consider a rate hike," Levkovich said.
Citi has a "firm view" that rates will go up in December, rather than September. Levkovich sees the data "moving in the right direction for the Fed."
August has been a month of "flat to positive for the S&P," Eisen added. She questioned Zirin as to if sticking with the strategy of sector rotation is "sustainable for the rest of the year?"
"I think that the sector rotation that we've seen over the past couple of months is going to continue," Zirin said. Largely the defensive sectors that led the market higher in the first six months of the year, largely based on the fact that treasury fell from two and a quarter to below one and a half percent. That trade I think is over."