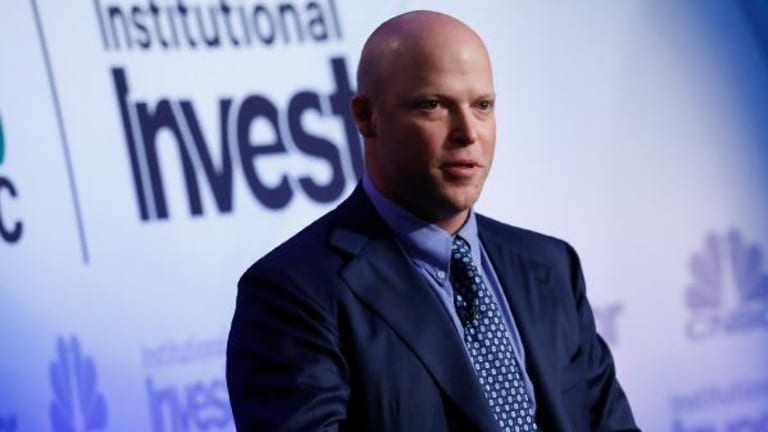 Clariant Says Activists White Tale Holdings Increase Stake Past 10%
Keith Mesiter's Corvex builds bigger Clariant stake.
Clariant AG (CLZNY) said Thursday that activist investors, led by Keith Meister, have built a stake of more than 10% in the speciality chemicals group as the wave of U.S.-based campaigns into European companies continues to accelerate.
"White Tale Holdings now hold a stake in excess of 10%," Clariant said in a brief statement emailed to TheStreet. "This follows earlier mandatory notifications by White Tale Holdings to the Swiss Stock Exchange (SIX) regarding their holdings."
Meister's Corvex Management hedge fund, as well as the 40 North Investment group run by David Winter and David Millstone, have communicated their stake in Clariant through the White Tale investment vehicle, and first indicated their drive to disrupt Clariant's $20 billion merger with Huntsman Corp. earlier this month, arguing the deal has "no strategic rationale" and is "a complete reversal of the company's longstanding strategy of becoming a pure-play specialty chemicals company."
"We believe that the proposed merger significantly undervalues Clariant's shares and that far more value could be created for shareholders through any number of alternative transactions," the investors said, in a statement on July 4.
When proposed Clariant/Huntsman deal -- led by CEO Hariolf Kottmann -- was announced in May, it was described as a merger of equals, although Clariant was in fact acquiring its U.S. peer since the Pratteln, Switzerland-based chemicals maker ended up with 52% of its counterpart from Woodlands, Texas.
But the tie-up was nonetheless seen by some as a potential 'tax inversion', on the part of Huntsman, which would have the global operational hub in the U.S. and provide the CEO of the combined company, while Clariant would take the chairman's role and provide the corporate headquarters.
Switzerland's effective federal corporate tax rate is 7.8%, according to Deloitte, while U.S. rates are banded between 15% and 35%. 
Others, including analysts at Barclays, said the deal is "primarily about scale". "Clariant's share of the targeted value creation of more than $3.5 billion from synergies is equivalent to some 25% of the company's market cap," the bank said.
Clariant shares were marked 0.5 higher in the opening minutes of Zurich trading and changing hands at Sfr22.47 each, taking their year-to-date gain to 28%.