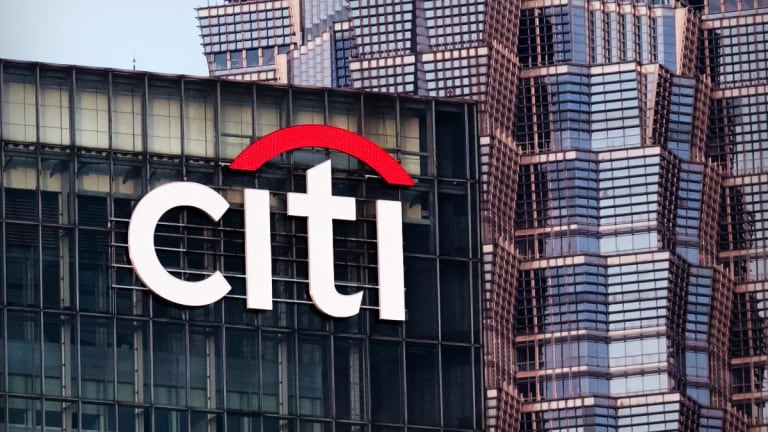 Citigroup, Morgan Stanley and Other Banks Roiled as U.S. Yield Curve Inverts
The yield curve inverts, and bank stocks suffer.
Ominous economic data from the U.S. Friday caused investors fear over the long-term prospects of the economy, pressuring the country's large-cap bank stocks. 
Now, the U.S. 3-month and 10-year yields have inverted, with the 10 year hitting 2.429% and the three month hitting 2.455%, as the S&P 500 and Dow Jones Industrial Average have both lost more than 1% Friday. 
Banks, which derive much of their profit through their net interest margins, or the difference between their borrowing and lending rates, are seeing their stocks fall Friday, as the inverted yield curve makes lending less lucrative and less attractive. 
Citigroup (C) - Get Citigroup Inc. Report lost 4.58% to $60.98 a share Friday. It's still well off of its 52-week low of $48, which it hit on an ugly Christmas Eve 2018. It's still up 13% this year, but as the Federal Reserve has turned more dovish on rate hikes, bank stocks have trended down in the past 5 days, with Citigroup losing 6.5% in that span. 
Morgan Stanley (MS) - Get Morgan Stanley Report was down 3.27% to $41.72 a share Friday. Morgan Stanley was well off its one-year low of $37 a share hit on Dec. 24, and is down 4.9% over the past 5 days. 
Wells Fargo (WFC) - Get Wells Fargo & Company Report  fell 3.11% to $48.31 a share. 
JPMorgan Chase & Co. (JPM) - Get JPMorgan Chase & Co. Report was down 3.02% to $99.76 a share, and is down about 6% in the past 5 days. 
Goldman Sachs (GS) - Get Goldman Sachs Group, Inc. Report  shed 2.88% to $188.96 a share. 
And with a potentially dim outlook for banks, bank stocks could remain depressed for the foreseeable future. While regulations may safeguard banks from another crisis in the event of a recession, the potential of a recession is keeping some wealth managers away from banks. "This type of risk does not offer the asymmetric return profile we look for in the equity market," Brian Herscovici, chief investment officer of USAA managed portfolios, said of bank stocks. "These risks are further inflated with the continuous data coming out on slowing growth, including todays PMI Manufacturing and Survey data."
Still, banks can pull many levers in order to remain growing, should the economy soon hit a recession. Not only are banks "de-risking their mortgage businesses" by lending less to home buyers, which Jon Curran, global corporate bond fund manager at Aberdeen Standard Investments told TheStreet, but they can turn to other sources of revenue to replace that. Curran said banks may soon raise fees on customer deposits in order to compensate for lower lending revenues, as the big banks have the ability to "toggle," in Curran's words, between different sources of revenue. 
Regional banks are down as well. Fifth-Third Bancorp (FITB) - Get Fifth Third Bancorp Report fell 3.71% to $24.54 a share Friday. Suntrust (STI) - Get SunTrust Banks, Inc. Report fell 4.10% to $57.71 a share. 
The U.S. large cap bank index fell 3.88% Friday. 
How Much Money Will I Need to Retire?
Want to learn about retirement planning from some of the nation's top experts? Join TheStreet's Robert "Mr. Retirement" Powell live in New York on April 6 for our Retirement Strategies Symposium. For a limited time, tickets are available for $99 for this full-day event. Check out the agenda, learn about the speakers and sign up here.