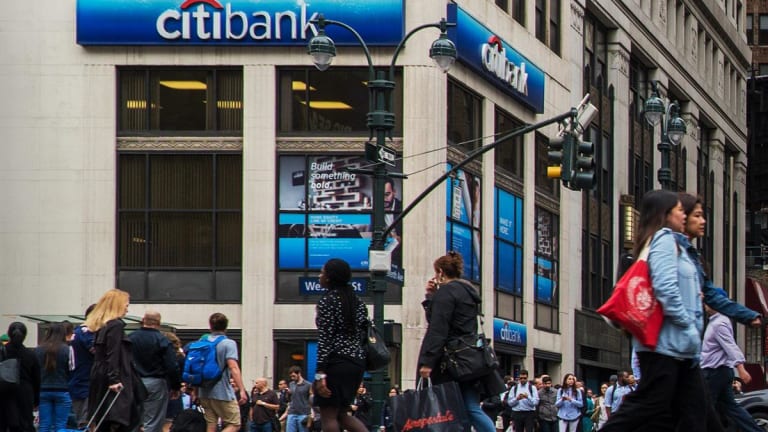 Citigroup, Like Goldman Sachs, Tries Internet to Bypass Bank-Branch Wars
Citigroup's network of 689 bank branches in the U.S. and Canada looks paltry compared with JPMorgan Chase's 5,000-plus web and Bank of America's 4,353 locations. So the bank is using its online bank to lure new customers - with juicy yields on savings accounts.
Citigroup's network of 689 bank branches in the U.S. and Canada looks paltry compared with JPMorgan Chase's 5,000-plus web and Bank of America's 4,353 locations. So the bank is using its online bank to lure new customers - with juicy yields on savings accounts.
Here's an easy trick for figuring out if a bank is paying a decent interest rate on a savings account.
First, go to the bank's main landing web page for opening an online savings account. If the rate is listed front and center, in a big, boldface font, it's probably decent; if clicking and scrolling are required, it's probably not. 
For the past couple years, the Wall Street firm Goldman Sachs Group (GS) - Get Report has been billboarding top-of-the-market deposit rates offered through its online bank, Marcus in a bid to lure deposits away from much-bigger (and lower-paying) competitors with sprawling branch networks. Those include JPMorgan Chase (JPM) - Get Report and Bank of America (BAC) - Get Report , where a bit of clicking and scrolling will reveal online deposit rates of less than 0.1%.
Now, a new player is emerging in the battle for online deposits, featuring a boldface interest rate: Citigroup (C) - Get Report , which has a vast network of branches outside the U.S. but a relatively paltry physical presence domestically.
After years of shrinking the U.S. branch network and minimizing its significance during investor-relations pitches, executives at the New York-based company are now back to talking up their retail-banking strategy. In the six core markets where the bank has a competitive branch presence -- New York, Chicago, Los Angeles, Miami, San Francisco and Washington -- depositors are currently getting annual interest rates of less than 0.1% on regular savings accounts. 
But outside those cities, in fast-growing, tech-savvy places like Austin, Texas, an easy Google search turns up links to "Citi Accelerate Savings" accounts -- with deposit rates more than 20 times higher, at 2.36%. The offer is "available in select markets only," a disclaimer warns. But for Googlers in those markets, the rate is printed front and center on the website, in a big, boldface font.  
Last week, Citigroup informed investors during a first-quarter earnings presentation that average deposits in the U.S. and Canada increased by 1% from a year earlier to $182.3 billion. It's not exactly dot-com-like growth, but the deposits had been shrinking for the past two years in the bank's North American region. 
"We saw deposit growth in retail banking and introduced new products to support our branch-light, digital-heavy strategy in the U.S.," Citigroup CEO Michael Corbat said on a conference call. 
For Corbat, who's stuck with a 689-branch network that's much smaller than JPMorgan's 5,000-plus locations and Bank of America's 4,353 locations, it's a smart way of making lemonade out of lemons -- especially in a pitch to shareholders at a time when nearly everything is increasingly online and Internet-based retailers like Amazon.com (AMZN) - Get Report have crushed historic chains like Sears Holdings (SHLDQ) , now a penny stock with a stock price below $1.
The bank said it has an added source of digital-banking sales leads that Goldman Sachs lacks: a nationwide customer base of 34.8 million credit-card accounts, whose holders can be teased with the juicy online deposit rates.   
Citigroup's online bank poses little immediate threat to Bank of America, which has built 150 new branches over the past three years and modernized 1,000; earlier this month, the Charlotte, North Carolina-based bank said it would build at least 350 new locations in the next three years and modernize an additional 1,500.
The cost of building and maintaining bricks and mortar is key: That's the primary reason why branch-heavy banks can only afford to pay a tiny deposit rate, when compared with online-only rivals. 
"Since Citi has a much more limited branch network, this could be a cost-effective way for them to bring in deposits without the added overhead of branch expansion," Ken Tumin, founder of industry tracker DepositAccounts.com, said in a phone interview.
Bank of America CEO Brian Moynihan doesn't sound worried. On his own bank's conference call last week with Wall Street analysts, he told investors that customers can choose whether they want to deal with a human at a branch, or simply transact online. 
"The customer can have their cake and eat it too," Moynihan said. 
In fact, they are increasingly choosing to just eat it: Some 77% of deposit transactions "are now done through digital means," Moynihan said, such as sending in photos of checks via an app. 
"This means more of our financial centers and their teammates' time can be devoted to important events in the clients' financial lives," Moynihan said. 
Or maybe they'll just end up waiting around for Generation Z'ers to hop off their smartphones and walk into an empty branch to open a low-yielding savings account. 
Goldman Sachs, JPMorgan, Citigroup and Amazon are holdings in Jim Cramer's Action Alerts PLUS member club. Want to be alerted before Jim Cramer buys or sells the stocks? Learn more now.