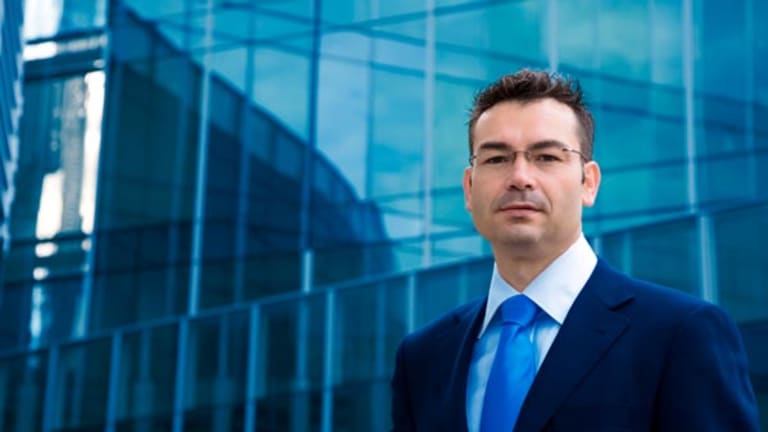 Chipping Away at AMD
Shares fall as investors focus on soggy second-quarter guidance.
Updated from 7:33 p.m. EDT
Advanced Micro Devices
(AMD)
slumped lower Thursday as investors put the chipmaker's big earnings performance in the rearview and concentrated on uninspiring second-quarter guidance.
In recent trading, the stock lost $2.99, or 8.4%%, to $32.43.
AMD said Wednesday that it earned $185 million, or 38 cents a share -- 8 cents higher than the average analysts' EPS expectation, which called for AMD to earn 30 cents. Sales of $1.33 billion were in line with analysts' expectations.
AMD's gross margin increased to 58.5% in the first quarter, compared with 57.3% in the fourth quarter. The company said the increase was largely due to product mix improvement, higher desktop and notebook prices and manufacturing efficiencies.
AMD said sales for the current second quarter will be flat to slight down sequentially from the first quarter's $1.33 billion. Analysts had expected AMD to slightly increase sales in the second quarter to $1.35 billion.
"Building on our positive momentum, we believe we once again gained dollar market share based on strong customer demand for AMD64 single and multi-core processors," said CFO Robert Rivet in a statement accompanying the earnings announcement.
In the year-ago period, AMD incurred a net loss of $17 million, or 4 cents a share, as a result of spinning off memory unit Spansion from its flash memory division in a December IPO.
AMD's top-line results represent a 71% increase from a year earlier, excluding contributions from Spansion.
But first-quarter revenue, which was down 1.5% sequentially, was at the low end of AMD's guidance, which called for sales to be flat to slightly down sequentially.
AMD has been steadily taking market share from
Intel
(INTC)
, the world's No.1 chipmaker, largely on the strength of its dual-core server processors.
In the fourth quarter of 2005, AMD took 3 percentage points of share from Intel, and in March, Intel warned Wall Street that its first-quarter sales would fall substantially below expectations, as a result of "slight share loss" and weak overall demand.
On Wednesday Intel shares set a new 52-week low, closing at $19.12.
AMD executives downplayed reports that Intel is aggressively slashing prices as a way to put pressure on AMD.
"I'm seeing a lot of low-end products and seeing drastic price cuts on products that people don't want to buy," said Henri Richard, AMD's chief sales and marketing officer about Intel's pricing actions in a conference call with analysts after the reports.
And CEO Hector Ruiz told analysts that AMD was less susceptible to Intel's price cuts than it was a few years ago, when the company was more focused on consumer desktop processors.
Though average selling prices for AMD's Opteron server processors decreased in the first quarter, management said this was a result of AMD's own proactive pricing actions to increase market share, rather than a reaction to pricing moves by Intel.
During the first quarter, AMD said sales of its server processors increased by triple digits, year over year.
AMD President Dirk Meyer said he expected the competitive situation to "tighten" in the second half of the year, at which time Intel is slated to introduce a trio of new processors featuring a brand new microarchitecture.
But he added that customers who have seen both companies' product plans continue to expand their relationships with AMD.
Meyer said that AMD would provide information about its own technology advances at a June analyst meeting.
AMD raised its 2006 capital expenditures projections to $1.7 billion as the company accelerates its shift to 300-millimeter chip-manufacturing equipment.
Operating expenses in the current quarter, which has an extra week, will increase 8% sequentially, the company said.
AMD's Richard said that overall demand in the current quarter appears healthy, save for continuing uncertainty in Western Europe, which he said was affected by an inventory glut of mobile chips in the first quarter.