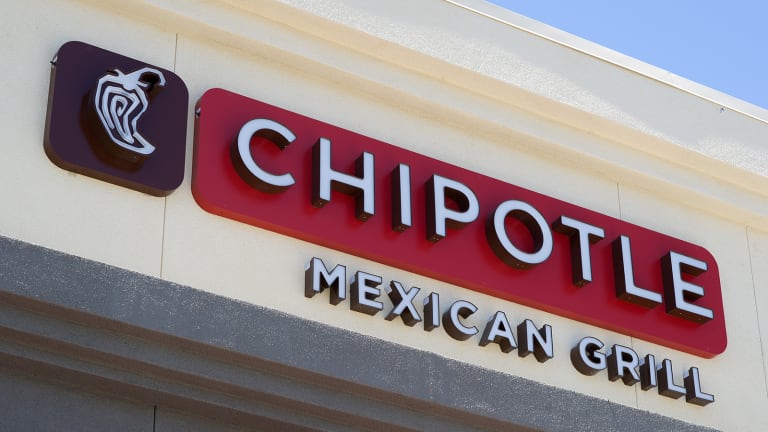 Publish date:
Chipotle Mexican Grill (CMG) Stock is the 'Chart of the Day'
Chipotle Mexican Grill (CMG) stock is Wednesday's 'Chart of the Day.'
Chipotle Mexican Grill (CMG) stock is Wednesday's 'Chart of the Day.'
NEW YORK (TheStreet) -- Chipotle Mexican Grill (CMG) - Get Report stock is rising by 0.46% to $450.19 in midday trading on Wednesday, but shares have declined more than 6% so far this year as the company implements new safety procedures following an E. coli outbreak that has affected 53 people in nine states.
The full financial impact of the outbreak will be known next week when the Mexican food chain reports its 2015 fourth quarter earnings results on Tuesday after the market close.
Chipotle has already warned investors that comparable restaurant sales dropped by 14.6% and that earnings per share will be in the range of $1.70 to $1.90, down more than 50% year-over-year.
TheStreet's Chris Versace and Bob Lang have identified Chipotle as the "Chart of the Day." Here's what they have to say about the company:
Chipotle has been one of the brightest stars in the restaurant group, boasting robust growth metrics and solid earnings that were the envy of the industry. The stock has always been expensive, the market allowing it a greater multiple to compensate for enormous growth potential.

But recently, an E. coli scare and outbreak caused from its restaurants has made many turn south on Chipotle. The potential damage is far-reaching and management's efforts to halt the share price slide on bad news have not worked.

We can see the exodus from the stock in the chart, evidenced by the heavy volume selling since October. This story has been played out before with similar names, and it will take quite a while for Chipotle to recover fully.

In the meantime, there is no bottom in sight. In fact, any rally could/should be sold, as we can see plainly for the chart that has been the case for months. We are not going to pick at a bottom, this stock should not be bought until the dust settles.

The management have little view on guidance, and until that improves any pop is a chance to short the stock. This is a bearish chart, but certainly one to consider when the smoke clears. Find out more by watching this video.
Chris Versace and Bob Lang's "Chart of the Week: Chipotle Mexican Grill" was originally published on Trifecta Stock.
Want more from Versace, Lang and Wall Street's sharpest minds BEFORE your stock moves. Learn more about Trifecta Stocks now!