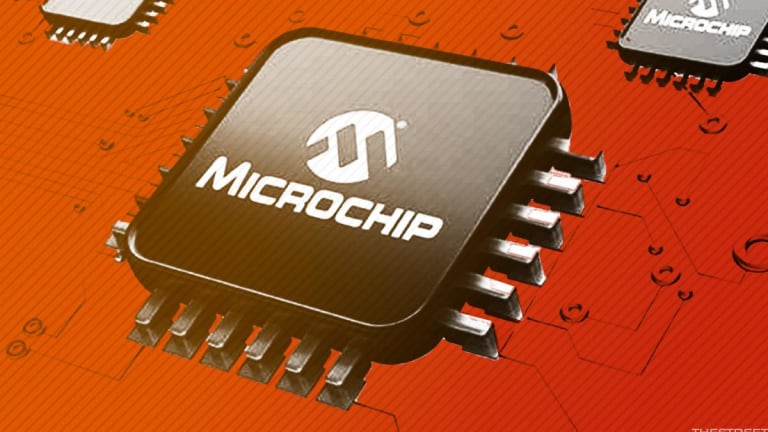 Chip Stock Investors Should Take Note of Microchip's Tariff Remarks
The chipmaker, which has strong exposure to Chinese manufacturers, partly blamed trade worries for its soft guidance.
Following fairly positive earnings reports and calls from Texas Instruments (TXN) - Get Texas Instruments Incorporated Report and several other peers, Microchip Technology (MCHP) - Get Microchip Technology Incorporated Report offered a more disappointing set of numbers and remarks.
Is that a reason to become bearish on chip stocks? Not necessarily, given that valuations for the group are mostly reasonable and most of the issues that Microchip says are affecting its near-term sales are either company-specific problems or well-known short-term issues. However, the fact that the company also (unlike many peers) indicated tariff worries are impacting its top line shouldn't be ignored.
After the bell on Thursday, Microchip reported June quarter (fiscal first quarter) non-GAAP revenue of $1.22 billion and EPS of $1.61. Revenue rose 25% annually with the help of Microchip's recent acquisition of fellow chipmaker Microsemi (it closed in late May), and was slightly above a $1.21 billion consensus. EPS, which got an $0.08 boost from a lower tax rate, topped a $1.48 consensus.
However, Microchip also guided for September quarter non-GAAP revenue of $1.474 billion to $1.55 billion and EPS of $1.65 to $1.83. Revenue guidance is entirely below a $1.59 billion consensus, and EPS guidance mostly below a $1.67 consensus.
The maker of analog, mixed-signal, microcontroller (MCU) and memory chips fell 8.2% in after-hours trading to $90.00. Peers such as TI, Analog Devices (ADI) - Get Analog Devices Inc. Report , NXP Semiconductors (NXPI) - Get NXP Semiconductors N.V. Report , ON Semiconductor (ON) - Get ON Semiconductor Corporation Report and Cypress Semiconductor (CY) - Get Cypress Semiconductor Corporation Report posted declines ranging between 1.2% and 2.4%.
Some of these firms had already sold off a bit earlier in Thursday, after Morgan Stanley's Joseph Moore downgraded his view of the chip sector to Underweight, while warning once more about a potential inventory correction.
On its earnings call, Microchip partly blamed its guidance on efforts to reduce the excess chip inventory it claims Microsemi shipped to customers -- both distributors and contract manufacturers. Microchip, which unlike Microsemi only recognizes non-GAAP revenue for distributor sales when products are shipped to end-customers, also accused Microsemi of inflating revenue by shifting sales that had involved direct shipments to end-customers to distributors willing to buy a lot of product. It's now working to move those sales back to end-customers, while cautioning that those customers won't buy much until distributor inventories are depleted.
It doesn't end there: Microchip, which says it has "essentially" replaced all of Microsemi's top leadership, accuses Microsemi of having "a culture of excessive extravagance," one that led it to waste millions on things like sports sponsorships and private plane travel. Those familiar with Microchip might notice a familiar tone to these remarks: The company blasted the leadership of Atmel over various perceived misdeeds after closing its acquisition of the chipmaker in April 2016.
However, in addition to Microsemi inventory issues, CEO Steve Sanghi claimed "several small factors" are starting to weigh. Namely:
Order push-outs by customers that aren't able to build finished products thanks to shortages/stretched lead times for passive components.
Trade tensions, which are said to be making some customers, such as smaller Chinese hardware makers that could be impacted by U.S. tariffs, nervous about future demand.
Weak sales to China's ZTE (estimated to be about 1% of Microchip's revenue), which just saw a ban on U.S. parts imports lifted.
Plunging demand for cryptocurrency mining hardware. Though Sanghi said crypto-related sales only account for about 1% of its sales, he also suggested demand has fallen by "70% or more."
Microchip, it should be noted, is far from the first chip or component supplier to warn about weak demand from ZTE and/or the crypto mining market. And certain peers (NXP, for example) have also mentioned that passive component shortages are affecting near-term sales; on the call, Sanghi expressed confidence that the issue will go away soon.
Also: In light of Morgan Stanley's downgrade, it also worth pointing out that outside of Microsemi, Microchip claims its distributor inventories are at healthy levels, and actually fell by a day sequentially. Peers such as TI, ON Semi and Cypress have also said over the past month that their channel inventories aren't excessive.
On the other hand, Microchip's trade comments contrast meaningfully with those provided by many of its rivals; in general, they've argued that tariffs and trade worries are having at most a minimal impact on business. Between the fact that it's reporting later than these peers, the fact that it counts tens of thousands of smaller hardware firms (including many Chinese ones) are end-customers and the fact that it recognizes distributor revenue based on sell-through rather than sell-in, Microchip seems well-positioned to be a leading indicator here.
Microchip, to be fair, isn't warning that its sales are falling off a cliff due to trade worries -- only that they're impacting its guidance a bit. But its trade/tariff remarks are slightly concerning for a chip industry that has seen a pretty strong up cycle over the last couple of years. ADI's earnings report and call, due on August 22nd, should provide additional color on the matter.
This column originally appeared on Real Money, our premium site for active traders. Click here to get more great columns like this.
Employees of TheStreet are restricted from owning individual equities.