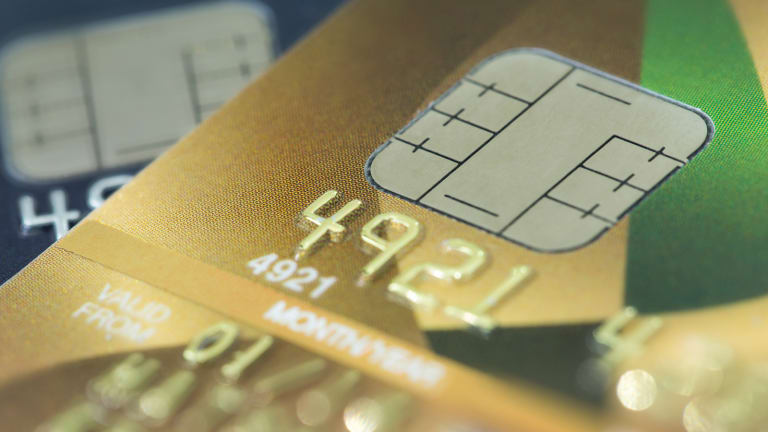 Chip Cards are Redefining How Consumers Use Credit Cards
Chip cards are currently in the hands of 600 million consumers.
Chip cards are currently in the hands of 600 million consumers.
NEW YORK (TheStreet) --Chip cards are transforming the way consumers use credit cards. For decades credit cards were used by swiping the card's magnetic strip along a keypad. Now chip cards allow consumers to insert the card into the payment keypad.
There are currently 600 million chip cards being used by customers. However, two-thirds of the nation's retailers still do not accept the new form of payment. CNBC business news reporter Contessa Brewer discussed the transition to chip cards from magnetic strip cards during Friday morning's "Squawk Box."
"The Chip technology is known as EMV for Europay, MasterCard,  (MA) - Get ReportVisa (V) creates a unique code for each transaction, and has a tiny microprocessor on the card that communicates with the terminal, so that cuts down on the probability of fraud at the point of sale," Brewer said.
Both MasterCard and Visa say that fraud has decreased by nearly half in all of the retailers that utilize the EMV technology. "Overall though fraud is actually on the rise this year expected to reach a record $4 billion because thieves are looking to cash in on the magnetic stripe cards that are still out there," Brewer added.
The hardest part of the transition may be consumer attitude and behavior, she said. While interviewing several consumers Brewer found they each appeared disgruntled that the chip cards either weren't working, or took too long to use.
"Despite the complaints, a survey by NerdWallet found that four out of five consumers view chip cards positively, and nearly half prefer using them to make their purchases," Brewer noted.