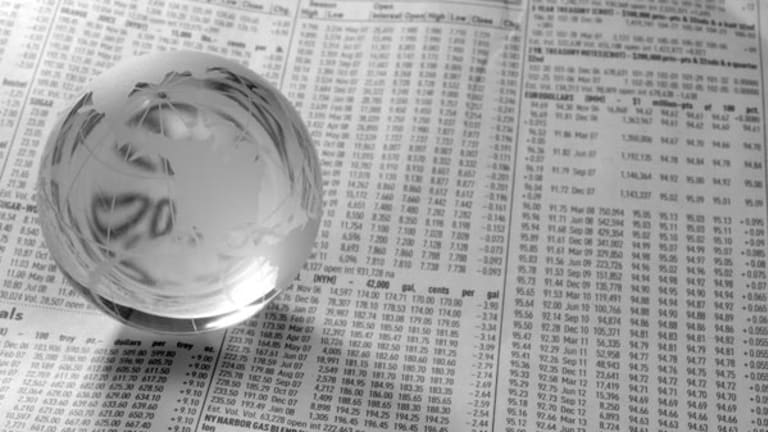 Chinese Stocks Pull Asia Higher
A rally in the "A" shares helped drive Hong Kong and other regional indices higher.
Asian markets mostly fought their way into the green on Wednesday, spurred primarily by bargain hunting in heavily sold Hong Kong property stocks and Chinese commodity plays.
In Hong Kong, the Hang Seng finished 296 points, or 1.1% higher, at 27,029, after recovering from a dip in afternoon trading. Trading volumes continued to fall dramatically, down 20% from Tuesday's trading, to HK$82.3 billion, or $10.6 billion, however, as more investors are staying in cash for the Christmas holiday season. In China, the Shanghai Composite Index jumped 105 points, or 2.2%, to 4914.
"The bears were not attacking aggressively today, and we saw a good recovery in the late session," says Alex Wong, a director at Ample Financial Group in Hong Kong. "Today we had a pick up in Chinese "A" shares, which is probably the reason why we saw a bounce in the late afternoon."
Wong adds that Hong Kong has been increasingly tracking the Chinese "A" share market, which is led by state-owned giant
PetroChina
(PTR) - Get PetroChina Co. Ltd. Report
, and less by the U.S. indices. Rebounds in PetroChina shares may be an indication of strength to come on both the mainland and in Hong Kong, he adds.
PetroChina leapt 1.8%, to HK$13.74 in Hong Kong, while in China the shares rose 1.2%, to 29.59 yuan, paving the way up for other commodity stocks, such as
Aluminum Corp of China
(ACH) - Get Aluminum Corp. of China Ltd. Report
, which climbed 3%, to 37.39 yuan.
Hong Kong property stocks mostly continued their push into the green for the second day running, with
Hang Lung Properties
(HLPPY)
rising 3.2%, to HK$32.70,
Cheung Kong
(CHEUY)
gaining 2.3%, to HK$133.90,
Swire Pacific
(SWRAY)
up 1.4%, to HK$101.40, and
Hutchison
(HUWHY)
inching forward nearly 10 basis points, to HK$87.70.
Sun Hung Kai Properties
(SUHJY)
bounced 2.3%, to HK$154.10 after announcing that it had acquired a development in Chengdu, China, for 3.1 billion yuan, or $420 million.
The second-day rebound in Hong Kong shares also followed positive employment numbers released yesterday. The jobless rate fell to 3.6% in the three months to November, down from 3.9% in October, and the island's lowest since 1998. Average household income rose to HK$17,900, or $2,294, from HK$16,900, or $2,166, a year ago.
Financials also fared well after recent credit concerns are easing slightly on dealing floors.
Hang Seng Bank
(HSNGY)
leapt 3.3%, to HK$150.50, while
Bank of China
(BACHF)
rose 0.3%, to HK$3.82.
After the recent sell-off, Lee Shau-Kee, a prominent Hong Kong entrepreneur, and majority shareholder of
Henderson Land
, lowered his forecast for the Hang Seng in 2008 slightly to 30,000, from 33,000, a month ago.
Wong says that near term, investors can expect a trading range of between 26,000 and 27,000 for the index.
"We're not expecting strong upside potential in the short term,' says Wong. "Then, after people digest the impact of PetroChina in the first quarter, this could pick up and improve Hong Kong sentiment."
In Japan, stocks remained sluggish, pulled lower by continued weakness in financials. The Nikkei closed down 177 points, or 1.2%, at 15,030.
Sumitomo Mitsui Financial
( SMFJY) fell 1.4%, to 642 yen, while
Mizuho Financial
(MFG) - Get Mizuho Financial Group Inc. Report
finished 1.3% lower, at 529,000 yen, and
Mitsubishi UFJ
(MTU)
was off 1.05%, at 1031 yen. Among recent headline stocks,
Nintendo
(NTDOY) - Get Nintendo Co., Ltd. Report
continued its recent path of volatile trading, ending 0.15% lower, at 62,500 yen while
NTT DoCoMo
(DCM)
ended up 1.7%, at 179,000 yen , after Tuesday's news that it was in talks with
Apple
(AAPL) - Get Apple Inc. Report
to bring the iPhone to market.
The yen strengthened vs. the dollar, to 113.19, from 113.31 yesterday.
In other Asian trading-day news,
Centro Properties
(CEOPF)
surged 50%, rebounding from declines of 86% in the last two days, after the company announced that it had not transgressed lending agreements.
In South Korea, former Hyundai CEO Lee Myung-Bak was reportedly headed for a landslide victory in today's national election. Markets were closed for the elections, but investors expect a Lee victory to cheer sentiment Thursday morning. Nearby in Taiwan, the Taiex rebounded the most in four months, by 2.7%, to 8014 on bargain hunting.
Daniel M. Harrison is a business journalist specialising in European and emerging markets, in particular Asia. He has an MBA from BI, Norway and a blog at
. He lives in New York.