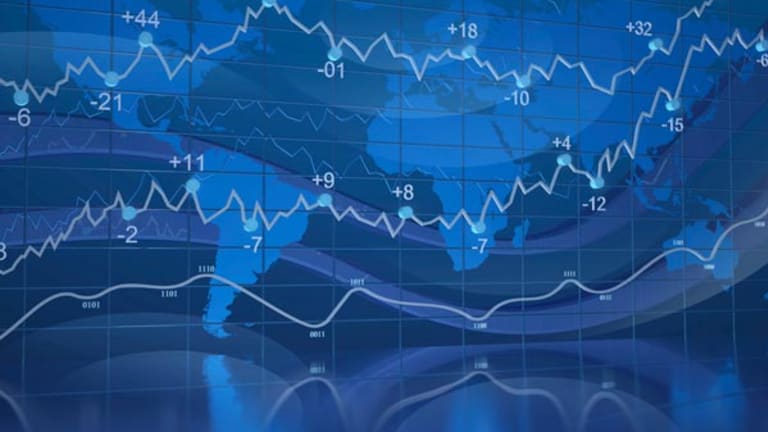 China Stocks End Mixed
Meanwhile, more signs emerge of yuan liberalization.
BEIJING -- Monday kicked off on a slightly down note in Hong Kong, with the Hang Seng Index losing 0.5% to 15,769. But the Shanghai Composite Index managed to shake off news of new monetary measures in China to add 0.8%, closing at 1586.
In Friday New York trading, China shares were mixed to slightly down.
Tom Online
(TOMO)
fell 1.55% to $19, and
Sina
(SINA) - Get SINA Corp. Report
was off 3.3% to $22.91. Gainers included
Ctrip
(CTRP) - Get Ctrip.com International Ltd Sponsored ADR Report
, up 0.7% to $49.07, and
Elong
(LONG)
, advancing 1% to $14.18.
Over the past week, a raft of new data showed economic growth in China careening along at too rapid a clip, prompting much concern about how Beijing would respond.
The wait didn't take long. After the Asian markets closed Friday, China's central bank announced it would hike banks' reserve requirement ratio from 7.5% to 8%, starting July 5.
But in a quieter move with potentially far greater long-term impact, mainland policymakers have also begun allowing the Chinese currency to appreciate noticeably against the dollar. Friday, the dollar fell to the lowest level against the yuan since Beijing undertook a one-off, 2.1% upward currency revaluation last summer.
Authorities allowed the yuan to open below 8 to the dollar -- a recent psychological benchmark -- last Thursday and Friday. Viewed another way, at its low in Friday trading, the dollar could have bought only 7.9970 yuan.
"The drop below 8 sends a very strong message that the government will allow the currency to appreciate. Going forward, we believe the currency will appreciate faster," said Qing Wang, senior currency strategist for Bank of America in Hong Kong.
In late Monday trading, the dollar was at 8.0060 yuan.
Granted, nobody expects any huge moves upward in the future. "It's going to be a gradual and smooth process, with appreciation accelerating instead of another revaluation," said one analyst in Hong Kong.
Still, a slow-but-steady rise in the yuan to the dollar would help rein in the swollen U.S. trade deficit with China. That means Beltway protectionists would have one less China bogey to yammer about.
Both the reserve requirement change and the apparent subtle shift in currency policy speak to Beijing's need to tamp down the nation's surging lending and money supply, which have created some anxiety that China is creating an investment bubble.
Already the government allowed a 25-basis-point interest rate hike in April and has sought through administrative measures to reduce bank lending and property speculation.
But the recent currency moves are fascinating, particularly because the yuan-to-dollar exchange was so stable in most of April and May.
Why the change now? Some have speculated that Beijing may have wanted to maintain currency stability in the run-up to the Bank of China's IPO, since the bank's income flow and balance sheet are leveraged to foreign exchange. Volatility might have affected its cash flow projections and in turn dampened enthusiasm for the listing. But its successful debut frees up authorities to have a freer hand with currency.
Just last week,
Federal Reserve
chairman Ben Bernanke said a more flexible exchange rate system would let China maintain a more independent monetary policy."Politically China is ready, technically it's ready and economically it's ready" to allow greater appreciation in the yuan, said Wang.
From a political standpoint, the U.S. Treasury Department's decision in May not to name China as a currency manipulator -- an epithet many China hawks were hankering for -- likely gave Chinese policymakers more latitude to move without being accused of cowing to America.As for more immediate triggers, May's record trade surplus of $13 billion to some extent underscored the economy's lopsided export orientation.
"But it's not really about one particular month's trade surplus, it's about large and persistent trade surpluses that are an indication of an undervalued currency," Wang says.
A more robust yuan makes Chinese exports more expensive, discouraging exports. It gives Chinese consumers greater buying power to purchase imports.
Bank of America forecasts yuan appreciation of 5% to 5.5% over the course of 2006, with the dollar falling to 7.63 yuan by year's end.
Another bank, ING, likewise expects continued appreciation, with the dollar ending the year at 7.75 yuan.
By comparison, since Beijing's upward revaluation of the yuan last July 21, the currency has gained only 3.3% (including the initial 2.1% gain from the revaluation).
Wang says appreciation on the order of 5% isn't likely to have much negative impact on the economy. If anything, it could provide a helpful cooling effect in the short term, given the signs of overheating.