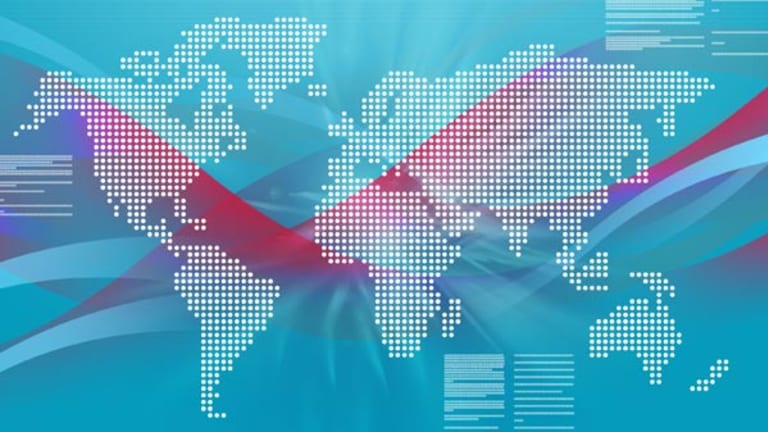 Publish date:
China Stocks Climb; Korea Falls
In Hong Kong, the Hang Seng is little-changed.
In Hong Kong, the Hang Seng is little-changed.
After staging a rally in Wednesday morning trading, most Asian markets gave up their gains by the close over fears about the health of the global banking and property system and a strengthening yen.
Fears were spurred by worries about the writedowns
Merrill Lynch
( MER) may be forced to take as a result of the subprime mortgage crisis. (And when Merrill did report, it pegged the writedown at a staggering $7.9 billion.)
In Hong Kong, the Hang Seng ended the day flat, down 43 points, or 0.15%, to 29,333.53, after hitting 29,997.01 in early trading -- just shy of the recent 30,000 benchmark. In Japan, the Nikkei fared similarly, down 92 points, or 0.56%, after a day in the green, to 16,358.39.
The Topix lost 6.69 points, or 0.4%, to 1563.86. The Korean Kospi slumped 14.6 points, or 0.75%, to 1,933.
In China, however, the Shanghai Composite Index shrugged off the Merrill jitters, gaining 70 points, or 1.21%, to 5,843.
"Markets will get a little weaker as this creates a little fear," says Ben Simpfendorfer, head of capital markets for RBS in Hong Kong. "There's not a lot of
long-term visibility here. The real emphasis should be on global growth numbers like payroll data."
Banks led the end of day declines, with
China Citic Bank
off 2% to 10.55 yuan in Shanghai, and
HSBC
(HBC)
down 0.75%, to HK$145.20 in Hong Kong.
While
China Life Insurance
(LFC) - Get Report
gained just 0.29% to HK$51.45 in Hong Kong after being sold off toward the end of the day, in Shanghai the shares jumped 2.9% to 70.96 yuan. The difference in trading is typical of what many are pointing out as arbitrage opportunities in Hong Kong, where dual-listed shares trade at a 68% discount in Hong Kong to their China listings.
Rumors that Chinese mainland citizens may soon be able to buy the Hong Kong-listed shares have now died down after last week's speculation in Asia, but Simpfendorfer says that won't affect the strong trading seen in the Hang Seng in recent months.
"Its possible you'll see declines, but I doubt it, because there is still anticipation that the money will come," he says.
In IPOs,
Alibaba.com
closed its order books today. The company has raised $1.49 billion for its Hong Kong listing next week, and is rumored to have attracted more than $100 billion in institutional orders. That's great news for
Yahoo!
(YHOO)
, which owns a 39% stake and has subscribed to more shares for the IPO. Alibaba.com is forecast to earn $83 million this year, continuing the recent run in strong regional earnings.
In other Hong Kong trading,
PetroChina
(PTR) - Get Report
ended the day flat, while
China Mobile
(CHL) - Get Report
rose 0.13%. However,
China Unicom
(CHU) - Get Report
lost 1.86% to HK$15.80, while
China Telecom
(CHM)
dived 3% to HK$6.45.
Better than expected earnings -- particularly in consumer stocks like China Mobile -- have accounted for the big gains in Asian shares and record numbers of IPOs since the beginning of the year.
However, says, Sean Darby, head of research for Nomura in Hong Kong, this may be about to change with higher oil prices and more setbacks like those seen today.
"The sharp rise in energy and commodity prices coupled with decelerating global growth is likely to give rise to a series of downward earnings revisions in Asia. Investors appear to be underestimating the drag of the credit crunch on the real economy," he writes in a report to Nomura's clients.
"With crude oil and commodity prices rallying to new highs, Asian manufacturers will be hard-pressed to protect their margins," adds Darby.
In Japan, exporters declined on a rising yen.
Sony
(SNE) - Get Report
lost 0.95% to 5,180 yen,
Canon
(CAJ) - Get Report
dropped 3.37% to 5,730 yen, and
Toshiba
(TOSBF)
dipped 2.56%, to 951 yen.
Among financials,
Mitsubishi UFJ Financial
(MTU)
lost 0.76% to 1,038 yen.
The yen was trading stronger, at 114.43 vs. the dollar, in Asian trading.
In Korea,
Posco
was strong for the second time this week, rising 3.82% to 625,000 won.
Daniel M. Harrison is a business journalist specialising in European and emerging markets, in particular Asia. He has an MBA from BI, Norway and a blog at
. He lives in New York.