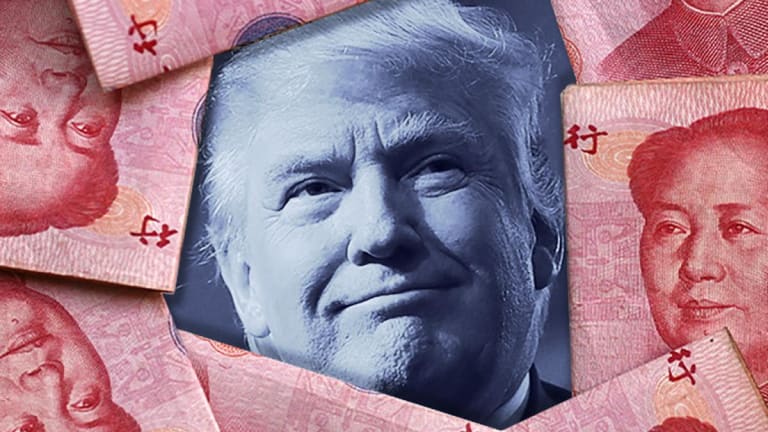 Ford, GM Gain as China Slashes Auto Import Tariffs
China will halve the tariff it applies to imported automobiles and parts into the world's biggest car market in the first major trade victory for U.S. President Donald Trump.
Yet another gift on the trade front this week.
China's Finance Ministry said Tuesday that it will slash import tariffs on automobiles into the world's biggest car market in what could be the most significant step by officials in Beijing to placate demands of President Donald Trump to trim the country's multi-billion trade surplus with the United States.
China will cut the tariff to around 13.8%, the Ministry said, from the current level of 25%, while reducing the levy on imported car parts to 6% from 10%, in an effort to open the market further to foreign competition. The reductions will take effect on July 1, the Ministry said in a statement.  
"Ford Motor Company welcomes the announcement of the Chinese government to reduce auto import tariffs," a Ford spokesperson said via email. "This is good news and we commend the governments of the United States and China for pursuing positive results for both economies through negotiated outcomes." 
Shares of Ford Motor Co. (F) - Get Free Report rose 0.6% to $11.58 at 2:30 p.m. New York time. The Dearborn, Mich.-based automaker, which plans to launch five new, redesigned car models in China this year, saw April sales in the country fall about 26% year over year to 69,503. That followed an 11% slide in sales in March.  
Rival U.S. automaker General Motors Co. (GM) - Get Free Report gained about 1% to $38.46. The company did not immediately respond to TheStreet's request for comment. The U.S.-listed shares of Fiat Chrysler Automobiles NV (FCAU) - Get Free Report jumped 1.8% to $22.74.
Volkswagen AG (VLKAY) , the world's second-largest carmaker, held relatively flat during afternoon trading as rivals BMW AG (BMWYY)  (+1.2%) and Daimler AG (DMLRY) (+0.7%) outpaced the DAX, Germany's benchmark stock index, which rose about 0.7%. The Stoxx 600 Automobiles and Parts Index, the sector benchmark, gained 0.3%.
Volkswagen sold more than 40% of the 2.511 million vehicles it delivered globally in the three months ending in March in the Chinese market, company reports indicate, compared to about 18% for BMW.
The moves come just days after officials in both Beijing and Washington said they would work to "significantly" reduce China's trade surplus, which hit a record $375 billion last year, following a weekend summit between the world's two biggest economies.
However, the reduction in auto tariffs -- which Trump famously described as "stupid" -- had been raised by China's President, Xi Jinping, earlier this year after a series of meetings with President Trump at his Mar-a-Lago estate in Florida.
China said earlier this month that it would open its market to foreign carmakers, saying it would lift caps on non-China ownership of joint ventures over the next five years.
The United States sold about $10.5 billion worth of cars to the Chinese market last year, according to Census Bureau data, but only took in $1.5 billion in reciprocal goods despite having only a 2.5% tariff on imported cars and parts. China's car market is also starting to slow, with first-quarter growth coming in at 2.8%, according to the China Association of Automobile Manufacturers, which predicts only a 3% advance this year, notably slower than the 13.7% pace recorded in 2017.
-- This story has been updated to include a comment from Ford Motor Co.