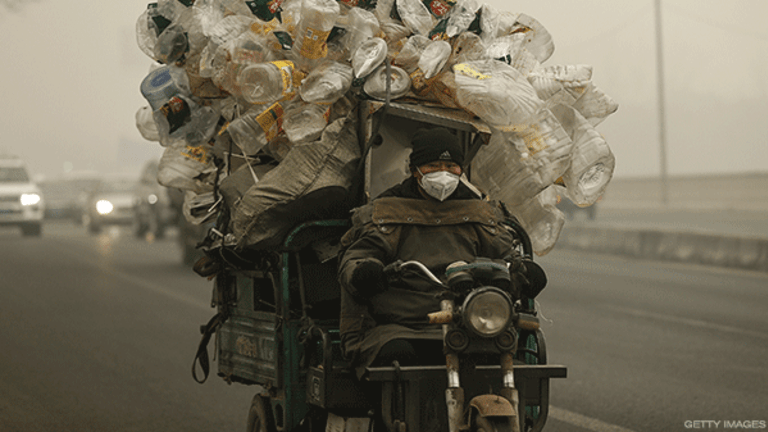 In Only Two Years China Will Start Phasing Out the Gas-Powered Car
China's aggressive clean energy car targets in the world's biggest market could ignite deeper investments from global automakers.
China will begin to phase-out the sale of fossil fuel-powered cars in 2019, officials said Thursday, with the introduction of production quotas for "new energy vehicles" in the world's biggest car market.
Producers and importers will need to get a clean energy score, the Ministry of Industry and Information Technology said, and prove that at least 10% of the cars they sell are "new energy vehicles", or NEVs, in order to avoid buying credits from the government or paying steep fines. Companies can also compile credits that can be sold to competitors if they sales and production rates top the minimum threshold.
The move comes on the same day that Toyota Motor Co. (T) , the world's biggest carmaker, announced details of its new electric car venture with Mazda Motor Corp. (MZDAY) that Toyota president Akio Toyoda hopes to use as a springboard for sales into China.
Toyota has sold more than 800,000 cars in the world's second-largest economy so far this year, and hopes to lift that total past 1.2 million by the end of that year, a figure that would likely equate to around 10% of its worldwide total. 
"As countries and regions around the world adopt increasingly stringent policies to help reduce greenhouse gases, new regulations that mandate a certain proportion of electric vehicle sales are beginning to emerge," Toyota said. "Complying with these environmental regulations, while ensuring the sustainable growth of our companies, requires the development of a wide range of powertrains and technologies. We regard electric vehicles (EVs) as a key technological field in this process alongside fuel cell vehicles."
Investors from around the world, including Warren Buffett, have been accelerating bets on electric vehicle growth in China. BYD Co Ltd, a Shenzen-based group backed by the billionaire investor and Berkshire Hathaway Inc. (BRK.A) founder , has sold around 50,000 NEVs so far this year, earning an estimated 30,000 credit points under the new system.
Earlier this month, BYD chairman Wang Chuanfu told Reuters that he expects China to transition fully into electric cars sales and production by 2030, a full 10 years ahead of targets recently set by Britain and France.
"We are very confident about all the timetables (to eliminate fossil fuel cars) and we think it will happen earlier than expected," Wang said. "Various governments have announced timetables to end the sale of fossil fuel cars and this is putting pressure on everyone else."
Last month, Ford Motor Co. (F) said it was exploring a 50/50 joint venture with China's Anhui Zotye Automobile Co. to produce low-emissions cars in the domestic market, and signed a memorandum of understanding to build a new brand. Ford already has a China-based partner, Chongqing Changan Automobile Co Ltd., but its sales slipped 6% to 719,859 units in the January to August period.
More of What's Trending on TheStreet: