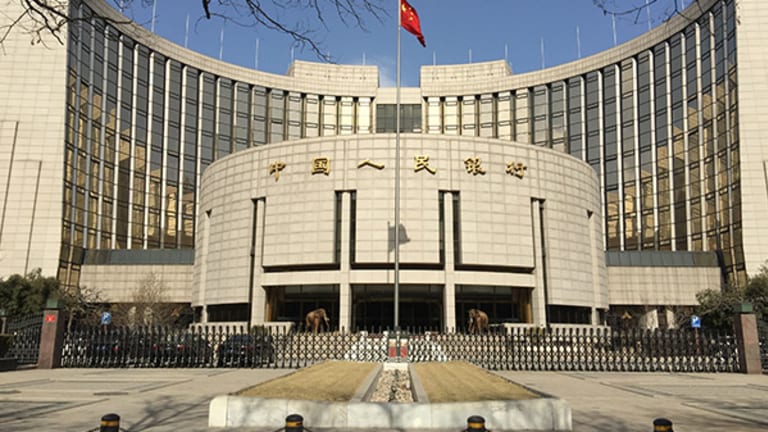 China's ICBC, Bank of China Beat Expectations For First-Half Earnings
Net interest income falls at both lenders even as fee and commission income buoy profit.
Industrial Bank & Commercial Bank of China and Bank of China (BACHY) , two of the world's five largest institutions by assets, beat expectations for first-half earnings on Tuesday, with both managing to lift their bottom line during the period.
However, net interest income fell sharply at both banks and without an offsetting increase in commission income and a meaningful reduction in costs, Tuesday's first-half earnings numbers could have looked a lot different.
ICBC reported net profit of Rmb 150.2 billion ($22.49 billion), up just less than 1% on the same period a year ago, and against expectations for Rmb149.9 billion. Bank of China reported Rmb93 billion, up 2.5% from one year ago, and against expectations for earnings of Rmb91.7 billion.
The beat from ICBC was largely the result of a 5.9% increase in fixed fee and commission income, to Rmb81.7 billion, and a 10% reduction in operating expenses to Rmb90.5 billion.
Bank of China was aided by a 42% increase in fixed fee and commission income, to Rmb107.7 billion, and a 4.1% reduction in operating expenses to Rmb83.5 billion.
Net interest income, a key driver of bank profitability, fell by 7% at ICBC to Rmb234.2 billion and by 5.2% at Bank of China to Rmb154.8 billion.
However, the increasing reliance of both banks on fixed fee income and cost cuts in order to hold their bottom lines steady, at a time when Chinese economic growth is still close to 7%, should highlight the headwinds to profitability that all banks will face for the length of time that the world's policy makers continue to pursue new record lows for interest rates.
Th People's Bank of China cut interest rates no less than six times between November 2014 and October 2015. It also injected liquidity into the banking system, using various instruments, on a number of occasions.
The one-year lending rate in China now stands at 4.35% and the one year deposit rate at 1.5%.  
A Tuesday report from Moody's sought to highlight risks posed to the Chinese financial system by the nation's smaller banks, stating that asset growth has not been matched by growth of customer deposits.
The analysts suggest that this means smaller Chinese banks are increasingly turning towards wholesale funding on interbank markets in order to finance loans to customers, before warning that a single default or sudden cash call could set off a domino effect that leaves the nation's banks starved of funds at a time when they need them the most.
ICBC stock closed up 0.5% on Monday, at Rmb4.51. It is down 1.5% so far this year. Bank of China stock was up 0.6% on Monday, to Rmb3.45, but is down 14.1% year to date.