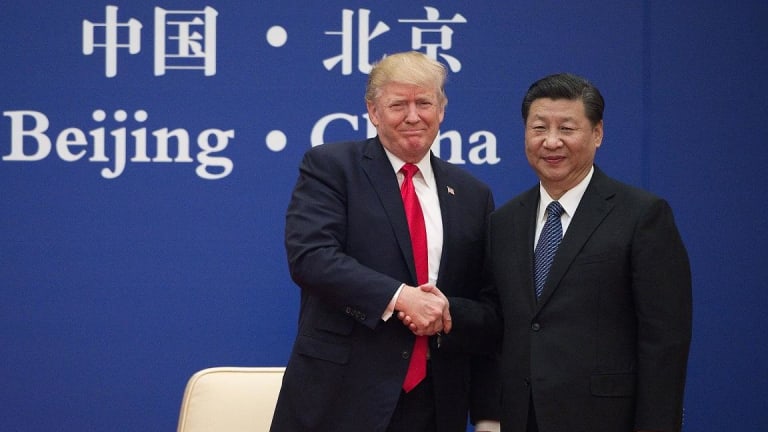 China Ratchets Up Pressure in Trump Economic War as Dagong Cuts US Credit Rating
China's state-run credit agency slashes its U.S. debt rating.
China looks to have taken another step forward in its recent spat over trade and protectionism with the Washington after one of its state-run ratings groups slashed its credit assessment on the United States, warning that its debt-driven growth strategies will erode the solvency of the Federal government. 
China's Dagong Global Credit Rating Co lowered its rating on both U.S-dollar and foreign-currency denominated debts to BBB+  from A-, and tagged a negative outlook on its new assessment, in a report published Tuesday that looks certain to spark reaction from Washington. Dagong's move followed reports last week suggesting China's State Administration of Foreign Exchange -- the world's largest holder of U.S government debt -- could halt future Treasury purchases as the two countries continue to spar over global trade and regional security.
"The perennial negative impact of the superstructure on the economic base has continued to deteriorate the debt repayment sources of the federal government, and this trend will be further exacerbated by the government's massive tax cuts," Dagong said in a statement published on its website. "The increasing reliance on the debt-driven mode of economic development will continue to erode the solvency of the federal government."
The move follows a series of escalating issues between the world's two largest economies as President Donald Trump preps for what is expected to be an "America first" speech at next week's World Economic Forum in Davos that will counter last year's keynote from China's Xi Jingping that urged deeper multi-lateral trade ties and more open global commerce.
In fact, China's state television reported Tuesday that Trump and Xi spoke over the phone in the past days, with China's President urging both sides to take a "constructive approach" to solving trade disputes and loosening access to each other's markets.
That appears far off in the distance at present, however, amid not only Dagong's credit rating move but also reports from Washington last night that lawmakers are pressuring AT&T (T) - Get Report to cut its commercial ties with China-based handset maker Huawei Technologies and want to prevent China Mobile Ltd from entering the U.S. market, citing issues of national security.
U.S. regulators have been taking an increasingly hard line on China's inward American investment of late, with the Committee on Foreign Investment in the United States, known as CFIUS, recently blocking a planned $1.2 billion takeover of payments group Moneygram International by China's Ant Financial Services Group, which is backed by billionaire investor - and U.S. job creator - Jack Ma.
In fact, three China-led deals worth more than $5 billion have been knocked-backed by CFIUS over the past three months, including Canyon Bridge Capital Partners' play for Lattice Semiconductor Corp. and China Oceanwide Holdings Group's move for Richmond, Va-based Genworth Financial.
Against that backdrop, news that China's trade surplus with the United States hit a record high last year is certain to provide Trump -- who repeatedly vowed to label China as a currency manipulator during his election campaign -- further impetus to increase his America-first rhetoric.
China's global trade surplus slipped to $422.5 billion, Customs data confirmed, but its domination over U.S. commerce saw that portion of the reading rise $25.55 billion in December to an all-time high of $275.81 billion for the whole of 2017.
All of this sets up a fascinating confrontation in Davos next week. Last year, Xi wowed what many peopled consider the Valhalla of globalisation with a keynote speech that called for broader open markets and deeper international cooperation.
The praise that poured in for Xi's vision may or may not have convinced Trump to attend this year's event, but the President is nonetheless hauling a massive U.S. delegation to the Alps and is undoubtedly planning a barnstorming address of his own.
"The President looks forward to promoting his policies to strengthen American businesses, American industries, and American workers," White House Press Secretary Sarah Huckabee-Sanders said last week.