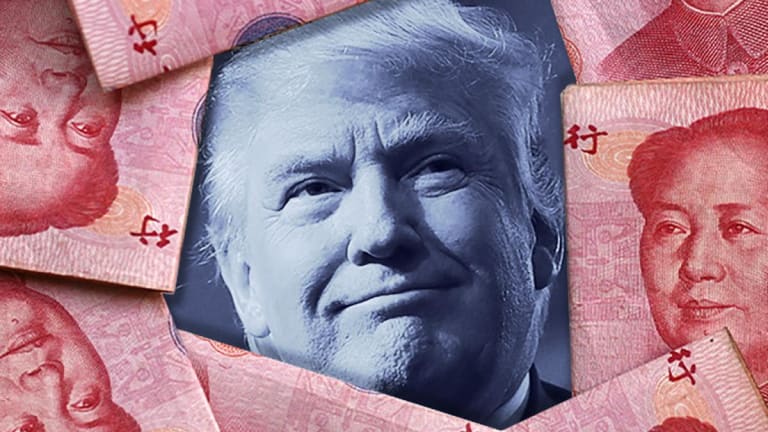 China Set to 'Weaponize' Yuan to Fight Trump's Trade War: Report
China now appears willing to undertake a major currency devaluation to offset the Trump tariffs on some $250 billion of imports from the country.
In the escalating trade war with President Donald Trump, China might be digging in its heels.
According to a new report, China now appears willing to undertake a major currency devaluation - similar to the policy changes that roiled global markets in late 2015 and early 2016. The move by the Chinese government would help to offset the effect of the Trump administration's enacted or threatened tariffs on some $250 billion of imports from the country, writes the economic forecaster TS Lombard.
In the past three months, China's government has allowed its tightly-controlled currency, the yuan, to weaken by about 9% to 6.93 per dollar- a move that softens the effects of Trump's tariffs by making China's exports cheaper, and thus still competitive in U.S. markets.
China's main reason for avoiding a major devaluation so far was that it could spark large capital outflows from the country, as foreign investors seek to get their money out before a further erosion in the value of Chinese assets, according to TS Lombard. But the government has imposed capital controls to keep money from flowing out, providing officials with a source of confidence as they look for ways to push back against Trump and his trade war, according to the economists.
As recently as June, China's odds of undertaking a large-scale currency devaluation stood at just 30%, they wrote. Now, a 15% slide in the yuan versus the dollar doesn't seem so remote.
"The currency is one area in which Beijing has an advantage over the U.S.," wrote the TS Lombard economists, Bo Zhuang and Rory Green. "The Chinese leadership is aware of this and has every incentive to respond asymmetrically to President Trump's tariffs. Indeed, it has already done just that and, in our judgment, it will likely continue on that course if Trump ratchets up his trade offensive."
Trump has pressed forward with import tariffs against China, calling the $375 billion trade deficit with the country unfair to U.S. businesses, consumers and job-seekers. Even so, he's faced public criticism over the policies from industry groups that argue the tariffs will simply drive up prices for Americans, who for years have relied on cheap imports from China. They include the U.S. Chamber of Commerce and the National Retail Federation, which represents consumer-oriented businesses including Macy's Inc. (M) and BJ's Wholesale Club Holdings Inc. (BJ)
"We've been ripped off by the world," the president told reporters on July 27. "They stole our jobs and they plundered our wealth. But that ended."
Although most major countries allow their foreign-exchange rates to float freely based on supply and demand, China has historically controlled its currency tightly as part of its top-down management of economic policies.
And sudden changes to the country's exchange-rate policies have rattled investors due to China's status as the world's second-largest economy after the U.S. 
In August 2015, China made a sudden change to its exchange-rate-management policy, sending U.S. stocks down 6.3%. And in January 2016, as China showed signs of slowing economic growth and troubles managing a burgeoning debt load, investor fears of a further devaluation prompted a a 5.1% plunge in U.S. stock indexes.
The Trump administration already has imposed tariffs on some $34 billion of imports from China in a bid to reduce the trade deficit, and the president is threatening to slap tariffs on another $216 billion of goods and services from the Asian country.
China has responded with its own tariffs on imported U.S. goods including automobiles and soybeans.
In June, the TS Lombard economists wrote that the Chinese government had not "weaponized" the yuan. But since then, they argue, "the tit-for-tat trade confrontation has clearly escalated."   
Meanwhile, according to China-watcher Diana Choyleva at Enodo Economics, the government also has recently backed away from a plan to reduce the level of debt in its financial system to emphasize economic growth and employment.
The Chinese government, led by President Xi Jinping, has also pushed to increase trade with other countries beside the U.S., including Europe, Maarten-Jan Bakkum, a senior strategist at the Dutch money-management firm NN Investment Partners, wrote Aug. 6 in an e-mail.
In early July, People's Bank of China Governor Yi Gang said the country would "keep the yuan exchange rate basically stable at a reasonable and balanced level," Bloomberg News reported at the time. But the foreign-exchange rate remains a key tool that the government and central bank can deploy to offset the economic impact of Trump's tariffs.
Bank of America foreign-exchange analysts in late July predicted that the yuan would end the year at 6.95 per dollar; at the time, it was trading at 6.77. But in just a few weeks, the currency has already weakened to that level.
Another 15% devaluation in the yuan would take the exchange rate to nearly 8 per dollar.
And it wouldn't be pretty for global markets.
China's Asian neighbors likely would come under pressure to devalue their currencies, pushing up the value of the dollar and undermining the prospects of U.S. exporters, the TS Lombard economists wrote.
"A decision by Trump to double down on his tariff tactics would have adverse effects on inflation and global markets," according to the firm. "This possibility is the main reason why we maintain a strong negative call on the environment for global risk."