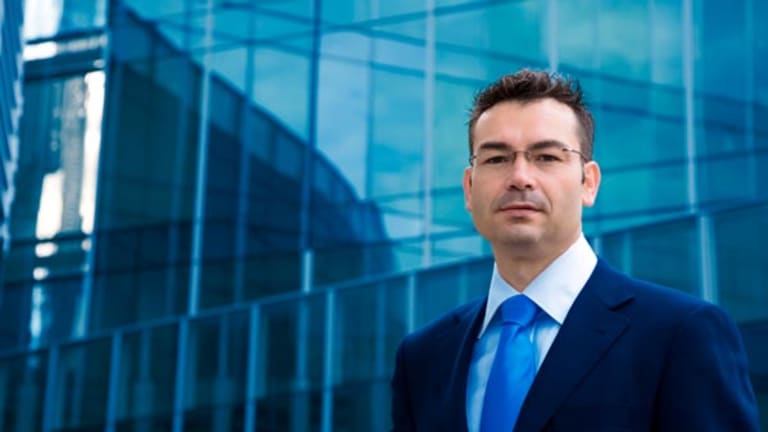 China May Exploit Mobile-Network Battles
The industry faces issues that China's 3G effort could exacerbate.
This column was originally published on RealMoney on April 24 at 12:30 p.m. EDT. It's being republished as a bonus for TheStreet.com readers.
This quarter has been as grim for the mobile-network market as it has been bright for the mobile-handset sector, and that means investors are likely to re-evaluate the depth of affection they have for
Ericsson
undefined
and
Lucent
(LU)
.
Network sentiment started dimming on Tuesday, when
Motorola
(MOT)
reported a surprising 14% revenue decline in its network division. Operating earnings tumbled by 44%. On Thursday,
Nokia
(NOK)
managed to deliver a 19% gain in network revenue, but operating profit tanked by 33%.
After these reports from two of the top five mobile-network vendors, Ericsson was bound to be kind of a tiebreaker that would help determine whether there is a true soft spot in the mobile-network market or if there are just a couple of companies with a difficult mix of customers. Right now, it looks like there may be some wider issues at play.
Ericsson's report resembled Nokia's more than it did Motorola's. Its sales were not the problem -- 39.2 billion kroner was a tick above consensus -- but gross margins dropped from 48.5% to 43.3% year on year. Margins were expected to fall below 44%, so the negative surprise probably was not bigger than half a percentage point. But three negative surprises in a row from leading network vendors is certainly a reason for unease after the hefty rallies the sector names have seen so far in 2006.
What may strike many observers as a familiar pattern is the nature of the three mobile disappointments.
Motorola lacks 3G momentum in both its revenue and margins. Nokia is No. 2 in 3G networks, and it was able to maintain revenue growth, but at the expense of its infra operating margins, which were slashed in half. Ericsson is the undisputed leader in both second- and third-generation mobile-network markets, and it was able to deliver robust double-digit revenue growth and operating margins in the high teens.
The companies are showing different symptoms, according to the sector pecking order, but they all fit the putative diagnosis of a harsher pricing environment.
There has been something of a gap in major 3G network launches; the massive Chinese 3G auctions are yet to be scheduled. As a result, Ericsson's China sales declined year on year. In the meanwhile, the European 3G network buildups are past their first blooms and have yet to enter major expansion phases.
China is now a problem and a promise for all major network vendors. Lucent recently lost a major Japanese W-CDMA order to Ericsson. Motorola,
Siemens
(SI)
and
Nortel
(NT)
desperately need some 3G momentum outside North America. The No. 2 position in the W-CDMA market clearly is not enough to keep Nokia's infra unit's operating margins consistently in double digits.
Once China finally starts handing out 3G orders, there will be a feeding frenzy of epic proportions.
Ericsson will be tempted to try to knock out smaller rivals from the W-CDMA market once and for all by hogging the most lucrative urban deals in China.
Nokia will be trying to bulk up enough to stage a serious challenge to Ericsson.
And the smaller vendors, from Motorola to Lucent, face a do-or-die moment: Can they get enough of the Chinese 3G market to remain viable in the biggest telecom market in the long term?
Considering how canny China has been in pitting Western vendors against each other in various industries, there is a good chance of dismal early margins from the first wave of China 3G winners. The softer the global network market gets ahead of the Chinese mega-auctions, the hungrier the vendors are going to be. After a surge of investor confidence in recent months, particularly regarding Ericsson and Lucent, we may well be entering a period of mobile-network anxiety over the next couple of months.
P.S. from TheStreet.com Editor-in-Chief, Dave Morrow:
It's always been my opinion that it pays to have more -- not fewer -- expert market views and analyses when you're making investing or trading decisions. That's why I recommend you take advantage of our
to TheStreet.com's
RealMoney
premium Web site, where you'll get in-depth commentary
and
money-making strategies from over 50 Wall Street pros, including Jim Cramer. Take my advice --
Tero Kuittinen is a senior product specialist for Nordic Partners, Inc., a pan-Nordic brokerage firm. Although Kuittinen is an employee of Nordic Partners, Inc., the statements above are being made in Kuittinen's personal capacity and are in no way are the statements of Nordic Partners, Inc., nor attributable to the company. At the time of publication, Kuittinen had no position in any securities mentioned in this column, although holdings can change at any time. Under no circumstances does the information in this column represent a recommendation to buy or sell stocks. Kuittinen appreciates your feedback;
to send an email.