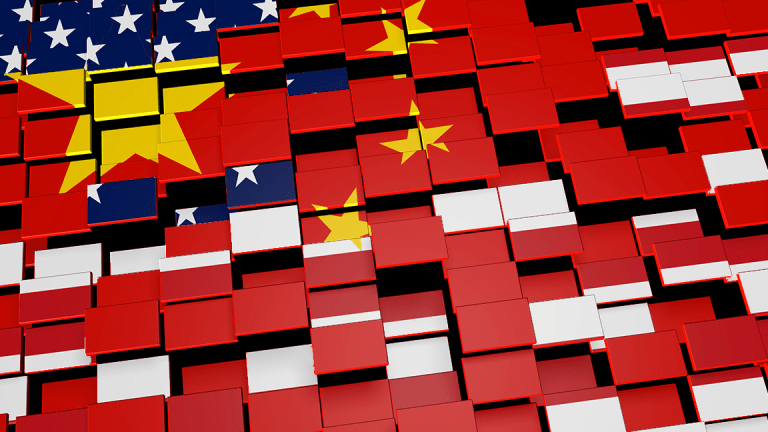 China-Focused Stocks Hit Hard as Beijing Responds to Trump Tariff Threats
China may soon run out of U.S. imports to target in a 'tit-for-tat' trade war, meaning industrial policy changes could be the next response from Beijing as President Donald Trump continues to press for a reduction in the country's $375 billion surplus.
Get ready for the dive.
U.S. stocks with sales or production exposure to China traded sharply lower in pre-market dealing Tuesday as investors worried that the threat of fresh tariffs from President Donald Trump could take the escalating trade war between Washington and Beijing to levels that could damage corporate earnings.
President Trump said a new 10% levy would apply "after the legal process is complete" if China "refuses to change its practices, and also if it insists on going forward with the new tariffs that it has recently announced", a reference to Beijing's intent to match a list of $50 billion worth of goods now subject to tariffs from Washington. China called Trump's latest salvo "blackmail" and said trade wars would harm "not just the people of China and the U.S. but all over the world."
China imports around $130 billion of American-made goods each year, meaning any attempt to match Trump's new tariff plan would quickly run out of products to target, leaving Beijing with a broader option of changing industrial policy -- or even erecting higher barriers to entry -- in the world's second-largest economy. China's Trade Ministry, in fact, said it's reaction would be both "qualitative and quantitative", suggesting it may not only rely on tit-for-tat tariffs. 
Deutsche Bank's China Macroeconomics team thinks American firms sold $448 billion worth of goods and services to China last year: $168 billion in trade and $280 billion via  U.S. subsidiaries.
Let's not only focus on #tariffs, I expect there will be more administrative measures from US to impose on Chinese #tech companies trying to confront China's #MadeInChina2025. When that happens, it is likely that #China will react the same on #US#companies
This has some investors worried about the growth potential for U.S. stocks with significant (or planned) production bases in China, such as Tesla Inc. (TSLA) , or those with notable sales to China-based consumers, such as Apple Inc. undefined  , Boeing Co. (BA) and Starbucks Inc. (SBUX) . 
Action Alerts Plus holding Apple, for example, has sold more iPhones in China than it has in the US for the past three years and relies on mainland Chinese sales for around 20% of its nearly $200 billion in annual revenues. Apple shares were marked 1.05% lower in pre-market trading Tuesday, indicating an opening bell price of $186.75 each. 
Starbucks, which wants to have at least 6,000 stores in China by 2022 as part of a push for a "coffee culture ... where the reward will be healthy, long-term, profitable growth for decades to come", according to CEO Kevin Smith, also gets around 20% of its annual sales from the world's second-biggest economy. Its shares were marked 0.9% lower in pre-market trading at $56.70.
TheStreet argues the markets could be in store for a big down day.
U.S. carmakers, such as Ford Motor Co. (F) and General Motors (GM) , are partly insulated by the current trade war rhetoric thanks in part to the fact that they assemble and sell their products with local manufacturers as part of previous agreements between Washington and Beijing. However, noting the Trade Ministry's suggestion of "qualitative" retaliatory measures, both companies could see China-based profits trapped by restrictions that would slow their repatriation back to U.S. investors in the form of dividends. GM shares were marked 1.02% lower at $43.50 while Ford close at $11.99 last night in New York. 
Tech stocks, too, were showing some surprising pre-market weakness Tuesday, with chipmakers Advanced Micro Devices Inc. (AMD) and Action Alerts Plus holding Nvidia Copr. (NVDA) falling 1.6% and 1.5% respectively. AMD gets around a third of its revenues from China while Nvidia earns around 19.5%.