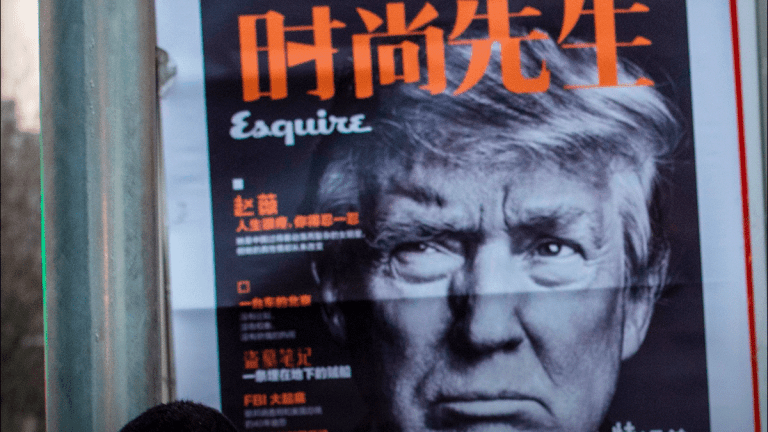 China's Currency Slide Could Hit Soft Spot in Trump Economy: U.S. Manufacturing
President Donald Trump's stated economic goals include a revival of U.S. manufacturers. But China's latest move to let its currency weaken past a key threshold of 7 per dollar could signal further troubles ahead for the U.S. industrial sector, which has been contracting this year.
China's surprise move to lets its currency weaken past a key exchange rate of 7 per U.S. dollar could worsen an ongoing slowdown among U.S. manufacturers, hitting President Donald Trump's economy in a sector known for its abundance of high-paying blue-collar jobs.
A weaker yuan would make it harder for U.S. manufacturers to export products to the Asian nation while also making it tougher for them to compete in domestic markets.   
Perhaps more worrisome, the yuan's slide to 7.05 per dollar immediately spilled over into foreign exchange markets, triggering declines in other developing countries that are big suppliers to the U.S. And that could benefit manufacturers in places like South Korea that aren't the primary target of Trump's recent trade tariffs, giving them an advantage over U.S. rivals in international markets, said Bill Adams, a senior economist at Pittsburgh-based bank PNC.  
"A weaker Chinese currency is going to be a new headwind for U.S. manufacturing, along with the weaker currencies of other emerging markets," Adams said in a phone interview. 
The stakes are high because the U.S. manufacturing sector, while employing just 8% of the workforce nationally with some 12.9 million jobs, accounts for some 11% of total economic output, and as a result has historically been a font of well-paying jobs. 
And despite the U.S. economy setting new records daily for its continuous stretch of growth, now at 10 years and counting, the manufacturing sector has been in contraction. According to the Federal Reserve, U.S. factory production declined at an annual rate of 2.2% during the second quarter, even as the overall economy expanded at a 2.1% pace. 
Such statistics would appear to collide with Trump's oft-stated goal of a U.S. manufacturing revival, starting as early as his 2016 presidential campaign. 
During a speech in August 2016 in Detroit -- home of the nation's auto industry and headquarters to manufacturing giants General Motors (GM) and Ford (F) -- he said he would enter into "no trade deal unless it increases our economic growth and strengthens our manufacturing base."
China's latest move to weaken the currency could ratchet up trade tensions with the Trump administration, while also sending a signal that the country's officials are prepared for a protracted dispute. And that could spell political trouble for the U.S. president as the 2020 elections approach. 
"China plays the long game," Pantheon Macroeconomics, a highly respected forecasting firm, wrote Monday in a report to clients. "The higher the tariffs go, the further Mr. Trump's chance of reelection falls."  
The Asian nation historically has managed the value of its currency closely, especially since Chinese officials have portrayed stability in the foreign-exchange rate as a sign of economic strength and of competent government policies.    
China's economy has been slowing this year, so the currency already was under downward pressure from capital outflows despite strict controls on money movements in and out of the country. But officials' willingness to let the yuan depreciate past 7 -- an important psychological level -- is seen as a deliberate move to gain leverage in the trade negotiations with the Trump administration.
According to the forecasting firm TS Lombard, it's probably a form of retaliation following Trump's threat last week to impose higher tariffs on the remaining $300 billion of imports from China if progress isn't made in the trade dispute.
"I am becoming more and more worried that the Sino-US confrontation is deteriorating fast," Diana Choyleva, a top China analyst at Enodo Economics, said in an e-mailed response to questions from TheStreet. 
For the U.S. industrial sector, a major risk is that volatile foreign-exchange rates with key trading partners could rattle manufacturing executives, prompting them to cancel or delay factory upgrades or assembly-line expansions until the dispute is resolved. 
"The real impact of the current friction is the confusion it creates for businesses that must reassess their supply chains and investment decisions amid uncertainty about where tariffs may fall," said Christopher Smart at Barings Investment Institute.
The U.S. is a big exporter to China of manufactured goods like transportation equipment, computers and electronics, as well as non-manufacturing items like agricultural products, oil and gas, and services like travel and professional services. 
"The manufacturing sector's woes are plentiful and mounting, with trade tensions and uncertainties, soft global growth, production and trade, inventory overbuild and the strong U.S. dollar," said Mickey Levy, chief economist for the Americas and Asia at Berenberg Capital Markets. "The weakness will persist as long as China's economy remains weak and suppresses global trade volumes and growth, and until the U.S. and China reach an agreement that eases trade tensions and uncertainties."
Those, fow now, appear to be going the wrong way.
Save 76% with our Summer Break Sale. Subscribe to our premium site Real Money and become a smarter investor! Click here today to sign up!
Latest Trade War Videos on TheStreet
Investors Need to Be Patient, Says NYSE Trader
U.S.-China Trade Talks: Buy Financials, Not Tech, Strategist Says
What Are Tariffs and Why Do They Move the Market?