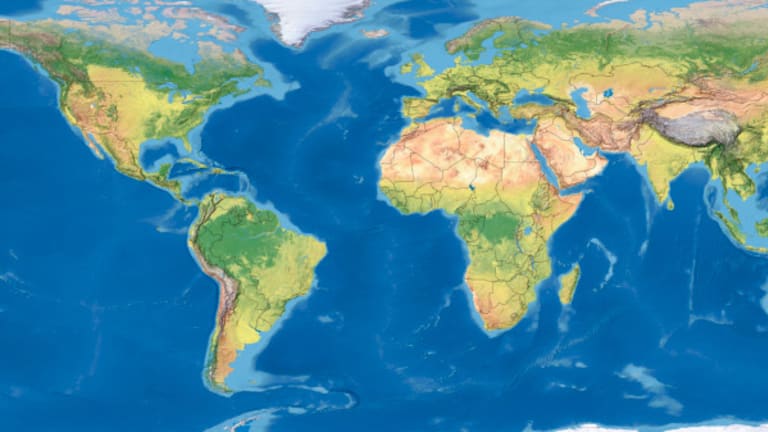 China Bucks U.S. Losses
The markets in Hong Kong and China cleared key levels despite U.S. losses.
Hong Kong and China defied U.S. market losses for the second day running in Wednesday's trading, with the gains pushing the markets past key psychological benchmarks.
The Hang Seng rose 465 points, or 1.61%, to 29,345, passing the 29,000 level for the first time in three weeks. On the mainland, the Shanghai Composite Index jumped 127 points, or 2.6%, to 5,042, ahead of the 5,000 benchmark. Lower oil prices, a falling yen, an anticipated U.S. interest rate cut and traditional end-of-year goodwill are the reasons for prevailing bullish sentiment, say market commentators.
"The Hang Seng may have the chance to penetrate the 30,000 level, but it will still be quite difficult to break by the end of this year," says Castor Pang, a buyside analyst for Sun Hung Kai in Hong Kong.
"It seems now that the U.S. interest rate is 100% likely to happen, which should help local property stocks to have an advancement. Overall money growth can help to elevate the banking sector and the steel stocks," says Pang.
Pang adds that the traditional increase in retail sales in December is another major factor that could push equity prices higher.
Commodity stocks in both Hong Kong and Shanghai rebounded from recent selling on news that China's
Baosteel
may tender an offer for Anglo-Australian miner
Rio Tinto
( RTP).
On the mainland,
Aluminum Corp of China
(ACH) - Get Aluminum Corp. of China Ltd. Report
rose 3.5%, to 38.11 yuan, while
PetroChina
(PTR) - Get PetroChina Co. Ltd. Report
climbed 2.8%, to 31.44 yuan, and
Sinopec Shanghai Petrochemical
( SHL) was unchanged after late profit taking, at 15.26 yuan.
In Hong Kong, PetroChina shares leapt 3.8%, to HK$15.44, and
China Shenhua Energy
(CUAEF)
gained 3.4%, to HK$48.1.
Saudi Arabia's oil minister Ali al-Nuaimi announced at the start of Wednesday's OPEC meeting in Abu Dhabi that OPEC would not be raising output, citing no current justification for doing so. The price of crude oil was gaining on the news, trading around $90 from under $89 in Asian trading.
Value stocks also staged a rally in Hong Kong, as
Cathay Pacific
(CPCAY)
rose 1.7%, to HK$20.6,
Hang Seng Bank
(HSNGY)
soared 6.15%, to HK$158.8, and conglomerate
Swire Pacific
(SWRAY)
leapt 4%, to HK$111.8. Swire has recently gained favor among Hong Kong money managers for its diversified income stream, dominated by real estate to transport. Sun Hung Kai's Pang says that the stock has the potential to "outperform" the Hang Seng by year-end, and notch up gains of between 5% and 8%.
"Swire Pacific and
Hutchison Whampoa
(HUWHY)
are relatively cheap when compared with other stocks like China Mobile," he says. "Investors are now buying these stocks because they are cheap."
Among telecoms,
China Telecom
(CHA) - Get China Telecom Corp. Ltd. Report
jumped 2.7%, to HK$6.51, while
China Mobile
(CHL) - Get China Mobile Ltd. Report
climbed 2.1%, to HK$144.90, and
China Netcom
(CN) - Get Xtrackers MSCI All China Equity ETF Report
rose 1.62%, to HK$25.1.
China Unicom
(CHU) - Get China Unicom (Hong Kong) Ltd. Report
plunged as much as 7% intraday however, before ending 3.8% in the red, at HK$16.3, after an undisclosed institutional investor sold 150 million shares.
In Japan, exporters were helped by a weaker price in the yen, and financials strengthened after
Mizuho Financial
(MFG) - Get Mizuho Financial Group Inc. Report
announced it was propping up its losses in credit securities with a 150 billion yen, or $1.37 billion, cash injection into Mizuho Securities.
The Nikkei finished 128 points higher, or 0.8% up, at 15,608, while the yen fell to 110.23 vs. the dollar in Asian trading, representing a decline of 0.5%.
Shares in Mizuho rose 1.8%, to 614,000 yen, while
Mitsubishi UFJ
(MTU)
was one of the day's biggest gainers, rising 2.7%, to 1,152 yen.
After starting in the day in the red,
Sony
,
Canon
, and
Honda
(HMC) - Get Honda Motor Co. Ltd. Report
clawed back, closing up between 0.34% and 0.87%.
Nintendo
(NTDOY) - Get Nintendo Co., Ltd. Report
was one of the few Asian shares affected by Wall Street's overnight losses, finishing down 1.9%, at 67,100 yen.
Other indices in the region fared well. The South Korean Kospi rose 20 points, or 1.06%, to 1,938, while the Taiwanese Taiex inched forward 25 points, or 0.3%, to 8,676, helped by gains in
Taiwan Semiconductor Manufacturing
(TSM) - Get Taiwan Semiconductor Manufacturing Co. Ltd. Report
, which rose 1%, to T$60.90.
Today's gains in equity prices mark an isolated run of strength for the week in Asian shares, where other markets have succumbed to more weakness in financials and real estate. Some say weakness in the U.S. however is precisely why Asian shares, and in particular Chinese companies, are so attractive right now.
"In a world that is short on earnings growth you do have to pay a premium for consistent delivery of that growth," says Khiem Do, who manages $17 billion for Baring's Asia Pacific Fund in Hong Kong.
"One of the most expensive areas in the world right now is in government bonds. I don't think I can justify buying a U.S. treasury bond at 3.9% a year, but I can justify buying a Chinese company on 18 times price to earnings based on next year's earnings," he adds.
In addition, Do believes that just because Chinese and Indian shares are expensive, this should not make them any less appealing to investors.
"The 'cheap stuff' right now includes a lot of banks everywhere in the world, except Chinese banks. Are you going to massively buy them now? I think only if you only have a very long-term horizon."
Daniel M. Harrison is a business journalist specialising in European and emerging markets, in particular Asia. He has an MBA from BI, Norway and a blog at
. He lives in New York.