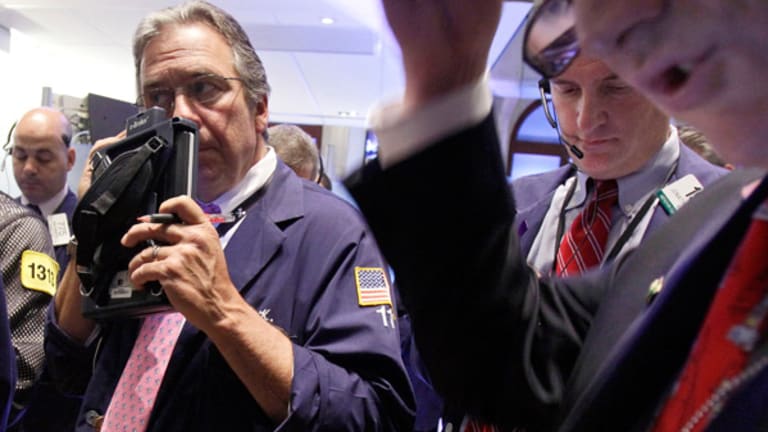 Cheap Money May Cost Discount Brokers
They could get hit if customers wise up on idle cash.
This column was originally published on RealMoney on Feb. 16 at 10 a.m. EST. It's being republished as a bonus for TheStreet.com readers. For more information about subscribing to RealMoney, please click here.
Shares of discount brokerages
TD Ameritrade
(AMTD) - Get TD Ameritrade Holding Corporation Report
,
E*Trade Financial
(ETFC) - Get E*TRADE Financial Corporation Report
and
Charles Schwab
(SCHW) - Get Charles Schwab Corporation Report
rebounded this week after getting hit on Tuesday by news that
Wells Fargo
(WFC) - Get Wells Fargo & Company Report
will offer free trades.
The online brokers were boosted in part by news Wednesday from E*Trade that trading volumes and client assets grew at a healthy clip in January.
But the troubles for the online brokers are far from over, in my view, and free trades from competitors such as Wells Fargo and
Bank of America
(BAC) - Get Bank of America Corp Report
are only part of the problem.
Here's the other part: These online brokerages get a disturbingly high portion of their revenue and income because they enjoy virtually free loans from their customers. If customers wise up and take away the cheap money -- which they can easily do -- the brokerages will suffer.
Cheap Money
Picking up on a practice started by
Merrill Lynch
(MER)
in 2000, the online brokerages offer laughably low default interest rates on idle cash in client brokerage accounts.
Ameritrade and E*Trade pay a paltry 0.1% for balances up to $5,000 and 0.4% for cash balances of more than $25,000. Because customers could earn as much as 4.8% in a money market account -- the kind of vehicle idle cash used to go into before Merrill Lynch changed things -- clients are giving up considerable sums. On a balance of $10,000 for a year, they forfeit about $440. Charles Schwab is a little better. It pays 1% as a default rate on idle cash for balances up to $100,000.
Yet all three brokerages offer much better rates to clients who ask:
E*Trade customers can sweep brokerage account cash into a bank savings account that pays more than 5%. There are no minimums and no restrictions on how long the cash has to stay in the savings account, so the change wouldn't hurt active traders.
Charles Schwab clients can sweep excess cash into money market funds that pay an annual yield of 4.7%. The initial minimum is $2,500, but after that it's $500. Clients can move cash out after one day without penalty.
Ameritrade customers with $100,000 in assets can earn about 4.4% in a money market fund with an initial purchase of $5,000 and a minimum of $2,000.
If more customers wised up and took advantage of these better deals, what kind of damage would these brokerages suffer? Plenty. I dug into the financials recently to tally the sums, and it's not a pretty picture. Here's a look.
Ameritrade's Potential Damage
On average, Ameritrade clients held a whopping $5.7 billion a day in cash in the last fiscal year, which ended Sept. 30. Ameritrade earned $185 million in fees from a partner that reinvested the cash at higher rates. (The partner is TD Bank USA, a subsidiary of
Toronto-Dominion Bank
(TD) - Get Toronto-Dominion Bank Report
, which owns about 45% of Ameritrade stock.)
Now, here's the troubling part. That $185 million accounted for 10% of Ameritrade revenue for the 2006 fiscal year. Even more ominous, it works out to 21% of the company's $526.7 million in net income for 2006, if you adjust the $185 million down by the company's 38.5% tax rate.
Ameritrade expects to earn even more off of cheap funds this year. The brokerage has told analysts that the profits on sweep account cash will reach $515 million or more in fiscal 2007, in part because it will transfer even more brokerage account cash to TD Bank USA.
That profit growth is crucial, because Ameritrade needs the earnings to fund an aggressive share buyback that investors expect. Ameritrade has about 20 million shares left to go in a 32 million-share repurchase program authorized by the board. So if clients pulled the plug on the cheap loans to Ameritrade, the brokerage's stock could suffer a double whammy.
E*Trade's Potential Damage
Because Ameritrade gets a fee from TD Bank USA for the brokerage account cash, it's easy to see in the financials what Ameritrade makes off the deal.
E*Trade and Schwab reinvest the money internally, so it's harder to break out exactly what they make on the spread. An easier way to assess the potential damage is to look at how much each company's cost of funding would go up if clients demanded better returns, says Allen Puwalski, the head of financial sector analysis at the Center for Financial Research and Analysis, an accounting research firm that has been tracking the issue.
E*Trade Financial got $10.3 billion a day on average from client brokerage accounts in the third quarter of 2006, the latest quarter for which numbers are available. On that huge amount of money, it paid a minuscule 0.87% on average.
This cheap money was the largest single source of funds for E*Trade that quarter. It accounted for nearly half of E*Trade's $22.3 billion deposit base. So costs would go up considerably if clients wised up and refused to accept that embarrassingly low 0.87%.
How much? Assuming E*Trade had to pay a conservative real-world rate of around 4% for the $10.3 billion, costs would have gone up by about $80 million. That's more than half of E*Trade's reported $153.3 million in net income for the quarter. E*Trade's losing half of its net income would cause serious damage to its shares, in my view.
Just like Ameritrade, a good piece of E*Trade's expected growth this year comes from a growth in discount funding from this cheap cash bonanza. Standard & Poor's analyst Matthew Albrecht says E*Trade hopes to increase customer cash and deposits by more than 30% in 2007, one reason he has a "strong buy" rating on the stock.
Charles Schwab's Potential Damage
Because Charles Schwab has the most generous default rates, it would suffer the least. The brokerage paid clients 2.56% on average daily balances of $16.8 billion in the third quarter of 2006. Schwab earned about 5.1% by investing the money.
Had Schwab paid 4%, costs would have gone up by around $40 million, or 16% of its reported $266 million in net income.
Will Customers Demand Better Rates?
The key question for these brokerage stocks is whether customers will wise up, opt for better interest rates and turn off the cheap money spigot. Connie Bugbee, managing editor of
iMoneyNet
, believes brokerage customers earn the lousy rates because of sheer "laziness or complacency." She notes that all the details on what brokerages pay are clearly spelled out in account paperwork. "Short of having a parade and a loudspeaker, I don't know what else can be done," she says.
Another factor could also work in favor of the brokerages, speculates CFRA's Puwalski. While the loss for any individual may be relatively small, taken together it all adds up to big bucks for the brokerages. "It's usually just the excess cash between trades," says Puwalski. "If it is a bunch of customers losing $50 a year, what is the likelihood of anyone ever caring?"
But keep in mind that because so many clients are regularly on margin, the number of people with running cash balances may be concentrated, so their losses could be significant. Plus, this is the corner of the stock market where brokerages compete by shaving a few dollars off commissions. If customers are that price sensitive on commissions, it's not a stretch to think they would pick up the phone to make a change that could save them several hundred dollars a year. That's a big risk worth monitoring if you own online brokerage stocks.
At the time of publication, Brush had no positions in any of the stocks mentioned in this column, although positions may change at any time.
Brush is an award-winning New York-based financial writer. In addition to writing for
RealMoney
, he has a weekly market column on
MSN Money
called Company Focus, and a column called Insiders Corner at InvestorIdeas.com. Brush has covered business and investing for
The New York Times
,
Money
magazine and the Economist Group. He studied at Columbia Business School in the Knight-Bagehot Fellowship program and the Johns Hopkins School of Advanced International Studies. He is the author of
Lessons From the Front Line
, a book that offers insights on investing and the markets based on the experiences of professional money managers.
Under no circumstances does the information in this column represent a recommendation to buy or sell stocks. Brush appreciates your feedback;
to send him an email.