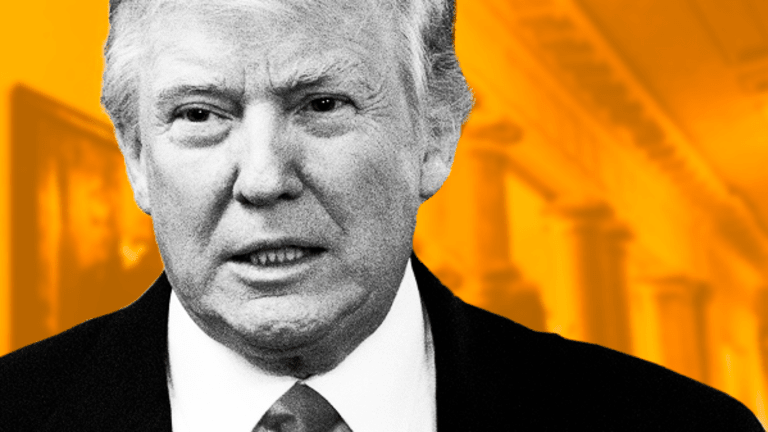 CEOs Are Failing to Act Like Real Leaders In Taking Weak Stand Against Trump
CEOs were slow to respond even after Merck CEO Ken Frazier was the first executive to exit President Donald Trump's manufacturing council.
CEOs were slow to respond even after Merck CEO Ken Frazier was the first executive to exit President Donald Trump's manufacturing council.
In the aftermath of the violence in Charlottesville, Va., Merck (MRK) - Get Report CEO Ken Frazier was the first executive to exit President Donald Trump's manufacturing council due to his failure to condemn the racism which occurred.
Frazier announced his resignation on Monday morning and slowly other CEOs followed suit as public sentiment appeared to be stronger than their outrage.
"America's leaders must honor our fundamental values by clearly rejecting expressions of hatred, bigotry and group supremacy, which run counter to the American ideal that all people are created equal," he said in a statement. "As CEO of Merck and as a matter of personal conscience, I feel a responsibility to take a stand against intolerance and extremism."
His decision to take a stand first angered Trump who wrote several tweets in response.
While some of the CEOs expressed their concerns, the majority only resigned after the two councils were disbanded on Wednesday via a tweet from Trump. 
The behavior of these CEOs has been criticized by people who believe they were acting out of fear of alienating their shareholders or customers if they challenged the president. Others have said that being silent is akin to being complicit.
CEOs must take a stand on issues that are part of that company's brand values, even at the risk of alienating a portion of the customer base because the repercussions will be permanent, said Thomas Nguyen, a partner and co-founder of Peli Peli, a Houston-based South African restaurant group.
Failing to taking a stand demonstrates that many of these CEO were merely following a popular public sentiment and did not exhibit leadership qualities.
When some of these CEOs did take a stand and issue a statement, many of them lacked complete transparency in their comments.
"For example, when the CEOs withdrew from Trump's council, a few of the CEOs who resigned were not clear on exactly why they withdrew," he said. "In that instance you risk not only alienating customers, but may miss on the opportunity to strengthen relationships with other portions of the customer base."
Instead, what the executives should have done was to address specifically their reasons why they resigned from the council.
"If not, your customer base will draw their own conclusions which may be detrimental to the company as a whole," Nguyen said.
The qualities which demonstrate true leadership include having the conviction to take a stand on an issue which is critical to the company's core values and transparency in communicating with the customer base.
"This exhibits that your company has a true conviction to your company's core values," he said.
CEOs need to take a stand on issues because while presidents have a maximum shelf life of eight years, executives and their brands have the ability to be trans-generational, said Jason Spatafora, co-founder of Marijuanastocks.com, a Miami-based cannabis investing media company.
"CEOs, influencers and all people with a voice must stand up to repugnant actions, ideas and speech," he said. "This is not to just protect the bottom line, nor the legacy of the company, but to say nothing is to be complicit and silence is not the mark of a leader, but that of a coward. In this case, the CEOs needed to take a stand immediately."
True leadership qualities are exhibited when leaders can identify with the people they lead and they listen and understand that the measure of their management is derived from acting based on principles and not fear.
"CEOs can not give impotent statements void of action or authenticity to their shareholders," Spatafora said. "A prime example is when W.C. Bradley Co. President and CEO Marc Olivie, whose company manufactures Tiki torches, says he was offended by images of white supremacists marching through Charlottesville using his company's products. He immediately made a statement and it was Shakespearian compared to Trumps first 'many sides' speech which sounded like alt-right apologist comments."
The CEOs who did not resign from the councils immediately failed to make an impact statement. 
"The ones that stayed felt they could have their cake and eat it, namely Walmart (WMT) - Get Report CEO Douglas McMillon," he said. "There is no recovery from that - history and your brand will remember. 
Statements from numerous CEOs, including General Electric (GE) - Get Report chairman Jeff Immelt, JPMorgan Chase (JPM) - Get Report CEO Jamie Dimon, Johnson & Johnson (JNJ) - Get Report CEO Alex Gorsky, General Motors' (GM) - Get Report Mary Barra and United Technologies  CEO Greg Hayes, were released swiftly after President Trump tweeted on Wednesday that he would disband the manufacturing council and strategic and policy forum comprised of dozens of CEO advisers. A number of executives who had failed to comment on the controversy decided to weigh in after Trump's statement.
More of What's Trending on TheStreet: