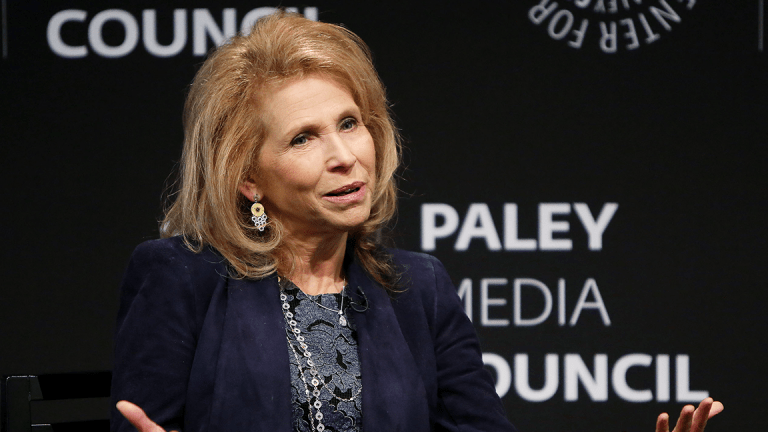 CBS-Viacom Battle Comes to a Head; FDA Approves Novartis Migraine Drug --ICMYI
Here's what you need to know now for Friday, May 18.
Here's what you need to know now for Friday, May 18.
The most interesting and perhaps confusing story on Wall Street doesn't involve Disney (DIS) - Get Report  or Tesla (TSLA) - Get Report  or Apple (AAPL) - Get Report  . It involves CBC (CBS) - Get Report  and Viacom (VIAB) - Get Report  , two companies with close ties and shared ownership, not to mention relatively stagnant businesses. After a heated week of litigation battles, CBS on Thursday proceeded with a board meeting it had scheduled to vote on whether to dilute the voting power of National Amusements Inc., a company controlled by Shari Redstone. The board decided to issue equity to CBS's public shareholders through a stock dividend; a move that cut NAI's voting power over CBS to 17%, from 80%; an attempt to block Redstone's efforts to drive a CBS-Viacom merger. This came after a court decision that said CBS could not prevent Redstone from changing CBS's bylaws to prevent that from occurring. All of which means CBS directors and Redstone will be back in court soon to fight over voting control, with Redstone pushing to combine CBS with Viacom, unless of course, both sides instead consider the option to auction the media company.
"Mothers don't have headaches, they have splitting headaches," comedian Jerry Seinfeld says in an episode of his Netflix (NFLX) - Get Report  show "Comedian in Cars Getting Coffee." Those headaches, until now, have been treated with a little R&R, maybe a glass of wine or some tylenol. Well, Novartis (NVS) - Get Report  and Amgen (AMGN) - Get Report  took a step closer to actually solving those motherly 'splitting headaches' or migraines. The two companies said late Thursday they have obtained approval from the U.S. Food and Drug Administration for Aimovig, a migraine prevention drug for adults. The drug is the first treatment approved by the agency to prevent migraines by blocking the calcitonin gene-related peptide receptor, thought to play a key role in the disease. "We believe Amgen will benefit significantly from its first mover advantage and ultimately retain 35-40% market share long term," Leerink Partners LLC analyst Geoffrey C. Porges wrote in a note on Friday. Also helping the company is the fact that the FDA recently dealt Teva (TEVA) - Get Report  a setback in its migraine treatment that was expected to hit market about the same times as Aimovig. Because the partnership's accounting allows Amgen to book U.S. sales receive royalties outside the U.S. shares of Amgen is getting most of the love for this approval. Shares shot up more than 2% on the news while Novartis was flat.
Alphabet (GOOGL) - Get Report  and investors were shook Friday as "60 Minutes" loomed with a feature regarding the tech giant's potentially anti-competitive practices. The segment, titled "The Power of Google" will focus on "its critics who say the company has stifled competition, and an antitrust enforcer who is taking action." Those surprised by the report should consider a subscription to Action Alerts PLUS, a premium service by TheStreet that follows a number of widely-held companies including Alphabet. In the May Action Alerts PLUS members' call, Jim Cramer talked about the AAP Portfolio's technology holdings and why he thought Google was the most troublesome of the portfolio's tech holdings. The AAP portfolio also includes Amazon (AMZN) - Get Report  and Microsoft (MSFT) - Get Report  as well as Nvidia (NVDA) - Get Report  .
This is an excerpt from "In Case You Missed It," a daily newsletter brought to you by TheStreet. Sign up here.
Photo of the day: An unexpected resignation at Campbell Soup
Campbell Soup could soon find itself the subject of takeover attempts, Wall Street speculated Friday as the 149-year old soup maker said it Chief Executive Officer Denise Morrison retired unexpectedly Friday, May 18. Also Friday morning, Campbell reported lackluster earnings and slashed forward-looking guidance. Another weak quarterly report might further disappoint investors who had been hoping a turnaround at Campbell would attract a buyer. Last year, famed investor and Berkshire Hathaway Inc. (BRK.A) - Get Report CEO Warren Buffett said his Kraft Heinz Co. (KHC) - Get Report would not be interested in purchasing a consumer-packaged goods company like Mondelez International Inc. (MDLZ) - Get Report . Read More
Read more from "In Case You Missed It." Sign up here.