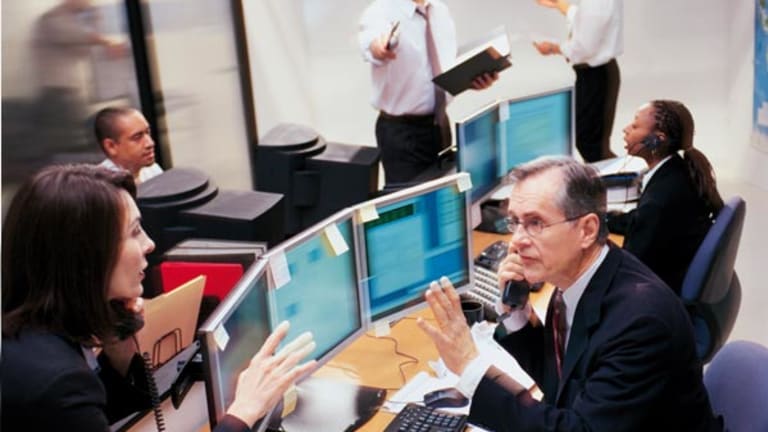 Caught in No Man's Land
In the meantime, remember the transports?
In the meantime, remember the transports?
This column was originally published on RealMoney on March 1 at 9:09 a.m. EST. It's being republished as a bonus for TheStreet.com readers. For more information about subscribing to RealMoney, please click here.
I'm trying to pick my favorite quote from the parade of experts who danced across the television screen yesterday. I vaguely remember a similar parade in October 1997.
The difference, though, is that in October 1997, the market had been falling for months after topping in July. So when that massive down-500-point day came along, it was just enough to push people over the edge, and all of the experts were bearish as can be.
Although most Wall Streeters will refer to 1998 as the Asian Currency Crisis, the actual crisis began in July 1997, so by October, real panic was settling in. In other words, it made sense for people to be bearish.
But from yesterday's action, I think one of my favorite lines came not from a guest, but from a
CNBC
anchor who was raving about the rally in
Procter & Gamble
(PG) - Get Report
. I couldn't understand why someone would gush about such a chart, so I want to share it with you.
Would you carry on about that chart below? I suppose the best thing we can say is that it has already fallen 10% and has come down to support, so it should bounce.
But where is it going? Right back into the top. I'd say at best, Procter & Gamble will trade between $62 and $65 now.
If you want to rave, you might look at the BKX, or bank index, and say it bounced nicely off an uptrend line (and support in that 114 area).
Personally, I won't cheer about it until the ratio of the BKX to the
S&P 500
improves, but bouncing off that line is still more impressive to me than Procter & Gamble's bounce.
If you wanted to celebrate a stock's bounce-ability, you might choose to look at
Chicago Mercantile Holdings
(CME) - Get Report
, which bounced 5.5% off an uptrend line. Of course, I look at this chart and see a head-and-shoulders top in the making. But still, that rally was impressive.
And why hasn't anyone pointed out that for all the chatter over China,
Baidu
(BIDU) - Get Report
didn't make a lower low in Tuesday's rout? Of course, the problem with Baidu is that it has broken a good uptrend line and is a sale on a rally back to the underside. But still, it didn't make a lower low on Tuesday, despite the blame on China. That seems more noteworthy than Procter & Gamble's oversold rally.
In the meantime, remember the transports? A week ago, the Dow Theorists were singing the praises of the Dow Jones Transportation Average as it finally confirmed the new high in the
Dow Jones Industrial Average
. When was the last time you heard anyone mention them? I noted
Tuesday morning -- before the rout -- that the transports were already down 4% and no one seemed to care. Well, they're now down 7%, and still no one seems to care.
The transports are now sitting at a very critical level, so we can be sure that if they break it, people will come out of the woodwork upset, as if they'd just noticed how awful the transports have become in such a short time.
The market itself is caught in no man's land. The perma-bulls want to buy, and the traders want a secondary decline in order to buy. We're not yet oversold enough to get a good enough rally. The longer we take to get that secondary decline, the closer we will be to an oversold reading that can support a bounce.
At the time of publication, Meisler had no positions in the stocks mentioned, although holdings can change at any time.
Helene Meisler writes a daily technical analysis column and TheStreet.com Top Stocks. For more information,
. Meisler trained at several Wall Street firms, including Goldman Sachs and SG Cowen, and has worked with the equity trading department at Cargill. Under no circumstances does the information in this column represent a recommendation to buy or sell stocks. She appreciates your feedback;
to send her an email.