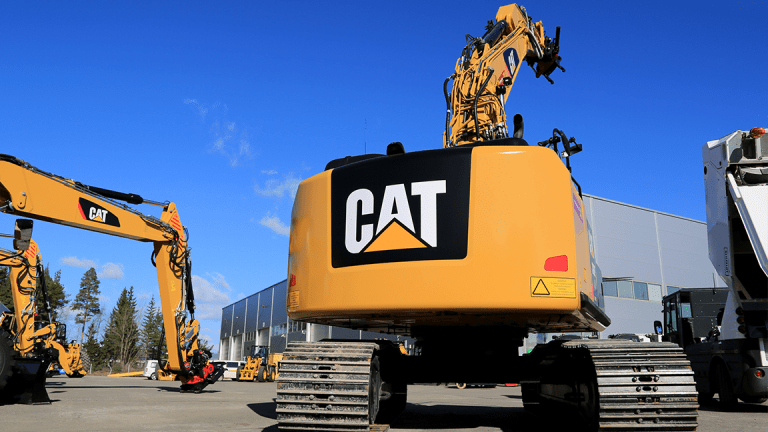 Caterpillar's Stock Touches Record Thanks to This Investment Bank's Call
JPMorgan joins UBS in boosting Caterpillar price target on the back of Republican tax cuts.
Caterpillar Inc. (CAT) - Get Report shares are hovering around a record high Monday after a solid upgrade for the construction equipment maker from JPMorgan & Co. following last year's Republican-led tax cuts.
Analyst Ann Duignan boosted her rating on the stock to 'overweight' from 'neutral' and upped her price target by around 40% to $200 each, citing a positive impact from the recently-passed Republican tax reform bill that likely improve the company's free cash flow and extend the profit cycle of its north American construction business.  Caterpillar will publish its fourth quarter and full-year earnings on Jan. 25. 
Caterpillar shares rose slightly in early trading Monday, extending its three-month gain to more than 25.7%, more than double the advance of the Dow Jones Industrial Average over the same period. 
Analysts at Bank of America Merrill Lynch has said the U.S. tax reform bill could boost S&P 500 earnings by as much as 10% this year and add between 0.3% and 0.4% to GDP growth over 2018 and 2019.
"The biggest impact on earnings from tax reform comes from the lowering of the federal tax rate from 35% to 21%, making up roughly $10 of the $14 increase," the bank said. "Buybacks represent another $3 of the increase, with some modest offsets from the minimum foreign tax rate and the cap on interest deductions."
Last week, UBS analyst Steven Fisher boosted his price target on the stock to $180 -- from a prior estimate of $155 -- on the assumption that last year's GOP tax cuts could provide the group with around $750 million to buyback shares. 
As TheStreet's Brian Sozzi wrote, "Fisher is counting on an earnings multiple of ~18 times their 2019 estimates calling for earnings per share of $9.75. In fact, they are not counting multiple expansion, instead using a lower earnings multiple to reflect the "cyclical progression of multiple compression as earnings improve."
Watch the replay of Jim Cramer's full NYSE live show:
More of What's Trending on TheStreet: