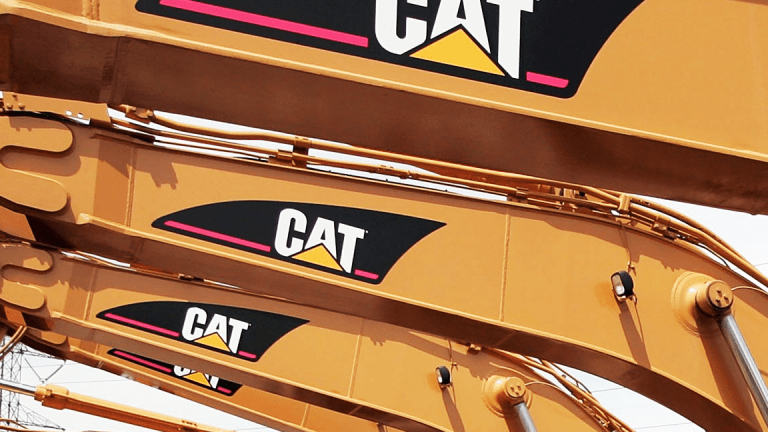 Caterpillar Bulldozes Industrial Sector With Bad News on Earnings Call
Caterpillar reversed course and started trading lower after starting the day off in positive territory.
Caterpillar Inc. (CAT) - Get Free Report was taking the entire industrial sector on a wild ride Tuesday following its first-quarter earnings call.  
Shares started the day off in positive territory, rising as much as $160.85, but the stock dipped 5.5% to $145.51 after Chief Financial Officer Bradley Halverson let the public know that the company expects "steel and other commodity costs to be a headwind all year."
Caterpillar wasn't the only industrial to suffer on the news however, as companies in the sector fell across the board Tuesday. 
"Price versus material costs, were very favorable on the first quarter," Amy Campbell, director of investor relations at Caterpillar, said during the call. "We expect it to be favorable for the full year. But for the balance of the year we would expect material costs increase to be greater than price realization."
The Dow Jones Industrial Average was down nearly 300 points Tuesday afternoon after spending most of the morning in positive territory as the blue-chip index has officially given back all of the gains it has made so far in 2018.
The S&P 500 also gave up its 2018 gains, falling 0.84%, or 23 points, to 2,648. The Nasdaq also fell Tuesday afternoon, dropping 1.37%, or 98 points, to 7,031.
Here are some of the biggest industrial decliners on the day. 
Cummins Inc. (CMI) - Get Free Report - shares were down 5.5%.
Oskosh Corp. (OSK) - Get Free Report - shares fell 7.4%.
Cree Inc. (CREE) - Get Free Report - shares were down 1.12%. 
Crane Co. (CR) - Get Free Report - shares fell 8%. 
Freeport McMoRan (FCX) - Get Free Report - shares declined 15.7%.