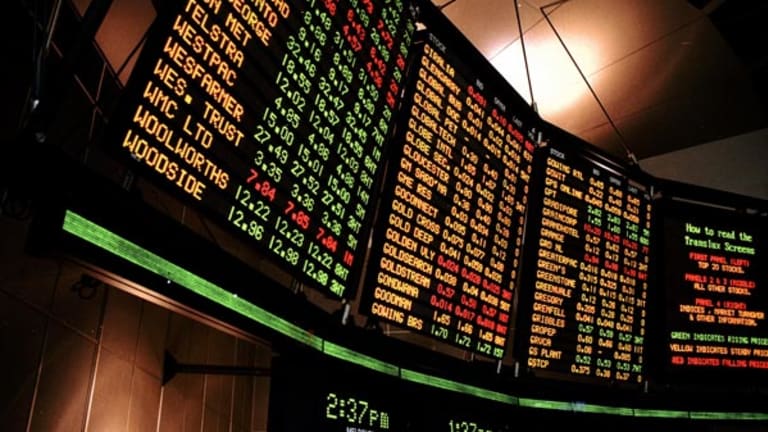 Caterpillar Beats, but Stock Hardly Moves
Great second-quarter results cannot get investors upbeat on Caterpillar.
Editor's note: This column by Jeff Bagley is a special bonus for TheStreet.com and RealMoney readers. It first appeared on Street Insight on July 21 at 4:20 p.m. EDT. To sign up for Street Insight, where you can read Mr. Bagley's commentary in real time, please click here.
As I expected,
Caterpillar
(CAT) reported great second-quarter results. But investors, fearful of anything remotely cyclical, don't seem to care that much. Although the company beat expectations by a healthy margin, raised both sales and earnings guidance for the full year and talked very positively about future business conditions, the stock is barely up on the day.
The inability of a cyclical stock to rally on significant good news is a danger sign, in my view. It's a red flag, to be sure, but not a deal breaker. In the case of Caterpillar, I believe that the muted reaction to the company's earnings is a function of a very nervous market and a misunderstanding of the breadth and geographical diversity of Cat's business.
I believe most investors would be comforted by management's commentary regarding current business conditions. Sure it could be wrong, but it appears to me that it has done all it could to present a balanced, highly detailed view of CAT's end markets around the world. In fact, for those interested in how things are going around the world from the perspective of those in the trenches, I urge you to read the middle part of the company's earnings release. Lots of good stuff in
!
Caterpillar reported EPS of $1.52 a share, ten cents ahead of consensus expectations and 41% ahead of the same period last year. Earnings appeared to be of very high quality, with strong growth in cash flow and better-than-expected sales growth with excellent margins.
Management raised its full-year guidance significantly, to $5.25-$5.50 a share from $4.85-$5.20. Anything less would have been a disappointment given that consensus was already in line with the new guidance. Importantly, sales guidance for the Machinery and Engines segments combined was increased from 10% to 12%-15%, with about half of the boost coming from the Progress Rail acquisition. Management will give 2007 guidance for the first time with its third-quarter earnings report.
Management repeated what it's been saying lately: the worldwide economy, and especially its end markets, remains strong. They acknowledged weakness in the U.S. housing market, but as I mentioned earlier, Caterpillar is much less a housing-construction story than it is a worldwide infrastructure play.
Management pointed out that we are only likely in the fifth inning of the global industry recovery, based on their observation that recoveries have typically lasted six to eight years, and the current recovery in CAT's business began in 2003.
While Cat might not be a housing play, it
is
a mining, energy and infrastructure play. In fact, I point out that the correlation of CAT stock to the oil services index has increased significantly in recent months. Coal is certainly a big market for Caterpillar, and their engines are widely used in the oil fields. Mining for metals is also a big business.
Although commodity prices are off their highs in many instances, they are still above historical averages. In most cases, commodity prices are sufficiently high to ensure profitable expansion even if prices fall significantly from here. Simply put, there has been a tremendous amount of underinvestment in many of the sectors that CAT serves over the past couple of decades, and the aging plant needs replacement.
To sum it up, Caterpillar stock is not without risk, but from where I sit, the company has the wind at its back. As sentiment improves regarding worldwide economic growth -- even if many acknowledge that U.S. growth will likely moderate -- I believe CAT stock is priced attractively enough for some decent gains in the coming quarters.
Investing in cyclicals isn't the easiest thing in the world, however, especially with so many convinced that we are headed for a recession. The largest thing haunting Caterpillar stock is investor sentiment.
For important legal disclosures, please click here.
Editor's note: This column by Jeff Bagley is a special bonus for
TheStreet.com
and
RealMoney
readers. It first appeared on
Street Insight
on July 21 at 4:20 p.m. EDT. To sign up for
Street Insight
, where you can read Mr. Bagley's commentary in real time, please click here.
At the time of publication, Bagley was long CAT, although holdings can change at any time.
Jeffrey Bagley, CFA, is a portfolio manager for McCabe Capital Managers, Ltd. Bagley received a master's of business administration in finance from Fordham University and a bachelor's of science in business economics from the State University of New York at Oneonta. Disclosed holdings may change at any time without notice. Under no circumstances does the information in this commentary represent a recommendation to buy or sell stocks. Bagley appreciates your feedback;
to send him an email.