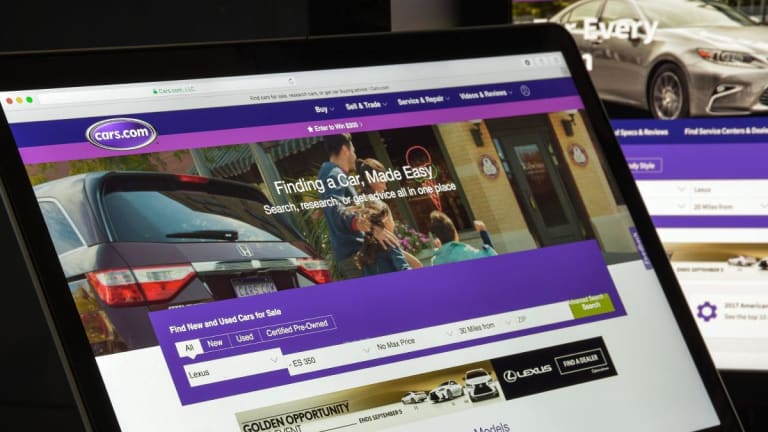 Cars.com Shares Rev Up on Citi Upgrade to Buy
Shares of Cars.com shift into high gear Tuesday after Citi upgrades the digital automotive marketplace to buy from neutral.
Shares of Cars.com (CARS) shifted into high gear Tuesday, rising 6.1% to $21.08, after Citi upgraded the digital automotive marketplace to buy from neutral.
Nicholas Jones left his price target for the Chicago-based company unchanged at $27. Jones said in a note to investors that the stock's current valuation is low even if the probability of an acquisition were excluded.
Cars.com last reported quarterly earnings on May 10. The company posted fiscal first-quarter earnings of 28 cents a share, missing Wall Street's expectations of 30 cents. A year earlier, the company reported earnings of 39 cents a share.
Cars.com had a net margin of 4.40% and a return on equity of 7.34%.
The company posted revenue of $154.20 million during the quarter, down 3.6% from a year ago. Analyst estimates had called for revenue of $152.29 million.
"These first quarter results are in line with our expectations. Our traffic strategy and continued product innovation are driving record traffic, higher conversion, and better-quality leads, all of which drive higher profitability for our dealer customers," Alex Vetter, president and CEO, said in a statement. "As anticipated, following our sales transformation, we experienced elevated levels of dealer churn in January and February, followed by improvements in dealer trends in March and April. Our dealer solutions strategy is working, and we continue to gain momentum as we build out our marketing capabilities and drive operational efficiency while leveraging the strength of our brand and sales network."