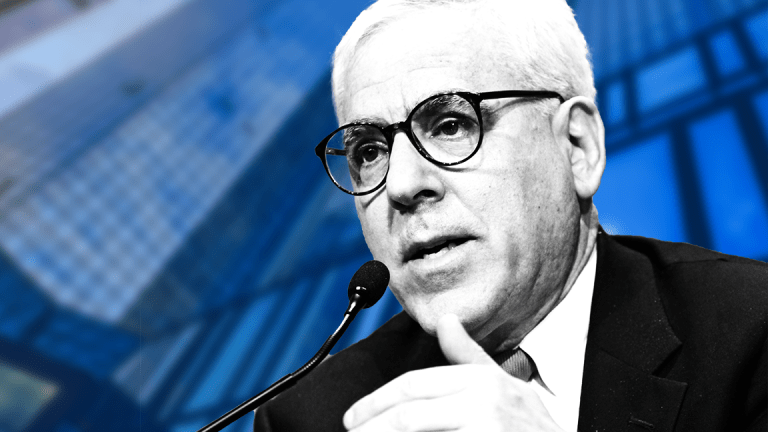 Carlyle Joins Private-Equity Stampede to Convert to Stock Corporation
The private-equity firm says the conversion will allow investors to buy its shares without creating the need for a Schedule K-1, an Internal Revenue Service tax form that's used to report earnings from partnerships.
On Wall Street, there's safety in numbers, and the private-equity firm Carlyle Group (CG) won't be left behind in the rush by big rivals like Blackstone (BX) and KKR (KKR) to convert from partnerships into stock corporations.
Washington-based Carlyle said Wednesday in a press release that it would convert to a C-corporation as of Jan. 1.
The conversion aims to make it easier for a broad range of investors to buy stakes in the company, according to the press release. Previously, investors could only by partnership units, triggering the requirement for an extra tax form with the Internal Revenue Service known as a Schedule K-1.
The announcement came as Carlyle said second-quarter net income more than doubled from a year earlier to $526.5 million as fund-management fees and investment income both rose. The profit increase contrasted with second-quarter declines of 58% reported by Blackstone and 24% at KKR.   
Carlyle's partnership units rose 1% in New York trading to $24.96 on a day when the S&P 500 index of large U.S. stocks was flat.
Blackstone, KKR and Ares Management (ARES) have announced conversions to stock corporations in recent years in a bid to boost their stock prices. The theory goes that by reducing hurdles to stock ownership, such as the complexity of the additional tax considerations, more income and investors will buy the stock.  
There's also a belief that stock-focused investing indexes such as the S&P 500 might eventually include the shares once conversion is complete. And that in turn would create an automatic source of demand from buyers of index funds and exchange-traded funds. 
Blackstone, the largest private-equity firm, announced plans to convert to a stock corporation in April, but it will retain a dual-class structure with a separate ownership bucket exclusively for founders, executives and employees. Such structures are allowed for inclusion in investment indexes produced by MSCI and the Center for Research in Security Prices, known as CRSP, but not necessarily for S&P's bellwether indexes, Blackstone executives said at the time. 
Carlyle, by contrast, plans to have a single class of common stock -- executives are using the phrase, "one share, one vote" -- that would allow for inclusion in S&P indexes as well as those from FTSE Russell, a unit of the London Stock Exchange.
The extra step should "improve trading liquidity," with potential inclusion in indexes and benchmarks used by more than $7 trillion of industry assets, according to the press release. 
"Carlyle's potential buyer universe is likely to expand significantly," Carlyle Co-CEO Kewsong Lee told investors on a conference call Wednesday.  
Carlyle, founded in 1987, got its start in the early go-go days of junk bonds and leveraged buyouts, but the market for junk bonds, sub-investment grade loans and private-company takeovers now dwarfs what it was then. Carlyle now has a market capitalization of $8 billion, with assets under management totaling $223 billion.  
Alumni of the firm have gone on to top positions at the Federal Reserve, including Chairman Jerome Powell, who worked there from 1997-2005, and Randal Quarles, the central bank's vice chair for supervision.  
And Carlyle's success as a partnership has made billionaires of its founders, including David Rubenstein, Daniel D'Aniello and William Conway, who currently control about 40% of the outstanding partnership units.
Following the conversion, each of the founders will retain rights to nominate a subset of directors, subject to approval by a full shareholder vote, according to the press release. 
The calculation on the part of Carlyle's executives is that while the company may incur higher taxes as a result of the conversion, while ceding some control over corporate-governance issues, the appeal to a broader swath of investors will bring greater riches in the long run via stock-price appreciation and a steady dividend.
Carlyle Chief Financial Officer Curtis Buser told investors on the conference call that the effective tax rate would be in the "single-digit range in 2020 and then increase to the mid- to high-teens before reaching the low-20s in about five years."
But the company also plans to pay a fixed quarterly dividend of about 25 cents a share, or $1 a year, for a dividend yield of about 4%, Co-CEO Glenn Youngkin said on the call. That's more than double the average for S&P 500 companies, he said. 
The fixed dividend is a shift from the current practice as a partnership, where cash payouts typically vary based on the firm's profit levels. 
"The benefit of the fixed-dividend policy is going to be we now have an enhanced ability to retain capital to reinvest it back into our business to drive growth," Lee said.  
But Carlyle executives acknowledged on the call that there would be no "lockups" on the company's founders once the conversion takes place -- an indication that the three billionaires would have the option of selling down their stakes by liquidating shares in public markets.   
That might offer them a way to preserve wealth by diversifying out of their Carlyle ownership, especially with U.S. stocks now at a record level following a decade-long U.S. economic expansion, the longest in history.    
Save 76% with our Summer Break Sale. Subscribe to our premium site Real Money and become a smarter investor! Click here today to sign up!