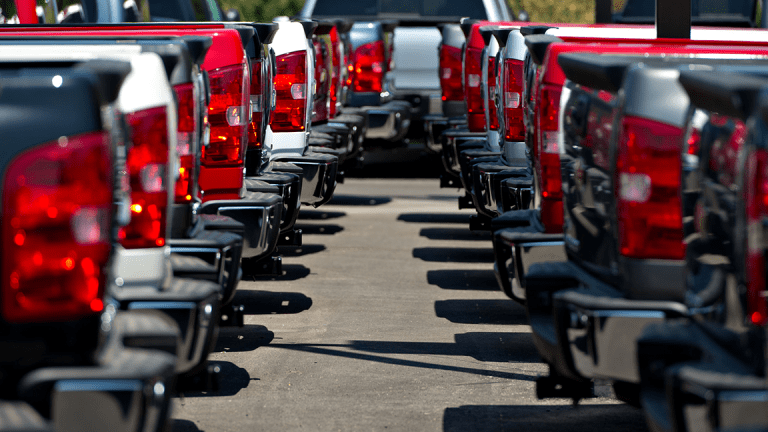 Auto-Dealer Lots Are Full of SUVs and That's Bad for the U.S. Economy
Auto-dealer inventories, especially for light trucks and SUVs, are so high in historical terms that they're likely to provide a drag on the U.S. economy this year, Bank of America economists warn in a new report. Vehicle manufacturers like Ford and GM may have have to slow down their assembly lines.
Big automakers like Ford  (F) - Get Ford Motor Company Report and General Motors (GM) - Get General Motors Company Report have been cranking out light trucks and SUVs over the past year at a record rate of 8 million annually. 
But sales haven't kept up, and now dealer lots are starting to get full: U.S. inventories of the large vehicles have reached an unprecedented level of nearly 3 million, according to a new report from Bank of America, citing the auto-industry data tracker Wards Intelligence. 
The backlog could spell trouble for shareholders of the automakers as well as employees. But the broader U.S. economy could suffer too. The overhang in inventories could shave off a crucial source of U.S. growth, Bank of America economists warned.
The hit to gross domestic product, or GDP, is likely to be about 0.2 percentage point in 2019, wrote Bank of America economists Michelle Meyer and Anna Zhou in a report. The lender currently expects overall GDP growth to slip to 2.5% this year from about 2.9% in 2018.  
"A weakening in the auto cycle will serve as a drag to the economy," according to the report. 
An auto-industry slowdown would add to pressures on the economy at a time when President Donald Trump's intensifying trade war with China already is driving up prices for historically cheap imported goods that American consumers buy at big retailers like Walmart (WMT) - Get Walmart Inc. Report   . Retaliatory tariffs imposed by the Asian nation have stymied U.S. farmers that export soybeans and other crops as well as manufacturers such as bulldozer-maker Caterpillar (CAT) - Get Caterpillar Inc. Report  that rely on big international markets for a majority of their sales.
So the emerging auto-industry trend could provide a new source of worry for the Trump administration, which promised in 2017 that its $1.5 trillion tax-cut bill that year would stimulate the economy to long-term annual growth rates of 3% or higher.
The tax cuts have helped to push annual federal-government budget deficits to roughly $1 trillion a year, bloating the national debt, and Trump officials said they're counting on robust business investment and future growth to generate higher tax revenue, and thus to eventually balance the budget.  
If the slowdown in autos leads to assembly-line cutbacks, it could have the knock-on effect of weakening the job market, currently one of the strongest in history with the U.S. unemployment at a half-century low of 3.6%.    
Dearborn, Michigan-based Ford told employees last week that some 800 jobs would be eliminated in the U.S. by August as part of a plan to shrink salaried ranks globally by about 7,000 people, or 10%, the New York Times reported.   
The inventory buildup, of course, is a reflection of U.S. auto manufacturers' eagerness to keep supplying Americans with their beloved SUVs. 
From 2000 through 2007, assemblies of light trucks and SUVs averaged about 7 million a year, according to Federal Reserve data, as motorists flocked to the size, style and comfort of the larger vehicles despite their lower gas-mileage ratings.
But during the 2008 financial crisis and ensuing recession sales dropped off so steeply that Detroit-based GM had to stave off collapse by getting more than $50 billion of bailout funds from the U.S. Treasury Department. U.S. light-truck and SUV sales tumbled to an annual pace of less than 3 million units during some months in early 2009, federal data show. 
But as the economy recovered over the past decade, motorists' affection for the large vehicles sprang anew; it didn't hurt that oil prices had stabilized below $100 a barrel.
Manufacturers ramped up production lines to meet the demand. And now, they may have gone too far.
Dealer sales have lagged, partly because banks have tightened their underwriting standards on new auto loans, according to the Bank of America report. The median credit score on an auto loan, for example, has increased to 710 from 683 in 2015. 
Another factor: Sales have been so strong in recent years that there's now ample vehicles already on the road. Partly as a result, used-auto prices are depressed, prompting many consumers to choose them over new cars or SUVs, according to the report.   
"It is the classic story of demand/supply mismatch," the economists wrote. "Demand for autos has softened as producers continued to ramp up output."
The excess inventory is largely concentrated in light trucks and SUVs, which are notoriously expensive for dealers to finance and keep on their lots in the absence of ready buyers, according to the report.  
The auto manufacturers have started to respond, with motor vehicle output falling at an annual rate of 17% during the first quarter, based on Federal Reserve data released earlier this month.
"There is likely more to come," according to the report. 
Related. Move Over, Tesla: Carmaker Electra Meccanica Is Going After a Huge Market