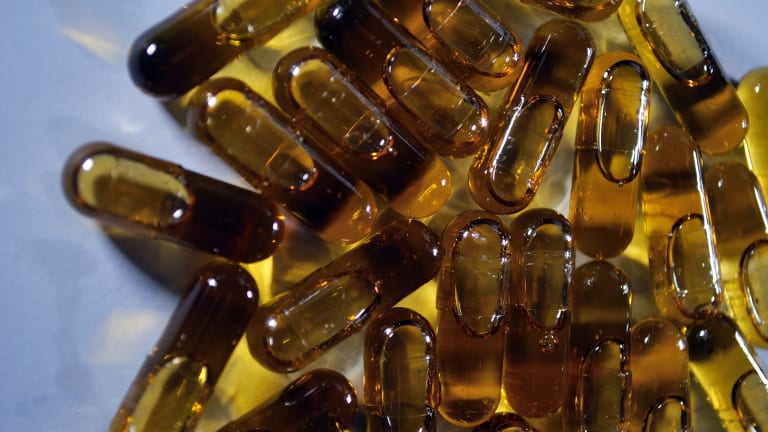 Publish date:
CBD Doesn't Get You High, But Could Someday Eclipse the Entire Pot Industry
Cannabidiol, or CBD, is a cannabis extract that's used to treat everything from pain to opiate addiction to PTSD. It doesn't get you high -- but advocates say that's the reason that CBD could soon eclipse the multibillion-dollar pot industry.
Cannabidiol, or CBD, is a cannabis extract that's used to treat everything from pain to opiate addiction to PTSD. It doesn't get you high -- but advocates say that's the reason that CBD could soon eclipse the multibillion-dollar pot industry.
The future of cannabis may not be about getting high.
Pot is a multi-billion dollar industry -- where it's legal, anyway -- but some advocates believe that the future of cannabis is actually a non-euphoric derivative that delivers health benefits without getting you high.
This past weekend, scores of entrepreneurs, researchers and health advocates congregated in Anaheim, Calif. for CBD Expo West, a conference devoted to showcasing the booming business of CBD, shorthand for Cannabidiol. In California, where adult use of marijuana is permitted, CBD has been showing up in a fast-growing array of products, from vaporizers and oils to skin balms and gummy bears. And you don't need to duck into a licensed dispensary to buy it; you can often find CBD at your local corner store.
According to the Brightfield Group, sales of CBD are estimated to reach $22 billion by 2022. And after speaking with exhibitors at CBD Expo, it's easy to see why: They're passionate advocates of its potential to soothe pain, anxiety and inflammation without need for pharmaceuticals -- and without the high of THC, which not everyone wants.
Kyle Turley, a former NFL lineman who now sells a line of CBD products geared at athletes called Neuro XPF, said that cannabis helped him cope with a torturous onset of CTE (chronic traumatic encephalopathy) that appeared during and after his eight-year NFL career. Turley said he'd been prescribed a cocktail of painkillers and other medications to treat a range of symptoms he described as "terrifying," including disabling vertigo, migraines, rage episodes and eventually suicidal thoughts.
"The things I did under those drugs were insane, and it wasn't because I abused them," he recalled. "Cannabis was the thing that worked, and the one thing I always knew helped." Turley said that over time, he was able to eliminate all other medications in favor of a daily CBD regimen, and believes it could help other athletes more safely manage even common issues like pain.
The fact that CBD doesn't produce a high isn't a drawback -- it's one of its biggest selling points.
"The reason people get excited about CBD is that it doesn't cause euphoria," said Dr. David Bearman, a physician who has studied the effects of medical marijuana for decades. "People say it's not psychoactive, which isn't true -- it is both an anti-anxiety drug and antidepressant."
Many people in the business believe that CBD is a groundbreaking treatment for everything from opiate addiction and depression to PTSD -- and that, without the stigma of a federal prohibition such as the one that exists for marijuana, it might be more palatable to the wider public and possibly even to regulators. In June, the FDA approved the first-ever plant-derived CBD drug for two rare forms of epilepsy, called Epidiolex, made by the British drugmaker GW Pharmaceuticals  (GWPH) - Get Report .
But no matter how effective CBD may be as a medical treatment, it's still part of a complicated and shifting regulatory landscape that's defined in part by what materials the CBD is derived from -- either marijuana plants, which are federally illegal but permitted in some states; or industrial hemp, which is permitted in states that have an approved hemp program.
"There's been a disconnect in people's understanding of what's illegal," said Michael Chernis, a Los Angeles-based attorney who specializes in cannabis law.
In light of the FDA approval of Epidiolex for example, the DEA has suggested it will re-schedule CBD to take into account both its medical benefits and its potential for abuse. The agency hasn't done so yet, but Chernis believes that some of the regulatory issues around CBD will be ironed out in the next year.
Despite the current murky legality of cannabis and its extracts, some investors have shown a willingness to dive headfirst into so-called pot stocks, such as Tilray (TLRY) - Get Report -- the medical cannabis producer that saw a wild price spike last week after a bullish interview by CEO Brendan Kennedy on Jim Cramer's Mad Money CNBC show (Since then, shares have been volatile, with shares up about 15% on Tuesday to $115).
But for anyone aiming to cash in on cannabis right now, legal questions are just one potential cause for caution. Another may be that the industry is simply too new for people to appreciate how different various businesses in it are.
"There are different parts of the space and the supply chain that have different profit margins, challenges, tax consequences -- even some of the brand-name retailers you've heard of out there aren't making money," Chernis noted.
But as demand for CBD grows -- and its potential becomes better-understood -- there is reason for optimism as well.
"This economy isn't going away," Chernis said.
Join Jim Cramer live in New York City on Oct. 13 for his "Boot Camp for Investors," where he'll interview Canopy Growth CEO Bruce Linton and host top stock-market strategists. Sign up here.