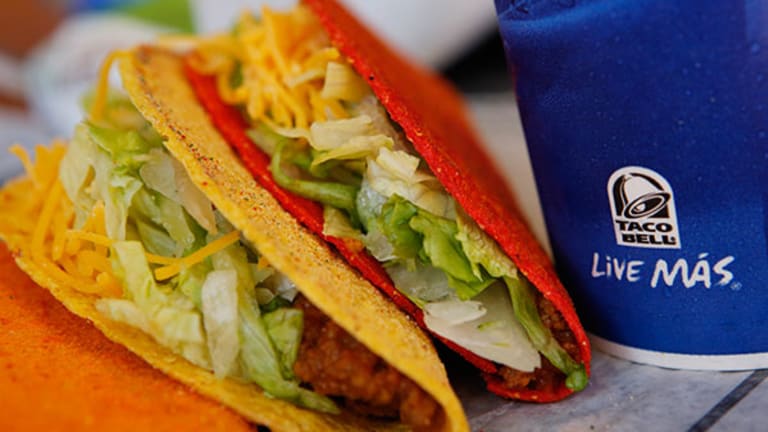 Can Taco Bell Win The Breakfast Wars Against McDonald's?
The breakfast wars have gone nuclear. Yum! Brands' Taco Bell launched its breakfast menu last Thursday, treading on turf long dominated by hamburger king McDonald's. But is it a real threat to Mickey D's decade-long supremacy?
NEW YORK (TheStreet) -- The breakfast wars have gone nuclear. Yum! Brands' (YUM) - Get Yum! Brands, Inc. (YUM) Report Taco Bell launched its breakfast menu last Thursday, treading on turf long dominated by hamburger king McDonald's (MCD) - Get McDonald's Corporation (MCD) Report. 
The Tex-Mex chain entered the mix with no holds barred, kicking off its breakfast debut with a cheeky advertising campaign featuring real-life Ronald McDonalds extolling the menu's virtues.
That one-two punch was countered by condescension from McDonald's.
Then, the fast-food chain revealed its hidden trump card. In its latest offensive, it will offer free McCafe coffee in stores for two weeks from March 31 to April 13, a loss-leading bet to encourage store traffic. This marks the first time the company has offered a nationwide coffee promotion. 
The chain throwing its weight around is understandable given how important breakfast sales are to overall revenue. According to Associated Press estimates, sales between the four-and-a-half-hour stretch to 10:30am comprise 20% of total revenue. Research firm Technomic notes the burger giant holds a 31% share of a robust $5-billion on-the-go breakfast market.
The Oak Brook, Ill.-based chain has maintained this strong foothold since it launched its first Egg McMuffin in 1975. Sure, Wendy's (WEN) - Get Wendy's Company Report has its own fast-food lineup and Starbucks (SBUX) - Get Starbucks Corporation Report and Panera (PNRA) have their cafe-style fare, but for convenient, on-the-move offerings before 11am McDonald's has reigned supreme. Can Taco Bell end that decades' long winning streak?
In the view of journalistic fairness, and hunger, I hightailed it to my nearest Taco Bell with pepto bismol and a map of all public bathrooms within a one-mile radius.
I tried one of everything on their new menu (no exaggeration, my order was "One of everything, kind sir"). For the most part, the additions were similar to McDonald's, only my McMuffin was flattened and a burrito.
Taco Bell's crowning jewel, though, was the waffle taco, an Odd Couple-style combination featuring a savory sausage patty and scrambled eggs wrapped in a sugary waffle "taco" shell, and served with a side of syrup. Your enjoyment depends on your tolerance for gluttony and whether you are wearing elastic-waist pants.
For those keeping tabs, I consumed a total 2,305 calories and 141.5g of fat in one sitting. Spare me your judgement; my 8-hour resulting nausea was punishment enough. 
If you're to do likewise (YOLO, am I right?), I recommend clearing your schedule and taking a nap shortly after. Gorging is exhausting.
Let's play a game. Which photo is mine and which is Taco Bell's?
Spot the hash brown hiding in my A.M. Crunchwrap.
Challenge: order the 12-pack. Eat all. Feel no regret. 
So was it any good? Well, it depends on your definition of good. Calling a waffle taco your breakfast is akin to calling this article Shakespeare. But this is fast food, not fine cuisine; Taco Bell's main concerns are that it's making sales, that its product tastes better than OK, and that it won't make customers violently ill and die.
Will this be a win for Taco Bell? Based on pre-release hype and media coverage alone, Taco Bell has already won in the free-publicity stakes. For instance, over the weekend, #TacoBell trended on Twitter both days as consumers flocked to the restaurant. However, whether this is a sign of the offerings' longevity or more reaction to its gimmicky nature is too soon to tell.
For the line's endurance, Taco Bell will likely need to do as McDonald's has: diversify its menu and add healthier options into the mix.
Whether a real threat or mere annoyance, McDonald's will still need to up its game. In February, sales in the U.S. dropped 1.4% while year-to-date domestic sales fell 2.4% with McDonald's management citing "challenging industry dynamics and severe winter weather." However, recent quarters have shown consistent sales declines at U.S.-based stores as increasingly health-conscious consumers shun old favorites for the newest offerings from alternative fast-casual and fast-food restaurants.
Declining sales are in stark contrast to Taco Bell's recent December-ended quarter which achieved a same-store sales increase of 3%, its eighth consecutive quarter of growth.
Any bite out of McDonald's top-line growth will sting, even from a comparatively small competitor like Taco Bell (McDonald's generated more than $7 billion in its December quarter, while Yum Brands' entire portfolio made $4.2 billion). For Mickey D's sake, it needs to caulk the cracks in its fast-food empire before the nipping at its heels turns into a threat more serious. 
-- Written by Keris Alison Lahiff in New York.