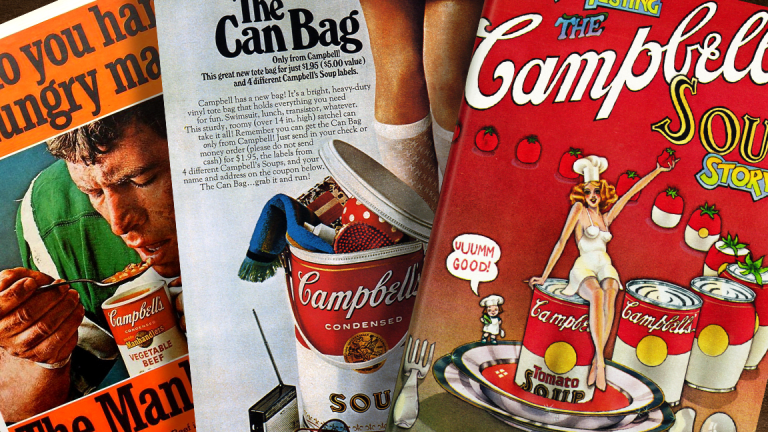 Campbell Soup's Outlook Not So Bright Even After Strong Earnings, Analysts Say
Analysts on Wall Street warn the outlook for the soup company may not be quite so bright.
Campbell Soup's  (CPB) - Get Report earnings did more than satisfy investors Wednesday but some top analysts on Wall Street warned the outlook for the embattled packaged foods maker may not be quite so bright. 
The stock rose more than 10/09% to $36.21 a share Wednesday after the company reported better-than-expected earnings of 77 cents a share in its fiscal second quarter on better-than-expected revenue of $2.71 billion. 
But, Goldman Sachs analysts wrote in a note, "We expect the stock to trade higher on the headline beat this morning, but would not be surprised if the gains fade as investors contemplate rebase-to-reinvest risk beyond this fiscal year."
Ultimately, it was lower operating costs that drove the earnings beat as the company tries to resume sales growth in North America, which has been struggling. Organic sales growth was flat year over year, but marketing, selling, and research and development expenses fell 7%. And overall revenue grew 24% mostly because of the company's newest acquisition of Snyder's-Lance and Pacific Foods. 
"Weaker-than-expected gross profit was more than offset by lower-than-expected marketing and selling expense as well as lower R&D," Goldman said. 
Goldman's point: Campbell needs to start reinvesting soon in order for current forward-looking estimates to remain intact. 
"The composition of earnings disappoints, in our opinion, reinforces the risk of a need for reinvestment by the company," the note said. Campbell reaffirmed  guidance, saying it was looking for full year 2019 adjusted EPS of $2.40 to $2.50 assuming the divestitures of its international and Campbell Fresh businesses. Those estimates are more than 12% lower than 2018's EPS result of $2.87. 
Goldman isn't alone in its position. "We still think a rebase is likely to take place in FY20 in the form of lower growth," wrote JPMorgan analysts. And much like Goldman's comment that the earnings beat was driven by cost reduction rather than impressive sales growth, the JPMorgan analysts said of the earnings print: "The quality was not great."
Although the company beat estimates, JPMorgan said, "On the less positive side ... the gross margin missed by ~30 basis points, marketing was reduced on CPB's legacy business (again), 4) R&D costs came down, the tax rate helped by around a penny vs. our model," JPMorgan said.
Campbell's legacy business is its U.S. business. Its America's Simple Meals and Beverages unit saw organic sales decline 1% year over year. Its Global Biscuits and Snacks business saw organic sales growth of 3%.
But without investment in marketing and R&D, the two analysts forecast there's a considerable chance Campbell will have to soon cut guidance.
An RBC Capital Markets analyst said in August,  "We look forward to understanding how the company plans to achieve long term organic top and bottom line growth without its presumably faster-growing global snacks business.