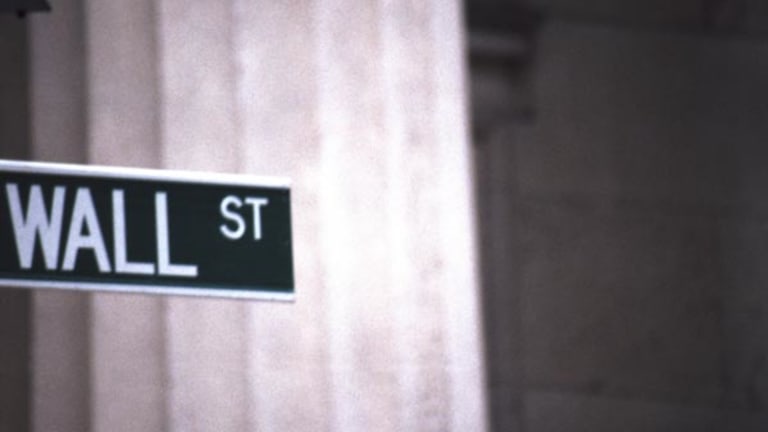 At Least 14 Killed, 17 Wounded in California Shooting
Police corner three gunmen who fled in a black SUV. One suspect is killed.
This story has been updated with new details about the San Bernardino shooting.
A mass shooting Wednesday in San Bernardino, Calif., left at least 14 people dead and at least 17 people wounded, according to police. 
An hour after the close of trading in New York, San Bernardino police, joined by FBI and ATF officials, said at a news conference that at least three suspects entered the Inland Regional Center, a state-run facility for developmentally disabled people, before shooting people in one area of the building.
The New York Timesreported that Lavinia Johnson, executive director of Inland Regional, said she thought the conference center was being used Wednesday by the County Health Department for a holiday gathering, and that was where the shooting apparently had occurred.  
The shooters fled the immediate area. At least 17 people who were wounded were taken to area hospitals, said San Bernardino Police Chief Jarrod Burguan. Police also detonated a suspicious device at the scene.
Several hours after the shooting, police cornered the suspects, killing one man and wounding another. A third suspect remained at large as of 8:30 p.m. ET.
The gunmen "came prepared to do what they did, as if they were on a mission," Burguan told reporters during the press conference, adding that the three suspects were dressed in "military-style" fatigues holding "long guns," not hand guns.
Witnesses told the police that as many as three gunmen were seen arriving in a large, black sport utility vehicle, wearing masks and vests, according to the Times. At the same press conference, David Bowditch, Assistant Director in Charge of the Los Angeles FBI field office, said, "we do not know if this is a terrorist incident."
Fears of domestic and international terrorism have driven unpredictable market trading in recent weeks. A lone gunman attacked a Planned Parenthood clinic in Colorado just last week. Less than three weeks ago, on Nov. 13, three coordinated terrorist attacks in Paris killed 130 people and wounded dozens more.
President Obama, in a previously scheduled interview with Norah O'Donnell of CBS News, said, "We have a pattern of mass shootings in this country that has no parallel anywhere else in the world. There are steps we can take to improve the odds that they don't happen so frequently," including stronger background checks for gun owners, the president said.

Stocks were already trading lower Wednesday afternoon when reports of the mid-day shootings in the city east of Los Angeles surfaced, pushing markets even lower. The S&P 500 ended the day down 1.1%, the Dow Jones Industrial Average declined 0.9%, and the Nasdaq slipped 0.6%.
"Investors don't like uncertainty," John Canally, investment strategist and economist for LPL Financial, told TheStreet. "If they're certain that this is another unfortunate mass shooting incident in the United States that generally has the same theme that we've seen, then markets will probably move past it. If it's something else, then this kind of selloff would continue tomorrow."
Disturbingly, Black Friday was a banner day for gun sales this year with FBI background checks hitting a new record. The number of checks performed on Black Friday this year was around 5% higher than a year earlier. Background checks are required for sales at federally-licensed gun dealers, though are not mandatory for sales at trade shows. 
Markets were lower as crude oil prices sold off. The commodity closed below the $40 level for the first time since Aug. 26 after the latest weekly data on domestic inventories showed an increase of 1.2 million barrels. Commodities were also under pressure ahead of an Organization of Petroleum Exporting Countries meeting on Friday. No output cuts are expected to be announced from the energy-rich members. West Texas Intermediate crude oil slid 4.6% to $39.94 a barrel. Prices have fallen more than 30% since January.
The energy sector was the worst performer on markets Wednesday. Chevron (CVX) - Get Chevron Corporation Report , Exxon Mobil (XOM) - Get Exxon Mobil Corporation Report and Schlumberger (SLB) - Get Schlumberger NV Report fell more than 2%, while the Energy Select Sector SPDR ETF (XLE) - Get Energy Select Sector SPDR Fund Report slid 3.1%.
Kinder Morgan (KMI) - Get Kinder Morgan Inc Class P Report slumped more than 7%, extending Tuesday's decline, after credit ratings provider Moody's downgraded the stock to "negative" from "stable." Moody's downgraded after Kinder Morgan announced it will increase its stake in Natural Gas Pipeline Company of America to 50% from 20% and pay about $136 million.
A December rate hike looked even more likely after the Federal Reserve's "Beige Book" backed up Fed Chair Janet Yellen's optimism over the improving economy. The U.S. economy continued to expand at a "modest pace" with consumer spending overshadowing the transitory effects of the "strong dollar, low commodity prices, and weak global demand" on manufacturing, according to the Beige Book. The collection of anecdotes from the 12 Fed districts gives investors a good sense of how the overall U.S. is performing from conditions in varying economies across the nation.

Yellen said in a speech on Wednesday she sees the economy growing over the next few years with the labor market and inflation continuing to improve. Yellen noted that a December rate hike was not a foregone conclusion, but that members would continue to assess data.
The official U.S. jobs report on Friday is a key release that could influence how the Fed moves at its mid-December meeting. The Fed is largely expected to move off of crises-level rates at its meeting, hiking rates for the first time in nearly a decade. The Federal Open Market Committee will meet on Dec. 15 with a decision due for the afternoon of Dec. 16.
The odds of a December rate hike are currently at around 70%, indicating that investors are more confident than not that the first move higher in nearly a decade will happen before the end of the year. Some argue that the first rate hike is less important than the pace at which the Fed normalizes rates. 
"The question is how aggressive will they be," Sharon Stark, managing director and fixed-income strategist at D.A. Davidson, told TheStreet. "At least one Fed President, Charles Evans (non-voter but an alternate in 2016) of Chicago, would like to see more signs of inflation before lifting the Fed funds rate, but most voting members are likely to raise rates, hence the market is positioning for lift off [in] December."
Atlanta Fed President Dennis Lockhart called the case for a December rate hike "compelling" earlier Wednesday. The economy will continue to grow at a modest pace in the medium-term, Lockhart said in a speech in Fort Lauderdale, Fla. The conditions for the central bank to move off of crises-level rates have been met, Lockhart added, and that weakness in inflation was merely "transitory."