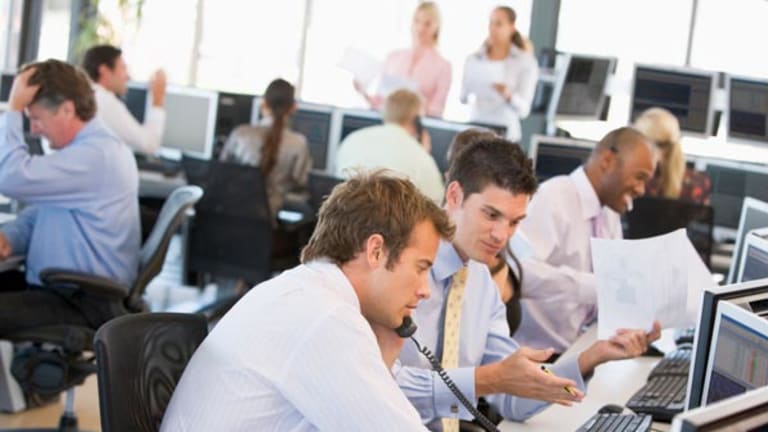 Buyers Romp on Wall Street
The Dow ends with a triple-digit gain, and the Nasdaq rises more than 2%. Stocks surged after the Fed left rates as is.
Updated from 4:09 p.m. EDT
Stocks posted strong gains Tuesday, as the
Federal Reserve
left interest rates unchanged and suggested once again that it would not hike rates "for a considerable period."
The
Dow Jones Industrial Average
closed up 118.53 points, or 1.3%, to 9567.34, and the
Nasdaq
rose 41.55 points, or 2.3%, to 1887.25. The
S&P 500
gained 14.51 points, or 1.4%, to 1029.32.
The yield on the 10-year note fell to 4.26% from 4.28% just prior to the announcement.
As expected,
the Fed kept interest rates unchanged at 1% Tuesday and repeated its view that the risk of deflation outweighs the risk of an increase in inflation at this time.
"The evidence accumulated over the intermeeting period confirms that spending is firming, although the labor market has been weakening," the Fed said in a statement. "Business pricing power and increases in core consumer prices remain muted."
In the June policy statement, the Fed said labor market indicators were "mixed" while in May, it described the job market as "stabilizing."
The central bank said the upside and downside risks to the attainment of sustainable growth over the next few quarters are roughly equal. It also vowed to keep rates on hold "for a considerable period."
A government report Tuesday showed that the consumer price index increased by a smaller-than-expected 0.3% following a 0.2% gain the previous month. The core CPI, which excludes food and energy prices, rose 0.1%, also below estimates.
"Stocks, bonds and the dollar are rallying on the hope of a sustainable recovery which will not be prematurely curtailed by any immature market or Fed tightening," said MG Financial Group analyst Ashraf Laidi.
Chris Low, an economist at FTN Financial, said the decision was largely unsurprising but "the fact that the Fed appears entirely unconcerned by the prospect of stronger growth will come as a surprise to some."
Separately, California's public pension funds called for the resignation of
New York Stock Exchange
Chairman Richard Grasso, saying the disclosure of a $140 million pay package had diminished the public's faith in the financial markets.
Earlier,
The Wall Street Journal
said the
Securities and Exchange Commission
would ask the NYSE for additional information on its corporate governance practices and how it pays Grasso.
Technology stocks were generally higher Tuesday, with
Nortel
(NT)
up 35 cents, or 8%, at $4.50 following reports it signed a deal worth $1.1 billion to supply mobile equipment to European cell-phone company Orange. In a separate deal, Nortel said it won $139 million in new contracts in China.
On the Dow,
Coca-Cola
(KO) - Get Coca-Cola Company Report
fell 58 cents, or 1.3%, to $42.92 after being downgraded by Thomas Weisel. But
International Paper
(IP) - Get International Paper Company Report
rose $1.18, or 3%, at $41 after Merrill Lynch added the stock to its "Focus One" list.
Analysts were divided Tuesday about the near-term direction of the stock market. Tom McManus of Banc of America said investors should overweight stocks in their portfolios. "We think investors should use dips as an opportunity to boost equity weightings," he said.
UBS equity strategist Gary Gordon said he expects the S&P 500 to reach 1,150 within the next 12 months -- a gain of about 13% from current levels -- thanks to strong earnings momentum and investor optimism. Still, he said the market could flatten by the second half of 2004, "with risk to the downside" as job growth remains modest.
Richard Bernstein, chief quantitative strategist at Merrill Lynch, believes the recent rally may be coming to an end. "An analysis of the profits cycle suggests that we are closer to the end of the rally than to the beginning," he said, while acknowledging that he missed the advance over the past couple of months.
Merrill's most recent fund manager survey for September showed a big improvement in investor sentiment, with managers shrugging off concerns that the pickup in global equities would be short-lived.
"The picture this survey paints is of a cloudless sky," said David Bowers, chief investment strategist at Merrill Lynch. "We are back in a world in which fund managers want companies to be run for growth, not run for cash, where inflation is more of a worry than deflation and where equities are considered to be fairly valued despite the recent equity market rally."
In other corporate news Tuesday,
Qualcomm
(QCOM) - Get Qualcomm Inc Report
said fourth-quarter revenue and earnings are trending toward the high end of its previous guidance, thanks to strong demand for its chips for third-generation cell phones. The optimism was tempered, however, by cautious comments about the licensing volume of its cell-phone technology. Shares rose $1.43, or 3%, at $44.89.
AOL Time Warner
(AOL)
gained 28 cents, or 1.8%, at $16.05 after saying it will sell the Atlanta Hawks pro basketball team and the Atlanta Thrashers pro hockey club to an investment group.
Ford
(F) - Get Ford Motor Company Report
reached a tentative agreement with the United Auto Workers union on a four-year national labor contract. The agreement follows a similar pact the union already reached with
DaimlerChrysler's
(DCX)
U.S. unit.
Defense contractor
Lockheed Martin
(LMT) - Get Lockheed Martin Corporation Report
closed a deal to acquire communications-equipment maker
Titan
(TTN)
for $1.8 billion.
UPS
(UPS) - Get United Parcel Service, Inc. Class B Report
advanced after being upgraded by Merrill Lynch to buy from neutral, and chipmaker
Micron
(MU) - Get Micron Technology, Inc. Report
rose after it was upgraded by First Albany to strong buy from buy. Elsewhere,
Gilead Sciences
(GILD) - Get Gilead Sciences, Inc. Report
fell $4.09, or 6.2%, at $61.86 after it was downgraded by J.P. Morgan to neutral from overweight.
Securities regulators filed charges against former
Bank of America
(BAC) - Get Bank of America Corp Report
broker Theodore Sihpol for helping arrange improper mutual-fund trades. Separately, the NASD alleged
Morgan Stanley
(MWD)
and one of its top executives arranged internal sales contests intended to boost sales of the firm's in-house mutual funds and variable annuities.
Overseas markets were higher, with London's FTSE 100 up 0.9% at 4299 and Germany's Xetra DAX gaining 1.4% at 3565. In Asia, Japan's Nikkei rose 1.6% to 10,887, while Hong Kong's Hang Seng climbed 0.7% to 11,071.
Crude oil futures declined in New York, and the dollar was stronger vs. the euro but weaker against the yen.
On Monday, the Dow ended down 22.74 points, or 0.2%, to 9448.81, and the Nasdaq lost 9.33 points, or 0.5%, to 1845.70. The S&P 500 fell 3.82 points, or 0.4%, to 1014.81.