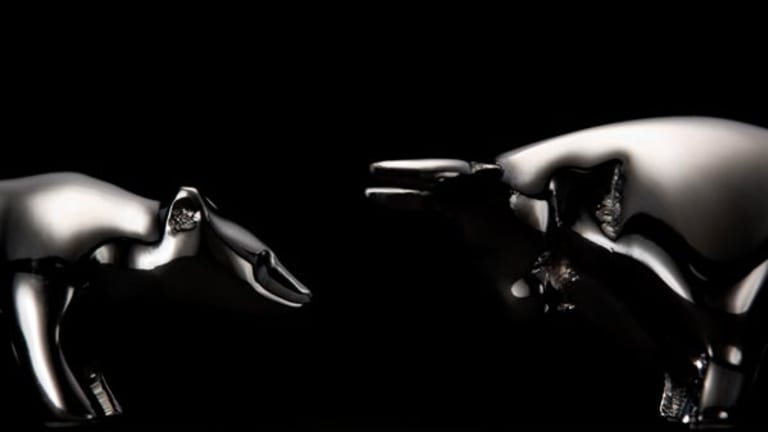 Buyers Return With Abandon
The Dow, the S&P 500 and the Nasdaq climb more than 5%.
The Dow, the S&P 500 and the Nasdaq climb more than 5%.
Updated from 4:07 p.m. EDT
Buyers rushed headlong back into the stock market Monday, ignoring the latest accounting blowup and weak earnings from the energy sector to go on an enthusiastic hunt for bargains.
The
Dow Jones Industrial Average finished with a gain of 447.49 points, or 5.4%, to 8711.88. The
Nasdaq climbed 73.13 points, or 5.8%, to 1335.25, and the
S&P 500 added 46.12 points, or 5.4%, at 898.96. For the Dow, the point gain was its third-largest ever.
Advancers led decliners by about 7-2 on both the
New York Stock Exchange
and the
Nasdaq
. Volume was again heavy, with 1.7 billion shares changing hands on the NYSE and 1.9 billion shares traded on the Nasdaq.
The buying was particularly strong in bank and financial stocks, airlines and networking issues. The Dow was paced by a number of stocks that had recently been beaten down, including
Disney
(DIS) - Get Report
, up 8% to $17.35;
American Express
(AXP) - Get Report
, up 11% to $33.49;
J.P. Morgan
(JPM) - Get Report
, up 13% to $25.10; and
General Motors
(GM) - Get Report
, up 7% to $46.09.
Among sectors, the Nasdaq Telecommunications index rose 8.2%, the Amex Networking index was up 8%, and the Philadelphia Semiconductor index gained 7%. TheStreet.com's Internet index was up 7.4% while the Nasdaq financials proxy was up 5%.
Dow component
General Electric
(GE) - Get Report
rose almost 10% to $30.45 one session after the company announced that he was taking direct control of the finance unit and breaking it into four separate entities.
Technology bellwethers
Microsoft
(MSFT) - Get Report
,
Cisco
(CSCO) - Get Report
and
Intel
(INTC) - Get Report
were all higher.
Insurance stocks were benefiting from a positive note from UBS Warburg on
American International Group
(AIG) - Get Report
and a solid earnings report from
Chubb
(CB) - Get Report
AIG shares traded up 9% to $62.16.
On the Nasdaq, the buying was heavy in wireless provider
Nextel
(NXTL)
, up 27% to $5.75;
FreeMarkets
(FMKT)
, up 19% to $9.39 ahead of earnings; and
Ballard Power
(BLDP) - Get Report
, up 17% to $12.23.
The top corporate story of the day was at
Qwest
(Q)
, which said it misbooked revenues by more than $1 billion over three years and withdrew its previous guidance for 2002. The local phone company said it's been improperly accounting for at least some of its optical capacity sales and said at least $1.16 billion of revenue will have to be restated over a three year period ending in 2001.
Qwest also withdrew its financial forecasts for 2002, saying weak demand and stiff competition would make it difficult to achieve its previous goals. The announcement sent the company's shares sharply lower early in the day, but the stock ended down only a penny to $1.49.
Meanwhile,
Charter Communications
(CHTR) - Get Report
saw its shares jump 37% to $3.61 following a published report in
The New York Times
that said Chairman Paul Allen is considering several steps to significantly increase his stake in the company and perhaps even take it private.
Earnings season was slowing a little, but plenty of influential companies remain on the schedule. Among those reporting Monday was diversified energy company
Williams Cos.
(WMB) - Get Report
, which posted a quarterly loss, citing its battered energy trading unit.
The company, a week after issuing a warning, reported a second-quarter loss of $349.1 million, or 68 cents a share, compared with a profit of $339.5 million, or 69 cents a share, in the year-ago period. The results include a loss of nearly half a billion dollars at its energy trading arm.
Just days removed from its own quarterly report, media giant
AOL Time Warner
(AOL)
remained in the spotlight. On Friday, Standard & Poor's lowered its debt rating on AOL to negative from stable, citing weak performance at its America Online business. Still, investors bid AOL up 6% to $11.58.
In the retail space, clothing designer
Tommy Hilfiger
(TOM)
reported a big first-quarter loss as its newly acquired European unit weighed on its financial results.
The company lost $439 million, or $4.88 a share, compared with earnings of $9 million, or 10 cents a share, a year earlier. On an operating basis, the company said it earned 3 cents a share, beating analysts' expectations by 3 cents. Tommy Hilfiger also announced the resignation of co-chairman Lawrence Stroll. Its shares climbed 9% to $13.30.
As stocks rallied, U.S. Treasury issues moved lower. Around 4 p.m. EDT, the 10-year note was down 1 8/32 at 102 14/32, yielding 4.553%. The bond was losing 1 18/32 to 99 10/32 and yielding 5.421%.
In Europe, London's FTSE 100 gained 4.6% at 4203, while Germany's Xetra DAX was higher by 7.9% at 3860. Japan's Nikkei 225 rose 0.8% to 9667, and Hong Kong's Hang Seng closed up 2.1% to 9976.