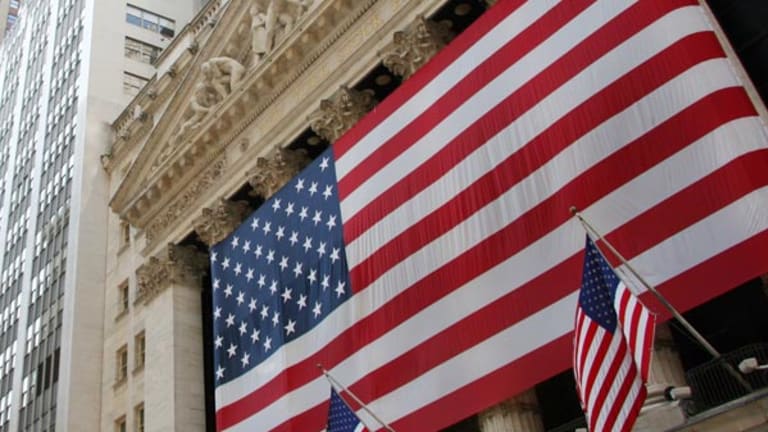 Buyers Hit Brakes
Stocks fall as Citigroup reports a tough quarter.
Stocks fall as Citigroup reports a tough quarter.
Updated from 4:08 p.m. EDT
Stocks' recent winning streak ended Monday as disappointing earnings from
Citigroup
(C) - Get Report
sent buyers to the exits.
The
Dow Jones Industrial Average
fell 65.84 points, or 0.62%, to 10,574.99, while the
S&P 500
lost 6.79 points, or 0.55%, to 1221.13. The
Nasdaq Composite
shed 11.91 points, or 0.55%, to 2144.87. The 10-year Treasury was down 12/32 in price to yield 4.21%, while the dollar fell against the yen and euro.
About 1.20 billion shares changed hands on the
New York Stock Exchange
, with decliners beating advancers by a 10-to-7 margin. Trading volume on the Nasdaq was 1.33 billion shares, with decliners outpacing advancers 3 to 2.
"Today was a tough day. It's been frustrating that the S&P 500 can't remain above the 1225 resistance level," said Barry Hyman, equity market strategist with Ehrenkrantz King Nussbaum. "Plus, we've had a huge run into the earnings, and there's a perception that earnings will provide an excuse to sell on the news."
Hyman added that the market is preparing for higher interest rates and that "the bond market is getting a hint and acting as though the
Federal Reserve
board probably won't stop at the August meeting."
Oil prices fell as traders tracked Hurricane Emily, with August crude finishing down 77 cents to $57.32 a barrel. Emily, a Category 4 storm, is crossing Mexico's Yucatan Peninsula and is expected to move north up the coast through tomorrow.
Stronger sectors Monday included utilities, retail and airlines. Weaker areas were technology, energy, health care, semiconductors and banks.
Citigroup said second-quarter earnings from continuing operations slid 7% from a year ago, clipped by lower loan profitability and a rise in bankruptcy filings. The company earned $5.07 billion, or 97 cents a share, on revenue of $20.17 billion. Analysts had forecast $1.02 a share on $21.41 billion. Citigroup lost $1.42, or 3.1%, to $45.
"After six or seven up days, we're due for a pullback," said Dave Briggs, head of equity trading with Federated. "There's not a lot of conviction out there, with people's expectations for a strong earnings season a bit torpedoed by Citigroup. There was a lot of euphoria last week towards earnings, but now we're back down to reality."
The situation was better at
Bank of America
(BAC) - Get Report
, which reported a 12% jump in second-quarter earnings to $4.3 billion, or $1.06 a share, on revenue of $14.21 billion. Wall Street was predicting $1.01 a share on revenue of $14 billion. However, the stock finished lower by 90 cents, or 2%, to $45.08.
3M
(MMM) - Get Report
reported second-quarter net income of $776 million, or $1 a share, up from $773 million, or 97 cents a share, a year ago. Excluding a charge from the company's reinvestment of $1.7 billion in foreign earnings, 3M earned $1.09 a share in the quarter. Sales rose 5.6% to $5.29 billion. The Thomson First Call consensus was for EPS of $1.09 before items. 3M was down 92 cents, or 1.2%, to close at $74.53.
After the bell Monday,
IBM
(IBM) - Get Report
reported much-better-than-expected earnings, saying its profit before gains and charges was $1.12 a share. Analysts expected $1.04 a share.
Whirlpool
(WHR) - Get Report
entered the bidding war for
Maytag
( MYG) Sunday, offering to buy the appliance maker for $1.4 billion, or $17 a share. Maytag previously agreed to be taken private at $14 a share by investors led by Ripplewood Holdings and is entertaining a $16-a-share offer from Bain Capital and Blackstone Group. Whirlpool was higher by $3.32, or 4.7%, to $73.31, while Maytag jumped $2.03, or 13.1%, to $17.48.
Shares of
Guidant
( GDT) were lower after the company voluntarily warned physicians that a defect could appear in some older pacemaker devices. The company said that of the 78,000 devices that were distributed, 28,000 remain implanted in patients. Guidant was down $2.10, or 3%, to finish at $67.31.
Mylan Laboratories
(MYL) - Get Report
said late Sunday that it will purchase nearly 51.3 million of its common shares, or about 19% of the shares outstanding, in a Dutch auction self-tender offer. The company said it would buy the shares at a price of $19.50, based on the preliminary results of the offer. Mylan lost $1.02, or 5.3%, to $18.38.
Cyberonics
(CYBX)
said late Friday that its vagus nerve stimulation therapy system has won Food and Drug Administration approval to treat chronic depression. The device sends electrical impulses to the brain through a nerve in the neck. The stock fell by $1.34, or 3%, to $43.64.
Geron
(GERN) - Get Report
rose almost 27% Monday after the company said it has entered a licensing deal with
Merck
(MRK) - Get Report
to develop a cancer vaccine that targets telomerase, an enzyme involved in tumor growth.
Geron will receive an upfront payment, milestone payments upon achievement of certain development and regulatory events, and royalties under the agreement. Geron added $2.29, or 26.6%, to $10.89.
In ratings news, Smith Barney downgraded
Valero Energy
(VLO) - Get Report
,
Occidental Petroleum
(OXY) - Get Report
and
Marathon Oil
(MRO) - Get Report
to hold from buy, believing that shares have gotten too high.
Valero lost $1.66, or 2%, to $80.42, and Marathon fell 54 cents, or 1%, to $54.69. Occidental gained 20 cents, or 0.3%, to $79.
Overseas markets were mixed, with London's FTSE 100 down 0.3% to 5214, while Germany's Xetra DAX was up 0.1% at 4719. In Asia, Japan's Nikkei fell 0.1% overnight to 11,758 while Hong Kong's Hang Seng added 0.4% to 14,567.
To view Aaron Task's video take on today's market, click here
.