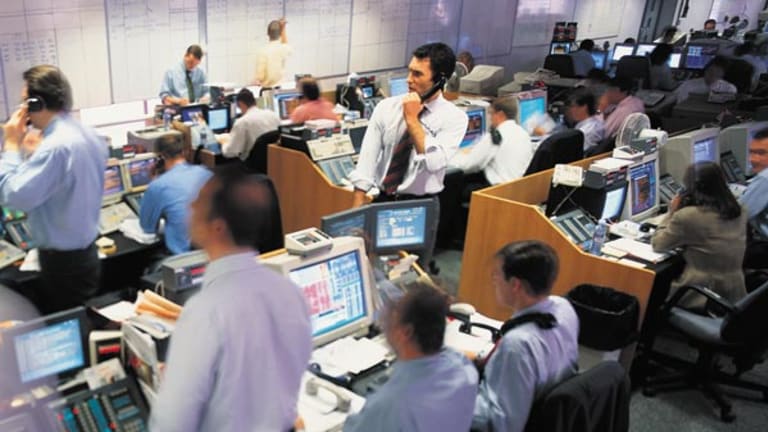 Buy-Write the Right Way
Closed-end funds that sell options offer good performance in most markets.
This column was originally published on RealMoney on Dec. 14 at 10:04 a.m. EST. It's being republished as a bonus for TheStreet.com readers. For more information about subscribing to RealMoney, please click here.
I have written several articles about closed-end funds that
sell options as an income strategy
. These funds try to offer low-beta, high-yielding performance. Some funds do better than others. One thing that seems to be missing from this space is an ETF tied to one of the buy-write indices that is passively managed.
There has been a lot of research on buy-write strategies (the Australian Stock Exchange, Schaeffers Research and the CBOE, among others) and they all seem to draw the same conclusion: Buy-writes offer lower volatility, higher yields and outperformance in most market environments, except for "up a lot."
The CBOE has buy-write indices tied to several of the broader benchmarks, including the BXM index, which buys the
S&P 500
index and sells at-the-money calls. For now, there is no exchange-traded fund to capture this, but there is one closed-end fund that is meant to capture BXM as a passively managed product: the
(BEP)
S&P 500 Covered Call Fund, managed by IQ Investment Advisors.
The assets of the fund are managed true to the buy-write index, but the closed-end structure means the market price can swing from a premium to a discount, regardless of what the net asset value is doing.
BEP is almost two years old. As the chart below shows, the fund got off to a rough start and did not stay close to the CBOE Buy-Write Index, the fund's benchmark. Lately, though, it has tracked reasonably close to the index.
The second chart tells the story of what happened. The fund, like all CEFs, was listed with a premium to NAV that eroded slowly from 5% down to a discount of 9% last April. Now the discount has swung back around to a premium of 5%.
The fund has a very high yield of 10% that it pays out twice a year at $1 each. The ex-dividend date for the current dividend is this Friday. In the past, there have been occurrences of the market price heading up faster than the NAV to get the dividend, followed by either a decline or a slowdown in the move higher. Now that the fund is at a 5% premium to NAV, anyone thinking about this fund as a long-term hold may get a better entry point after the ex-dividend date.
The mindset for this strategy needs to be one of patience and the expectation of slow, boring price appreciation. A diversified portfolio will have some holdings that are slow and boring and some others that are more exciting.
It is important to note -- or, if you have read my past articles on this topic, to reiterate -- that this is not riskless and should not be too heavy in a portfolio. The vast majority of the time, the Buy-Write Index does what it is supposed to do, as shown in the first chart, but there is no guarantee that it will do so in the future.
A final note is that while BEP appears to have solved some of its past issues with index tracking, I would switch from a closed-end fund (I own a different CEF for clients) to an ETF that captured the same index on Day One of its listing. The BXM is an index and so lends itself to an ETF quite easily. I believe the ETF structure, where substantial discounts and premiums to NAV are not an issue, is preferable.
At the time of publication, Nusbaum held no positions in the funds mentioned, although positions may change at any time.
Roger Nusbaum is a portfolio manager with Your Source Financial of Phoenix, Ariz., and the author of Random Roger's Big Picture Blog. Under no circumstances does the information in this column represent a recommendation to buy or sell stocks. Nusbaum appreciates your feedback;
to send him an email.