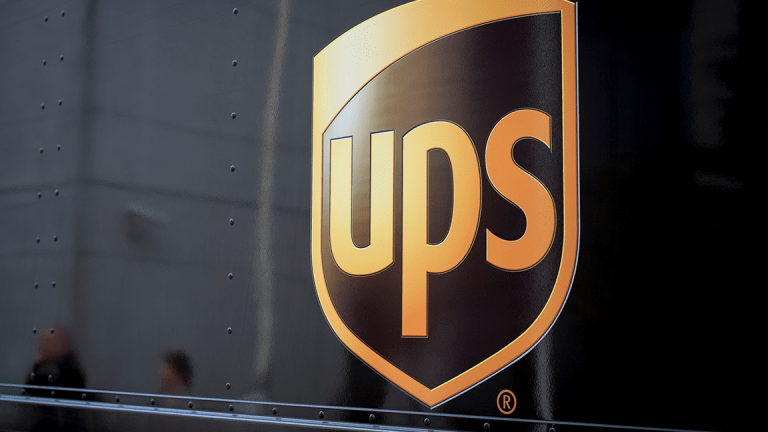 Buy UPS's Transformation, Goldman Says
Analyst Matt Reustle expects the package delivery company to quantify cost savings opportunities and the path to margin expansion at an event this week.
Analyst Matt Reustle expects the package delivery company to quantify cost savings opportunities and the path to margin expansion at an event this week.
It's time for UPS to show what it can do for its investors.
United Parcel Service Inc. (UPS) - Get Report rose on Monday, Sept. 10, after Goldman said it's time to "buy the transformation" at the package delivery company.
The Atlanta-based company with a market capitalization of $105 billion has said it aims to create greater efficiency throughout its back office and administrative areas and generate savings through global procurement, which includes streamlining internal systems and processes as well as better aligning resources to new and emerging growth opportunities. UPS last November appointed Scott Price to the new position of Chief Transformation Officer, whose responsibilities include "driving and facilitating organizational change that will help UPS both identify and execute opportunities for profitable growth within its existing business units and in yet-untapped markets and product segments," the company said.
This Thursday, Sept. 13, UPS is holding a Transformation Conference in New York, which will be an opportunity for management to quantify cost savings opportunities and the path forward to margin expansion, Goldman said.
"UPS has broadly outlined direct cost initiatives (procurement and labor) and new business opportunities (Ware2Go) which will likely be further defined at the conference," Goldman analyst Matt Reustle wrote in a Sept. 10 research note. "In our view, transparent quantification will be one of the most important factors for investors, and we expect direct cost savings (which will drop to the bottom line sooner) would be valued at a premium to productivity linked investments."
Reustle said he could identify 150 basis points of margin expansion potential; however, his analysis assumes that UPS would reinvest a portion of those savings back into the business to drive revenue growth. The Goldman analyst now models 2020 earnings per share of $9.15 per share, "which implies 12% EPS [compound annual growth rate] from UPS's 2018 midpoint guidance and 80 basis points of margin expansion."
Reustle maintained his Buy rating on the stock with a $150 price target.
Shares of UPS rose 1.2% to $124.41 as of 10:45 a.m. in Monday trading on the New York Stock Exchange.
While Goldman appears optimistic about UPS' transformation, other analysts are less confident about the upcoming transformation conference.
Morgan Stanley last week said that UPS "could fall short of rising expectations," and sees an 80% probability that shares will fall after the company's event. Morgan Stanley analyst Ravi Shanker said the company's stock might slide 2% "on the base-case view that the company will project approximately $1 billion in cost savings over three years," and the projected decline could be about 7% if the savings target or time frame miss expectations. The firm has an Underweight rating on the stock.
There are 12 Buys, 14 Holds and two sell ratings on the stock, according to Bloomberg data.