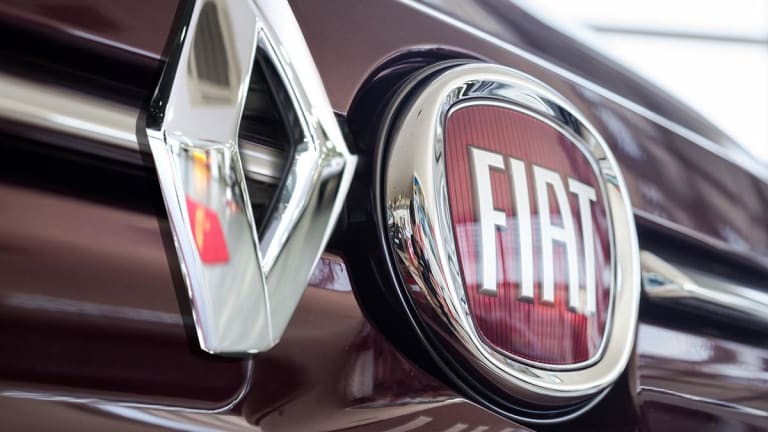 Fiat Chrysler Stock Is a Buy on Merger Attempt With Renault
Fiat Chrysler stock is jumping on a potential merger with Renault. Here's a look at key trading levels.
Fiat Chrysler (FCAU) - Get Stellantis N.V. Report  got a big lift Tuesday, surging more than 7.2% in the first trading session of the holiday-shortened week.
What's got the stock moving? A proposed merger with Renault (RNLSY) has investors bidding up the automaker's stock. The move is helping break Fiat Chrysler stock out of the nasty downtrend that has been pressuring shares lower over the past year.
Fiat Chrysler has been slowly but surely trying to work its way higher and this latest bit of news is helping. Admittedly, the stock has been taking a series of baby steps, but at least it's been progressing.
Should Renault's board give the green light to the 50-50 merger -- which they will decide on next week -- the duo would combine to produce almost 9 million cars annually. That is assuming it receives regulatory approval as well, but assuming that's the case, it would make the entity the third-largest auto producer in the world.
It gets a little stickier when considering Renault is part of an alliance with Nissan (NSANY) (NSANF) and Mitsubishi (MMTOF)  , but we'll likely find out more about that in the future. So far, the news is having a muted impacted on Chrysler's crosstown rivals Ford (F) - Get Ford Motor Company Report and General Motors (GM) - Get General Motors Company Report , closing lower by 0.51% and 0.8%, respectively. 
Trading Fiat Chrysler Stock
As you can see on the chart above, Fiat Chrysler stock has been under plenty of pressure. While this is a one-year look, remember that shares topped out near $21.50 less than 18 months ago in January 2018. So even after Tuesday's pop, we're still talking about a stock that's down more than 35%.
Unlike Ford and GM -- and one could make a case that it hasn't helped all that much -- Fiat doesn't pay a dividend. This gives investors less reason to stick around, whether FCAU stock has a low valuation or not.
Of the three, Fiat has performed the worst of the last past year. Shares are down about 36% over the past 12 months compared to an 8.5% drop for GM and 14.5% decline for Ford. However, it's worth mentioning that FCAU stock has been a better performer over the past two-, three- and five-year periods.
With or without a dividend, FCAU stock is starting to perform better. On the charts, we can see this by its series of higher lows (blue arrows) and the fact that its 50-day and 100-day moving averages are starting to trend higher. On Tuesday's pop, Fiat Chrysler stock is trying to hold above its 200-day moving average.
Twice in the last two months, FCAU has cleared this moving average, only to fall back below it within a few sessions. Let's see if it can get above and more importantly stay above this mark now. If it can, I want to see a test of $14.40 and for the 200-day to turn into support. If it can't stay above the 200-day (again), then it would be encouraging to see Fiat Chrysler find support at $13.40, the confluence of its 50-day and 100-day moving averages.
Little by little this stock is turning it around, but it's moving slow like an aircraft carrier trying to pivot. Unless support gives way, Fiat is a buy-on-dips name for patient traders.
This article is commentary by an independent contributor. At the time of publication, the author had no positions in the stocks mentioned.