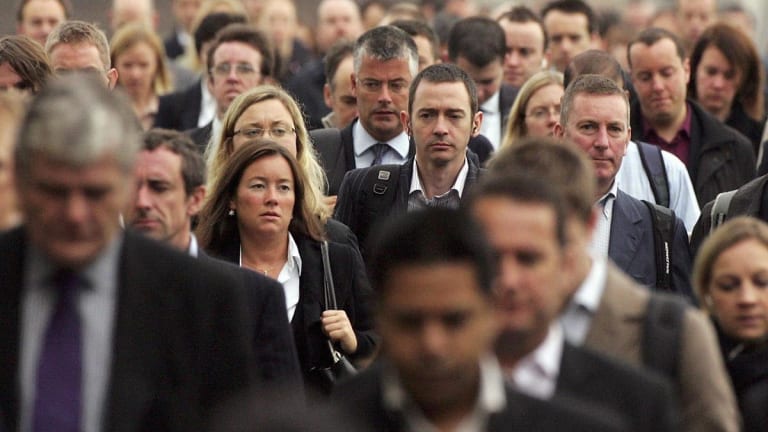 Trump Economy Runs Hot as Jobless Rate Is Lowest Since Nixon
A report Friday from the Department of Labor show that the U.S. added 134,000 jobs last month, below the 184,000 average projection by analysts in a survey by data provider FactSet. It's a slowdown from the 207,000 jobs created in August, but economists say the culprit is a tighter labor market, not a slowing of businesses' expansion plans.
The U.S. unemployment rate fell last month to the lowest since the first year of Richard Nixon's presidency, a Labor Department report showed Friday, adding to signs that the economy continues to expand briskly following President Donald Trump's enactment of $1.5 trillion in tax cuts to stimulate growth.  
The jobless rate fell to 3.7%, the lowest since December 1969, from a prior reading of 3.9%, according to the Bureau of Labor Statistics, a unit within the Labor Department. Nonfarm payrolls rose by 134,000, fewer than the 184,000 projected in a survey of economists by data provider FactSet. Even so, the prior month's jobs report was revised to add 87,000 jobs not previously counted.
While the report reflected business disruptions in the southeastern U.S. due to Hurricane Florence, a growing number of economists -- on Wall Street as well as at the Federal Reserve -- say the low unemployment rate is making it tougher for businesses to recruit qualified workers to meet their expansion plans.
"The tighter the labor market is, the longer it may take to hire people," said Simona Mocuta, a senior economist at the $2.7 trillion money manager State Street Global Advisors.
Trump has claimed credit for the growth, taking to Twitter to gush that the "economy is booming like never before," and Treasury-bond yields spiked this week as investors speculated that the effects of the tax cuts might last longer than previously expected. 
But there are also concerns that the tight job market might spur faster inflation, which would theoretically erode the value of fixed-income investments like Treasury bonds, prompting investors to demand higher interest rates to compensate for the risk. 
Typically, as workers become harder to find, wages start to increase as businesses compete to recruit and retain staff, in turn driving production costs higher. Eventually, businesses usually try to pass those costs along to consumers. 
Fears of faster inflation could push the Federal Reserve to accelerate or prolong its recent series of interest-rate increases, after cutting them to near zero in the aftermath of the 2008 financial crisis. Last week, the central bank hiked rates to a range between 2% and 2.25%, and officials project the benchmark borrowing costs could reach 3.4% by 2020.  
Higher interest rates act as a brake on investment and therefore growth, since they push up borrowing costs for consumers and businesses, via mortgages, credit cards and corporate loans.
Friday's jobs report may alleviate some of those concerns, with the year-over-year change in workers' average hourly earnings slowing to 2.8%, from 2.9% as of the prior month's reading.  
"It reinforces our view that wage inflation is a process, not an event," State Street's Mocuta said. "It takes a lot of time for things to feed through the system."
Trump's tax cuts were unusual in that they came when the U.S. economy was already eight years into an expansion, with unemployment rates already low; typically such a "fiscal stimulus" would come during or shortly after a recession, when the federal government is trying to restart growth.
The cost of Trump's plan, of course, is that the federal budget deficit has widened rapidly due to the lost tax revenue, ballooning the national debt past $21 trillion.
Indeed, the prospect of ever-increasing U.S. borrowing has put additional upward pressure on government-bond yields; with such a large supply of the bonds being sold by the Treasury to plug the federal deficit, investors have more leverage to demand higher returns from their purchases. 
On Friday, the yield on the 10-year Treasury note rose by 0.02 percentage point to 3.21%. That's up a remarkable 0.16 percentage points just over the past week; earlier this week, the yield jumped 0.12 percentage point in a single day, the biggest such move since the 2016 presidential elections. 
According to the latest report, September job gains came from "professional and business services, in health care, and in transportation and warehousing." 
"Despite the slowdown in job creation in September, the fall in the unemployment rate adds to evidence of a tightening labor market," Charles Seville, head of North American government-bond ratings at Fitch Ratings, said in an e-mailed statement. "The trend of rising wages and earnings continues."